By Erin Davis
With its third-quarter results, Lloyds Banking Group (NYSE:LYG) announced that it plans to close 200 branches as its customers increasingly embrace digital banking platforms. This brings to the forefront the question of whether the increasing importance of digital banking will reduce the competitive advantage of Lloyds' dominant branch network in the United Kingdom. Digital-only banks have the potential for a large cost advantage over traditional banks by avoiding the expense associated with maintaining branches. However, we find that pricing does not drive consumers' banking decisions, and the rise of digital banking platforms has not meant that retail customers are ready to forsake branches. Instead, consumer decisions continue to be driven by branch locations, and it will be difficult for challenger banks to win market share by offering cheaper pricing or better customer service. As a result, we think Lloyds' branch network and the strength of its brands will continue to be key competitive advantages over the next decade.
Assessing Moats in U.K. Retail Banking
Two (Lloyds and HSBC (NYSE:HSBC)) of the four U.K. retail banks we cover have narrow Morningstar Economic Moat Ratings, and the other two (Royal Bank of Scotland (NYSE:RBS) and Barclays (NYSE:BCS)) have the potential to gain them as they shrink the other more troubled parts of their business, in our opinion. In fact, we see the U.K. retail banking market as naturally moaty, at least for established players. The country's deep supply of low-cost deposits has allowed established banks to build moaty business by keep funding costs low, a competitive advantage that is buffeted by other factors like the U.K.'s concentrated banking market, customer stickiness, and regulatory barriers to entry.
The U.K. big four--Lloyds, Barclays, Royal Bank of Scotland, and HSBC--dominate the U.K. retail banking market. Despite the reputational damage they suffered during the financial crisis--Lloyds and RBS required public bailouts and still operate under partial government ownership--their market shares have remained high and stable. Midsize challengers Santander (a subsidiary of Spain's Banco Santander (NYSE:SAN) and the product of a merger of Abbey National, Bradford & Bingley, and Alliance & Leicester in 2010) and Nationwide Building Society (a mutual bank) have held steady but not gained a material amount of share, and other challengers barely register on the chart.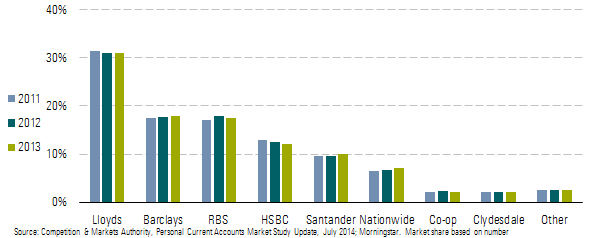 The U.K. government has long been troubled by the apparent lack of competition in its banking market. In the post crisis era, regulators have launched several inquiries into competition and safety in the U.K. banking market, with the most recent one announced in November. Regulators have also encouraged competition by lowering some barriers to entry. For example, in 2013, capital requirements were reduced for startup banks and the approval process was shortened to six months. In addition, in September 2013, the U.K. Payments Council launched a free current account switching service that allows U.K. retail bank customers to seamlessly move their current account to a participating bank in seven days.
Despite this interest and effort, little progress has been made in increasing competition in the U.K. banking market. While challenger banks have grown, they remain quite small in comparison with the rest of the market. Their market share has held steady at just over 20%, and only 6% excluding Santander (arguably more of an incumbent than a challenger) and Nationwide Building Society.
Challenger Banks May Be Able to Create Cost Advantages
U.K. regulators hope that challenger banks will be able to increase competition in the U.K. in large part by offering lower-cost options to retail customers. We see four potential avenues through which to do so: lower capital costs, lack of costly legacy issues, smaller branch networks, and newer technology.
Lower capital requirements will help, but may be offset by higher cost of funding. In some respects, challenger banks may be able to operate with lower capital costs. Regulators recently reduced the capital that startup banks will initially be required to hold to a 4.5% minimum common equity Tier 1 ratio, from the 7%-9.5% required of existing banks. However, we expect this advantage to be partially offset by higher-cost wholesale and equity funding; we think markets are likely to require higher returns from thinly capitalized startup banks than they do from well-capitalized, long-established ones.
New banks will be unburdened by costly legacy issues. Clearly, newly created banking entrants will have an advantage over incumbents in that they are not suffering under the weight of past misconduct. In the U.K., the importance of this issue is difficult to overstate--charges related to the misselling of payment protection insurance total $37 billion (including $18 billion at Lloyds alone) and total litigation and regulatory fines across the industry since 2009 sum to nearly $60 billion. While the incumbent banks have managed to absorb these expenses, the size of these fines clearly limits the banks' ability to invest in their businesses.
These legacy issues are not merely a cost issue; they are also a reputational issue. Survey after survey shows that established banks have poor reputations in the U.K., and for good reason--they mis-sold tens of billions of pounds worth of payment protection insurance to their customers, they mis-sold interest rate hedging products to their small- and medium-size business customers, and they lost nearly 200 billion pounds during the financial crisis on financial products whose risks they did not fully understand.
Startup banks may reduce or eliminate branch costs. While most U.K. challenger banks are pursuing fairly traditional branch banking business strategies, others are intentionally choosing branch-light strategies. Tesco Bank has no stand-alone branches and instead serves its customers digitally and through its grocery stores; Aldermore Bank operates solely online and by phone.
Our research shows that online-only banks in the U.S., where the business model is somewhat more established, report significantly lower occupancy expenses than do branch-based competitors. This could create a significant cost advantage for banks that are unburdened by branch networks, though the final result will depend on how this advantage is balanced against the likelihood of higher funding and customer acquisition costs.
Challenger banks will be able to build their businesses around new technologies and may thereby create cost advantages. They can build new core systems that are developed to meet current customer needs, which are likely to be more efficient than the constant upgrades and patching required of incumbent banks and their legacy core systems.
By focusing on niche markets, challenger banks may also be able to lower costs by more fully capitalizing on the trend toward digital banking. Mobile and online banking services are an increasingly important vehicle for banks though which to interact with their customers. Careful customer segmentation is likely to allow challenger banks to lean heavily on these technologies and reduce their need for a large, expensive physical footprint.
Large Banks Already Enjoy Significant Cost Advantages
While challenger banks have the potential to create cost advantages, incumbent banks already enjoy certain cost advantages, many of which we think may be difficult for either challengers or regulators to fully circumvent.
Control of the U.K. deposit markets gives incumbent banks a funding advantage. In general, we view holdings of low-cost deposit funding as a key competitive advantage for banks, and this holds true in the U.K. The four largest U.K. banks control about three fourths of the market's deposits, with Lloyds having the largest slice, holding nearly 30% of current accounts. This low-cost funding is key to a bank's ability to offer competitively priced loans and services.
Incumbent banks benefit from economies of scale in banking. At the same time that regulators are encouraging entry into banking markets, the ever-growing importance of economies of scale in banking makes it increasingly difficult new entrants to achieve efficient scale, in our opinion.
While U.K. regulators may want to foster a more fragmented banking market like the one in the U.S., they will be fighting the tide of natural economic forces. The U.S. banking market, which has historically been more fragmented than other markets because of restrictive branching laws (which are no longer in place), has had an ever-falling number of banks as the institutions seek to create economies of scale (and perhaps pricing power) through consolidation. In our opinion, this trend toward increasing importance of economies of scale in banking is accelerating rather than leveling off, as technological and regulatory costs increase.
We see the threat from new switching technology as limited. Although bank products are in many ways identical across providers, retail customers rarely switch banks: In the U.K., customers switch once every 26 years on average. In the U.K., efforts to increase switching have been an important part of the government's efforts to foster more competition in the banking market. In September 2013, the government launched the Current Accounts Switch, a free service that helps retail customers to switch their bank accounts (and associated automatic credits and debits) in seven days, a process that previously took as long as a month.
In our opinion, the natural stickiness of retail banking will be difficult to overcome, and the Current Accounts Switch will only modestly lift customer switching. To date, it has had little meaningful success; annual switching rates remain near 2%-5%, according to surveys, despite the fact that 70% of the U.K. public knows about the service.
Branches Will Remain Key Driver of Customer Banking Decisions
While consumers are increasingly using digital platforms for routine banking, they still use branches for more complex transactions; 92% of customers have visited their branch within the past year. Although we think the trend toward moving routine transactions out of branches will continue as more customers embrace the convenience of digital platforms, we think access to branches for more complex transactions will remain essential, given the central importance of financial services to consumers' well-being.
Survey data supports this assertion: branches remain far and away the primary driver of bank choice. Accordingly, the large branch networks and premium High Street locations of the incumbent banks will prove a formidable obstacle to challenger banks. We think branch locations will remain a key driver of retail bank choice for the foreseeable future, which will make it difficult for challenger banks to win significant market share from incumbents.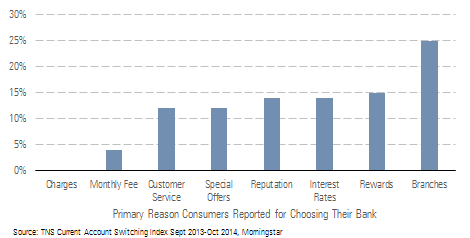 Offering better customer service appears, at least superficially, to be an obvious route to winning customers away from incumbent banks. Doing so shouldn't be too difficult: Incumbent banks have done much of the work for challengers by destroying their reputations. Moreover, consumers report that poor customer service is by far the largest driver of their decisions to leave their banks. Indeed, some challenger banks, like Metro Bank, are explicitly choosing a service-focused strategy by offering more convenient hours and the ability to open an account in 15 minutes. Unfortunately for challengers, other data shows that the importance of service as a cause of switching is minimal relative to absolute low levels of switching. Taken as a whole, we're not convinced that challenger banks will be able to create net cost advantages relative to incumbent banks.
Opaque Retail Bank Pricing Makes Cost Comparisons Difficult
We think the opaque nature of retail bank pricing will make it difficult for challenger banks to capitalize on any cost advantages they are able to create. Pricing across banks is difficult to compare; current accounts themselves are typically offered for free, with consumers implicitly paying for the service through lower deposit yields and fees paid for auxiliary services (such as overdrafts and purchases of insurance and investment products).
Interestingly, the U.K. Competition and Markets Authority announced in November that it plans to review distortions in the marketplace created by free current accounts, and remedies could include the CMA imposing pricing on banks, which could spell the end of free current accounts in the U.K. In our opinion, this outcome is unlikely to be politically viable, given the strong popularity of free current accounts. If we're wrong and the CMA increases the transparency of retail bank pricing, we see little reason to expect a sharp increase in comparison shopping. Pricing and fees have very little influence on consumers' bank choice; branches are what matter.
Lloyds' Narrow Moat Will Propel Attractive Returns for Shareholders
We see Lloyds as the most attractive play on the moaty U.K. banking market because of its positioning, improving financial results, and attractive valuation.
Lloyds dominates the U.K. banking market. It controls about one fourth of current accounts (excluding TSB accounts that Lloyds is in the process of divesting), with 22 million current account customers and more than 2,000 branches. It is also the U.K.'s leading provider of other retail banking products like credit cards and mortgages. Moreover, Lloyds is much more narrowly focused on retail banking than competitors like Barclays, which operates a large investment bank, and HSBC, with its far-flung international operations.
Lloyds has not outearned its 10% cost of equity since 2007 (excluding the noncash positive impact of negative goodwill from the HBOS acquisition in 2009), but we think its future is about to be much brighter. In 2014, we expect Lloyds to report its first accounting profit since 2009, as losses from its ill-fated HBOS acquisition fade and the advantages of its narrow moat finally fall to the bottom line. Noncore assets fell from GBP 194 billion at the end of 2010 to GBP 51 billion as of September 2014. Similarly, loan losses have fallen from a peak of 2.7% of loans at the end of 2009 to 0.3% in the six months ended June 30, 2014, below what we see as an average level for the bank. For 2014, results will be marred by what we hope will be the last of the payment protection insurance charges, but we expect the bank's cost/income ratio (as we calculate it) to fall from 80% in 2013 to 55% in 2014 and 51% in the medium term.
We expect shareholders' patience with Lloyds' turnaround to finally be rewarded in February 2015, when we expect the bank to announce that it will pay a dividend for 2014, its first since 2008. The dividend payment for 2014 may be nominal--we project about GBX 1 per share--but we expect it to ramp up quickly as management makes good on its promise to pay out "at least" 50% of earnings. Our projected dividend of GBX 3 per share for 2015 and GBX 4 for 2016 implies an attractive forward yield of 4%-5%.