By Rushil Patel
[Originally published 11/17/2014]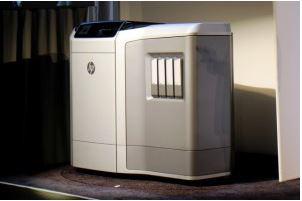 On October 6th, Hewlett-Packard Co. (NYSE:HPQ) announced its plan to split into two parts: one, HP Inc., which will house the company's famous printer and personal computer businesses, and two, Hewlett-Packard Enterprise, which will focus on offering technology-related goods and consulting services to corporations. After preaching over the past month how the split will ultimately allow the company to focus more on its marquee consumer products, HP finally announced its next big move: 3D printing. Over the weekend, HP unveiled its new Multi Jet Fusion printing technology along with a plan to use this technology to enter the 3D printing industry by 2016, coinciding with the company's split.
Although 3D printing first began to establish itself in the late 1980s and early 1990s, the market has failed to meet its growth potential primarily due to three factors: customer awareness, price, and functionality. In its announcement, HP emphasized that its Multi Jet Fusion technology optimizes the relationship between price and functionality, offering "new levels of part quality" and "10 times faster" speeds at "breakthrough economics relative to similar systems in the marketplace today." In addition, HP has a broader established consumer base than current 3D printing companies, diminishing the significance of the customer awareness problem. By clearly attempting to tackle the three main obstacles that have been plaguing this industry over the past 30 years, HP is aiming to popularize 3D printing in the near future.
With a giant like HP—albeit a giant half of its original size—entering a market dominated primarily by smaller cap companies, like Stratasys Ltd. (NASDAQ:SSYS) and 3D Systems Corp. (NYSE:DDD), the most obvious concern lies in the possibility of monopolization or suppressed competition. Wall Street clearly felt concerned as the stock prices of both SSYS and DDD fell sharply in the hours after HP's announcement. On the other hand, Stratasys CEO David Reis viewed the announcement as overwhelmingly positive. Recognizing the 3D printer market's immense potential for expansion, Reis stated that "HP coming into the market will increase awareness" of the industry as a whole and provide all the 3D printing companies an opportunity to develop, not just HP.
In recent years, 3D printing has found its niche in helping manufacturers create prototypes to test products before pushing them into mass production. However, it has failed to enter the general consumer market or even serve as a tool to create finished products. With HP's plan in place, analysts predict that global shipments of 3D printers will double each year between 2015 and 2018 and spending on 3D printers will jump from $1.6 billion next year to about $13.4 billion in 2018.
These bold predictions highlight the ingenuity behind HP coordinating its split with its entrance into the 3D printing industry. Right now, both Wall Street and the general public have mixed opinions about the benefits of HP deciding to split. By aiming to establish a period of growth during the time of the split, HP will be able to strongly influence public opinion on the split and reassure concerned investors at the same time, bringing stability to the stock price at a potentially volatile time. Taking this factor into account, HP's plan to enter the 3D printing market works double duty; it aids the company in the short term and provides a catalyst for the industry as a whole in the long term.
Sources:
http://online.wsj.com/articles/hewlett-packard-to-split-into-two-companies-1412592132
http://www.forbes.com/sites/panosmourdoukoutas/2014/11/02/hps-multi-jet-fusion-technology-to-give-a-big-boost-to-the-3d-printer-industry/
http://h10124.www1.hp.com/campaigns/ga/3dprinting/4AA5-5472ENW.pdf
http://www.cnet.com/news/as-hp-moves-into-3d-printing-there-may-still-be-room-for-the-little-guys/
http://www.cnet.com/news/hp-unveils-multi-jet-fusion-3d-printing/
Disclosure: None