NXP Semiconductors (NASDAQ:NXPI) spiked yesterday when it was reported that Third Point added another $48 million to its $94 million position last quarter, in the range of $30 a share. This "high conviction buy decision" fired the markets further.
Whether Third Point's Daniel Loeb really had such "unwavering conviction" when NXPI proceeded to lose a third of its value, bottoming out at a low of $22.34 on June 17th, is a separate matter. What is true today is that this small cap is now selling at $24.95 -- well-down from its $35 high in April. In prior weeks, options traders have been actively buying up calls on the name, with recent call volume running at 2.83x daily.
The heavy sell-off in May was to be expected. Spun off from Dutch electronics giant Phillips (NYSE:PVH) last year, the stock is still well up from its IPO last August. With major media general interest at January's Consumer Electronics Show and a flurry of early enthusiasm over Mobile Wallet and an Apple Iphone 5 connection, the stock was richly bid from January to late April. The heavy selling came with the realization that these "big plans" might not happen as soon as expected, and rather they might be a 2012 story.
That was the consensus two months back, and the stock has clearly chewed on that news. But now might be the time to buy the stock, as it could be putting in its "summer doldrums dip" now. The deep-pockets pushing NFC deployment may keep this stock in the limelight until we are well into the "Fall Tech" buying season.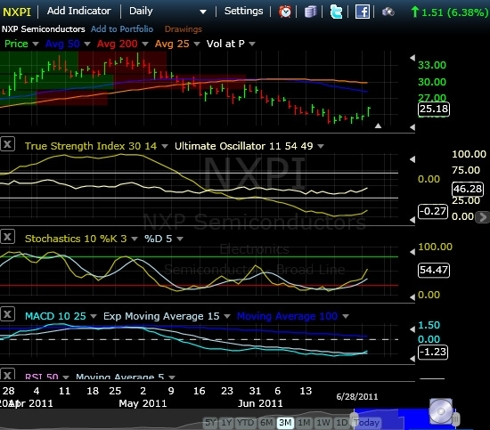 As I discussed last week, despite very weak U.S. economic data, there are select signs of strength. Strong corporate profits, low interest rates, and massive bond sales— Google's (NASDAQ:GOOG) perhaps the most publicized— are likely to lead to more mergers and acquisitions. Look to small caps likely to be acquisition targets, or those that will specifically enjoy the confluence of what I will call "larger corporate strategic initiatives."
NFC --near field communication-- is clearly one of those drivers of "big strategy." The telecom, credit card, and phone industry are all seeing an essential new growth sphere via the convenience and new payment realities that NFC provides for those sought-after "high-income / gadget-friendly" early adapters (and their doppelgangers --dumb, gimmick-loving, young people.)
Many big players fear that Apple (NASDAQ:AAPL) will – yet again -- devour mobile payment, just like it did the music and tablet sectors. Google (GOOG), as well as the telecom and the credit card industries are all "as serious as a heart attack," hoping to wrestle their own success out of NFC in a preemptive strike against Apple. They are bringing the fight.
While Google is presently working with Mastercard (NYSE:MA) on Paypass, Visa (NYSE:V) is going it alone with PayWave –though it recently announced an investment stake in SF start-up Square. The carriers themselves have aligned with Discover Financial Services (NYSE:DFS) to develop a separate payment network.. Late last year AT&T (NYSE:T), Verizon Wireless (NYSE:VZ) and T-Mobile put aside differences to form a nationwide payment network called ISIS, with testing to occur in Salt Lake City next year.
Again, expect new developments (and a blizzard of press releases) this summer, as mobile transactions becomes the new contested space for several deep-pocketed players hoping to "steal an early march." If rumors of delays by Apple in launching its own mobile payment service are to be believed, Google may have an initial advantage -- as well the general goodwill of some market participants less keen on Apple's closed ecology.
Of course as Deutsche chief technology officer Ed Kozel recently suggested:
"Google's massive, but Google does not have a billing relationship with 99 per cent of its customers . .. That's our advantage."
Clearly the telecoms --on both sides of the pond-- are going at this full bore. They will not be counted out-- the economies of scale are just too promising.
On Thursday Google is expected to unveil a new mobile wallet offering and next week chairman Eric Schmidt will be demo'ing the service himself at the 9th Annual "D: All Things Digital Conference. Free press will undoubtedly be followed by Google competitors splashing around their own new developments.
In the context of this escalating arms race, expect "resident dealer" NXPI to do quite well.
Disclosure: I am long NXPI.