(Source: Glassdoor's 2015 Best Places To Work Winner - Google)
Introduction
There is only so much information one can gather and consume from earnings announcements, conference calls, shareholder presentations, financial statements, and the endless valuation comparisons, performance indicators, and ratios that are available for a given publicly traded company. When you add this information to the constant stream of analyst opinions, estimates, and outlook for a single company, it all can become quickly overwhelming for the average investor.
Instead, finding out how healthy a publicly traded company really is may simply come down to researching how its own employees feel about the company they spend 40 hours or more a week for years and years working at.
If you have been working in a professional office environment for any length of time, you will probably be familiar with the term 'clock-watcher'. By definition, these are the employees that demonstrate a lack of interest in their job by watching the time closely to make sure they stop any work they are involved in as soon as their shift is over. These employees often will put in zero effort beyond the absolute minimum. The character Peter Gibbons from the movie Office Space put it best when he referred to these employees as working just hard enough to not get fired.
However, unhappy employees are far worse than clock-watchers, and a site like Glassdoor.com can reveal a lot more about a company than any earnings announcement or financial statement ever could.
Glassdoor.com and How To Use It
Founded in 2007, Glassdoor is a website that offers a huge database of over 6 million company reviews, CEO approval ratings, salary reports, interview questions, office photos, and other related information. Many of the reviewed companies happen to be some of the most popular publicly traded ones on either the NYSE or NASDAQ.
Recently, Glassdoor revealed their annual 50 Best Places To Work list. The rankings for these companies were provided by the people that know these companies best - their employees - for the seventh straight year.
Like any other tool used to decide whether to invest or not invest in a particular company, Glassdoor is no exception. It should be used as a supplement to other information. For example, you wouldn't invest in company XYZ if they just produced a quarterly loss for another consecutive quarter, have mountains of debt, and reduced their future outlook if the employees on Glassdoor happen to give the company high marks anyways and the CEO has a high approval rating.
Instead, Glassdoor might be a deciding factor to invest or not invest if company XYZ has generally positive financials and outlook, while its employees can't praise the company enough for its work culture, career advancement opportunities, and overall benefits.
Invest In 2015 By Starting With Glassdoor's Best Places To Work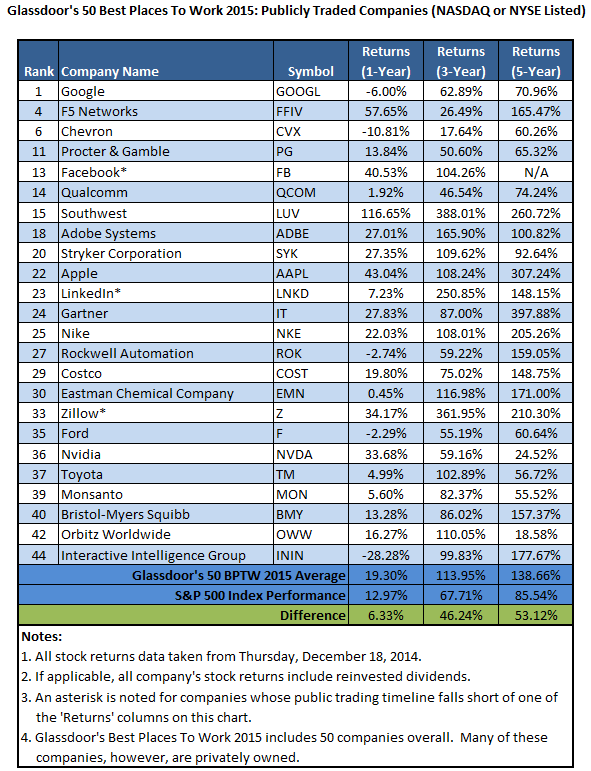 The table above was derived from Glassdoor's 50 Best Places To Work 2015 list. What I have done is filter out all the companies that are either privately owned or don't appear on either the NYSE or NASDAQ exchanges. The left-most column is Glassdoor's 50 Best Places To Work 2015 ranking, while the right three columns are their respective company's 1, 3, and 5-year returns, including dividends where applicable. On the bottom rows are the average returns for all the companies, the S&P 500 index performance during the same time period, and the difference in returns.
There are several takeaways to take from this table.
While it is common that companies come and go from the list for any number reasons that include companies not reminding their employees to participate regularly (employee reviews for this list took place between November 13, 2013 and November 2, 2014), the most consistently happiest work places usually make the list on an annual basis.
Second, it should be noted that returns increasingly beat the S&P 500 index the further out the time frame. This is because the real payoff for companies on this list is that longer time frames produce the real dividends from a happy workforce. It takes years for a satisfied staff to influence a particular company, its output, its innovation, and its overall brand before eventually its way down to the bottom line - net income. Once it hits the bottom line, the company's stock typical appreciates and shareholders reap the benefits.
A happy workplace culture reduces turnover rates, keeps top talent from jumping ship to competitors, and helps grow employees from the bottom of the company up to managerial and executive positions.
Another takeaway from this table is how while some of the companies have had a down year regarding overall returns the past twelve months, most of them have beaten the performance of the S&P 500 index over the past five years. Those that have lagged the S&P 500 in any given time span shown may actually provide buying opportunities for current and new investors. This is especially true for a company like Google (NASDAQ:GOOG) where their third quarter fiscal 2014 revenues were up another 20% on a year-over-year basis, while the company expands beyond search and enters new businesses of innovation like Google For Work and the Cloud platform.
Glassdoor Reviews Can Also Foreshadow Doom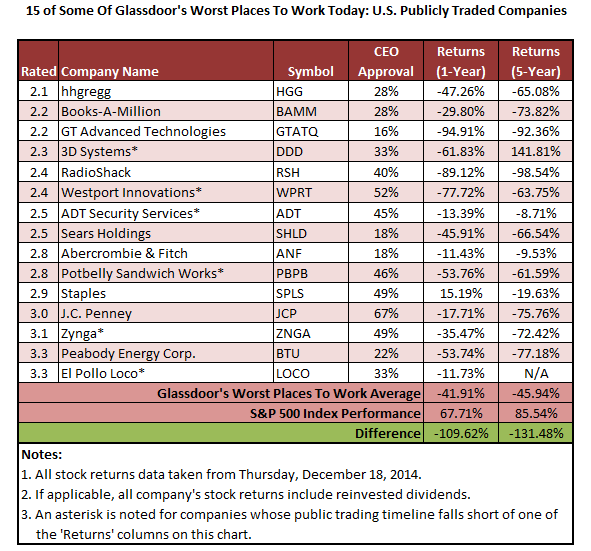 Unfortunately Glassdoor still doesn't release a 50 Worst Places To Work list. However, I have produced the table above which highlights 15 of some of the worst reviewed companies on Glassdoor's entire site. I used a combination of year-to-date stock performance, relatively low Glassdoor company review scores, low CEO approval ratings, and companies that have made headlines more often than not for negative reasons to produce the list.
The left-most column shows the company's lifetime Glassdoor rating (out of 5), while the right three columns show the CEO approval rating by its employees, as well as the 1 and 5-year returns, including dividends where applicable. Similarly to the previous table, the bottom rows compare the averages of all the companies to the S&P 500 index during the same time period, and the difference in returns.
With the exception of 3D Systems (NYSE:DDD), the rest of the companies listed have produced negative returns the past 5 years. This introduces the same idea that was presented in the previous section - it takes years for happiness or in this case, unhappiness, to influence a company and its bottom line.
This table can also be used to decide if it is reasonable to bet on a particular company's comeback if they are having a bad year or if you follow value investing principles.
Westport Innovations (NASDAQ:WPRT) for example has seen its stock tank the past few months after lowering their guidance on natural gas engine sales through 2015, and suffering downgrades like the one from Jeffries at the beginning of December. The recent oil pricing crisis has also made natural gas engines less cost advantageous and desirable. Yet, over half of the employees that have reviewed the company thus far approve of the CEO.
In contrast, hhgregg (NYSE:HGG) which made the top spot on my table has a very low 2.1 overall Glassdoor rating while just 28% of its workforce that have reviewed the company approve of the CEO. On further research, the overall rating of the company has been trending down for the past year because earlier this year it above 2.4. Additionally, just 14% of its workforce is positive of the business's outlook. When you add the fact that of the 511 reviews the company has on Glassdoor, and common complaints are long retail hours for very little reward, it may foreshadow the company's pending decline in the near-term future. After all, an uninspired workforce - especially in retail which is increasingly competitive - will become more of a burden than an asset and inevitably will affect bottom line performance.
Conclusion
In a recent study by Gallup, 70% of U.S. employees are not engaged or even worse - actively disengaged - at work. Actively disengaged employees are estimated to cost the U.S. $450 to $550 billion annually. That cost eventually makes its way to the shareholders that invest in many of these companies. This is because many of these employees are paid by annual salary and will be getting paid whether they are working on a company task or browsing Facebook (NASDAQ:FB) or ESPN. And speaking of ESPN, it is estimated that NCAA March Madness cost U.S. companies at least $1.2 billion for every unproductive work hour during the tournament.
Taking all these numbers into consideration makes finding companies with happy employees even more paramount for investors. Unhappy employees are often contagious in the workplace and their attitude has the potential to spread throughout an organization which hurts productivity, innovation, and long-term success.
Therefore, it should be no surprise that some of the top companies in Glassdoor's 50 Best Places To Work 2015 list are also known for its perks and benefits to their employees. Companies like Google, Facebook , and Apple (NASDAQ:AAPL) are known for their fun and non-traditional workplace environments. Facebook, in particular, has offered free food to their employees. Perhaps what the above tables show is that companies pay a price sooner or later.
Offer tons of benefits up front and receive innovation and overall success as a company later. Do the opposite, and find yourself wondering as a company why innovation, success, and overall employee morale are at all-time lows.
Disclosure: The author is long FB, AAPL, WPRT.
The author wrote this article themselves, and it expresses their own opinions. The author is not receiving compensation for it (other than from Seeking Alpha). The author has no business relationship with any company whose stock is mentioned in this article.