There are many misconceptions about the performance of junk bond funds in times of rising interest rates. This is very similar to the myths about utility stocks in times of rising interest rates, which I addressed in an SA article a few months back. For example, the following was posted by a SA reader on my recent article concerning the impact of energy high-yield bonds on high-yield bond funds:
"If you own junk bonds when the fed is exiting stimulus and constantly warning about reaching for yield you must be deaf and blind to not hear the sound of the freight train bearing down on you."
It is time to look at the facts.
First, it is important to determine the last cycles of rising interest rates. As we all should know, interest rate cycles are quite long and boring events, with turns in the cycle taking months or years. An often-used chart from the St Louis Fed depicts rates going back to the 1950s.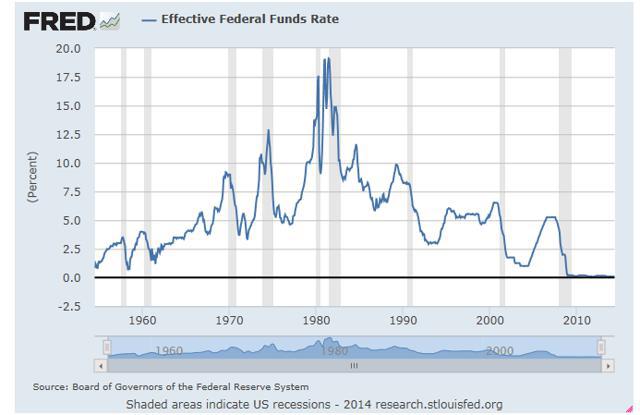 Source: St Louis Fed
A closer look at the three previous cycles of rising rates would include the following graph, also from the St Louis Fed: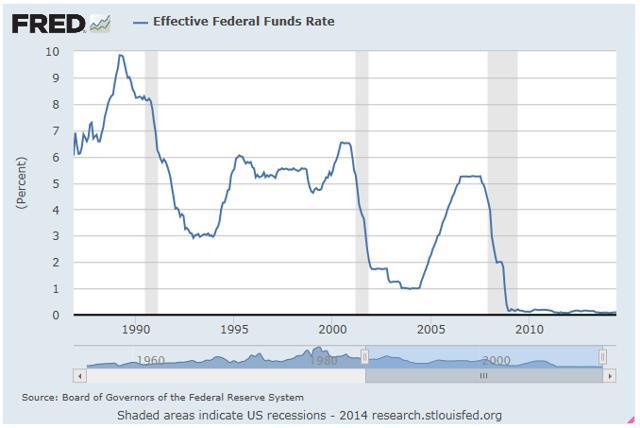 Source: St Louis Fed
From the charts above outlining Fed rates, the last periods of rising rates were:
June 2004 to June 2007
Aug 1993 to Nov 2000
Nov 1986 to May 1989
The U.S. Treasury website offers an interesting tool allowing comparisons of the yield curve on two different dates. However, the data does not go back to 1986 so only the most recent two periods of rising rates can be compared. Entering the beginning and ending dates above creates the following two charts.
June 1, 2004 to June 1, 2007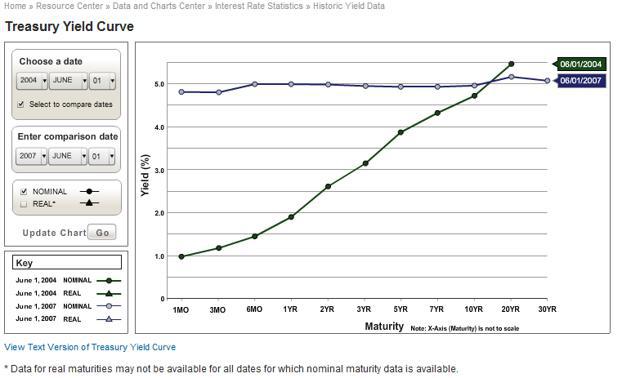 Source: Treasury.gov
Aug 2, 1993 to Nov 1, 2000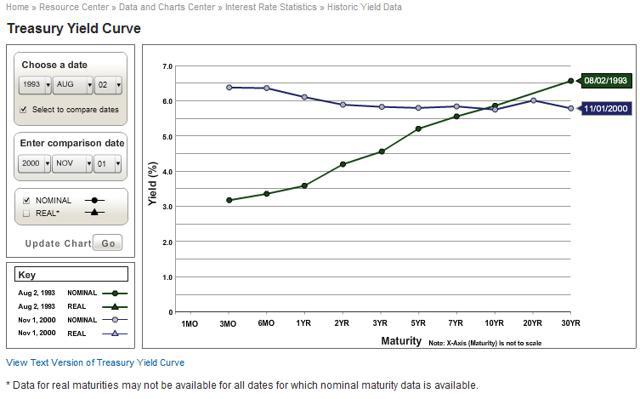 Source: Treasury.gov
As shown by the above historic graphs, short rates moved up substantially while the longer end of the yield curve did not move much. Note that in 2004, the Treasury had temporarily stopped issuing 30-yr bonds.
Many of the currently popular high yield ETFs were not around in 1993, much less in 1986. However back in the day, there were several high yield mutual funds, such as the Vanguard High Yield Corporate Bond Fund (MUTF:VWEHX).
Morningstar offers performance graphs for mutual funds going back to around 1935. For example, Wells Fargo Advantage High Yield Bond Class B Fund (MUTF:EKHBX) charts back to 9/12/1935. A $10,000 investment in this fund in 1935 would be worth $3,766,000 today (according to an inflation calculator, the same $10,000 in 1935 would be worth $169,892 today).
Below are three charts of VWEHX for performance of $10,000 invested at the beginning of each of these periods of rising interest rates.
VWEHX June 2004 to June 2007

Source: Morningstar.com
VWEHX Aug 1993 to Nov 2000

Source: Morningstar.com
VWEHX Nov 1986 to May 1989

Source: Morningstar.com
Conventional wisdom is that high yield funds lose value as interest rates increase. However, as shown, from the beginning of the last three rate cycles to the end of each rising cycle, junk bond funds have generated positive total returns.
Interest rates usually begin to increase as economic activity turns up from a previous recession. Likewise, interest rates usually decline as the economy weakens and begins to slide into another recession. The problem for junk bond funds is not during times of rising rates, but, much like utilities, it is in times of declining rates where difficulties arise.
Author's Note: Please review important disclaimer in author's profile.
Disclosure: The author has no positions in any stocks mentioned, and no plans to initiate any positions within the next 72 hours.
The author wrote this article themselves, and it expresses their own opinions. The author is not receiving compensation for it (other than from Seeking Alpha). The author has no business relationship with any company whose stock is mentioned in this article.