Growth in European stock market indices seems to have increasingly been driven by a low interest policy in Europe for 2014, rather than by economic fundamentals. The below analysis reveals that various countries in the Eurozone with vastly different economic fundamentals perform similarly due to a common low interest rate policy. In addition, countries whose monetary policy is not set by the European Central Bank have stronger economic fundamentals in some cases, but have had lower stock market growth in the past year. However, stock market returns that are driven primarily be low interest rates are not sustainable long term, and low economic growth means that stock markets in the Eurozone may be due for a correction.

Source: Trading Economics
From the above table, we can see that overall year-on-year GDP growth in the United States, United Kingdom and Canada is significantly higher than that of countries in the Euro area. In the most extreme case, we can see that the jobless rate for Spain is vastly higher than that of Germany and there is also deflation of -0.40% present in Spain. Canada, the United Kingdom and the United States have higher interest rates and an inflation rate of above 1.00%. In many aspects, the monetary policy of these countries appear to be more sustainable than that of the Eurozone and indeed GDP growth per year outside the Eurozone is higher. However, the below comparison of four major stock market indices yield some quite counterintuitive observations: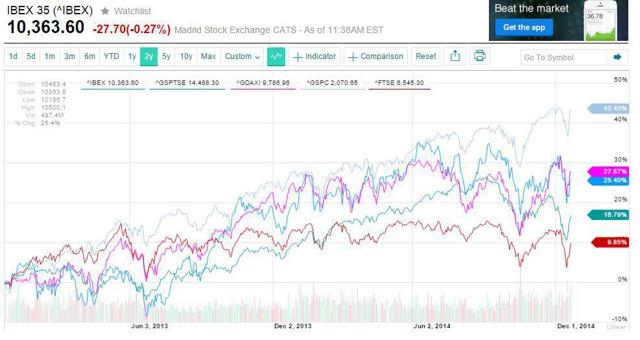 Source: Yahoo Finance
1. We can see that while Germany and Spain have vastly different fundamentals in terms of unemployment and inflation rates, both indexes have risen by 25% in the past two years. Additionally, economic growth in Spain has been 400 basis points higher than that of Germany which is surprising given the deflation trend.
2. Additionally, it is notable that interest rates in Canada, the United Kingdom and United States are higher than the Euro Area. However, when comparing stock market performance, only the S&P 500 outperforms the DAX (German Stock Market Index) and the IBEX (Spanish Stock Market Index). However, both the FTSE 100 in the United Kingdom and the TSX Index in Canada have underperformed Germany and Spain over the last two years.
3. The low interest policy set by the Eurozone appears to be creating somewhat artificial growth in this regard. In other words, stock markets in Europe appear to be rising owing to low interest rates and cheap access to borrowing facilities. It is fair to say that European stock markets are not pricing in fundamentals as a first order of importance - otherwise we would expect to see vastly different returns for Germany and Spain.
Previously, I had commented that I do not believe a low interest rate policy is the solution to bolstering economic growth in Europe. While the data suggests that low interest rates have not induced economic growth, it appears to have bolstered stock market growth significantly. Given negative interest rates lower an investor's incentive to keep cash assets, the stock market may be seen as a good alternative in this regard; indeed stocks as an asset class are significantly outperforming cash as an investment during periods of economic growth. However, should low interest rates remain persistently low, there is a danger of deflationary trends that we are currently witnessing in Spain, where consumers stop spending in anticipation of lower prices.
In conclusion, while stock market data in Europe has so far been favourable, returns driven solely by low interest rates seem less likely to last the longer such a policy is in place. While GDP growth in the Euro Area has not been negative, economic fundamentals in Europe are still somewhat inferior to other countries. Should low interest rates not have the effect of boosting economic fundamentals in the near term, then European stock markets may be due for a correction.
Disclosure: The author has no positions in any stocks mentioned, and no plans to initiate any positions within the next 72 hours.
The author wrote this article themselves, and it expresses their own opinions. The author is not receiving compensation for it (other than from Seeking Alpha). The author has no business relationship with any company whose stock is mentioned in this article.