The biggest news making the rounds on a sleepy Monday in late December? North Korea has been threatening the U.S. over the Franco-Rogen flick, "The Interview." I doubt that I would have spent any time in the movie theater to watch the satire, even if Sony (NYSE:SNE) had not pulled the film from its scheduled Christmas day release. The commercials failed to make me laugh. Nevertheless, this is one of those rare moments when terrorist threats - credible or not - have made most Americans feel like they've been beat.
In complete contrast, few things have beaten the U.S. stock market in 2014. Certainly not investing in corporations that do business in North Korea. Even market-based securities related to the neighboring south - where economic prowess and modern-day capitalism thrive - have been poor investments over the last four years. Investing in the S&P 500 SPDR Trust ETF (NYSEARCA:SPY) has offered roughly 65% in the period, whereas the iShares MSCI South Korea Capped ETF (NYSEARCA:EWY) has been a disappointing flop.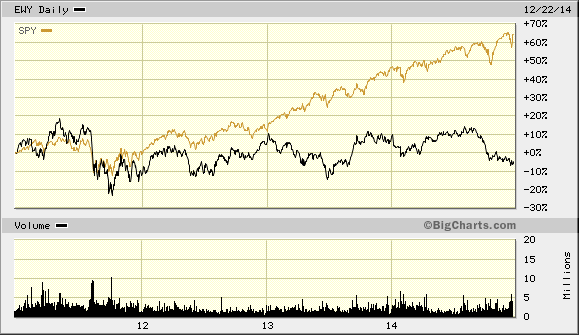 Admittedly, I have precious little exposure to overseas markets going into 2015. Other than a modest amount in the WisdomTree India Earnings ETF (NYSEARCA:EPI), most international assets in my client accounts had hit stop-limit loss orders in July. So why am I taking a look at a country that has struggled alongside developed Europe and Japan as well as emerging Asia? In essence, I believe the Bank of Korea will determine that the export-dependent nation must take steps to both stimulate its weak economy as well as depreciate its currency in the region.
If the Korean Won loses value against the dollar, wouldn't that be bad for EWY? Yes it would. On the other hand, additional stimulus from the Bank of Korea would benefit Korean corporations and a depreciating Won would be effectively neutralized in a fund like the WisdomTree Korea Hedged Equity ETF (NASDAQ:DXKW).
Korean companies in DXKW collectively have an attractive P/E of 12, an enviable P/S of 0.36 and a P/B of 1. If valuations ever start to matter again, who wouldn't want a piece of Samsung (OTC:SSNGY), Hyundai (OTC:HYMLY), Posco (NYSE:PKX), LG (OTC:LGEAF) and Kia (OTCPK:KIMTF)? Employing DXKW gives one an opportunistic exposure to equities in South Korea, while simultaneously hedging against dollar-won fluctuations. And from my vantage point, the won is almost certain to take it on the chin in the year ahead.
How can I be so confident that the won will fall in value? Well, I can't. However, since South Korea needs to do a whole lot of business in Asia and Europe, the Bank of Korea has to be livid about its currency being at 5-year highs versus the euro and the Japanese yen. Additionally, South Korea is far too dependent on its exports to merely acknowledge the country's economic weakness while holding its base rate at 2.0%.
At the Bank of Korea's recent committee meeting on December 11, it acknowledged that South Korea has been adversely affected by changes in monetary policies of major countries in the region as well as prolonged economic sluggishness in the euro-zone. While I am not capable of reading the tea leaves here, I am going out on a limb: South Korea is going to take a step in the stimulus direction in the early part of 2015. When you combine the attractive valuation with the likely depreciation of the Korean Won, DXKW would be very likely to come out ahead.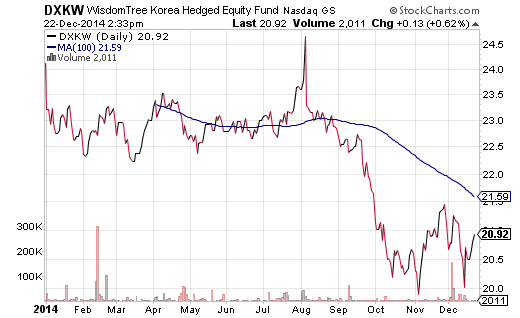 There is one glaring problem with DXKW and that is its limited liquidity. With less than $100,000 in daily dollar trading volume, it would be a challenge to own for a more active trader. The same holds true for Deutsche X-trackers MSCI South Korea Hedged Equity ETF (NYSEARCA:DBKO). However, longer-term holders of a particular theme (e.g., "currency wars," central bank intervention, massive foreign exchange reserves, current account surplus, etc.) have to like what South Korea is serving.
Click here for Gary's latest podcast.
Disclosure: Gary Gordon, MS, CFP is the president of Pacific Park Financial, Inc., a Registered Investment Adviser with the SEC. Gary Gordon, Pacific Park Financial, Inc, and/or its clients may hold positions in the ETFs, mutual funds, and/or any investment asset mentioned above. The commentary does not constitute individualized investment advice. The opinions offered herein are not personalized recommendations to buy, sell or hold securities. At times, issuers of exchange-traded products compensate Pacific Park Financial, Inc. or its subsidiaries for advertising at the ETF Expert web site. ETF Expert content is created independently of any advertising relationships.