Radiant Logistics (NYSEMKT:RLGT) was started in 2005 by a hungry, smart and seasoned executive in the transportation/logistics industry with an investor presentation. Having worked for many years at CSX and Schneider Logisitics, Bohn Crain saw the many facets and verticals of the transportation industry hands on, but knew that he was born to be an entrepreneur and not an employee for life.
Realizing he was not in Silicon Valley and did not have the next Groupon (NASDAQ:GRPN), he thought it only prudent to start where his experience was -- transportation. Having worked at CSX in the treasury/capital markets, he knew that the best businesses -- the ones that yielded the highest valuation -- were those that had the highest returns on invested capital. In the case of CSX, he was talking about the company's non-asset based logistics/freight forwarding segment. It was a proven model. Expeditors (NASDAQ:EXPD) and C.H. Robinson (NASDAQ:CHRW) were probably two of the best-performing stocks over the last 20 years in terms of ROE and share appreciation, and the opportunity was just massive and about to get a lot bigger.
The transportation industry was regulated for many years, and after de-regulation in the late 70s, the U.S. experienced massive growth in what is now called independent shipping agents/freight forwarders.
Some agents joined networks, or "franchises," where they operated their own "stores" but paid in a percentage of their gross profits/billings for access to superior buying rates -- the pooled purchasing power of being on a "network." Other agents started stores independently and eventually built their own networks.
By 2005, there were hundreds of shipping agent networks and thousands of stations. What was unique about Crain's timing is that companies were looking to get more efficient and having in-house logistics/shipping, and sending out FedEx (NYSE:FDX) or UPS was usually not the most efficient or cost-effective way. A secular growth trend of outsourced logistics services was looming, and many people were starting to figure this out.
Crain was actually approached by a number of PE firms to execute this roll-up/growth strategy, but he walked away because he didn't think he was getting enough skin in the game.
What was also unique about the opportunity was that many of these independent shipping agents/networks were run by people or families that started them 30 to 35 years ago. If the sons and daughters of these owners didn't want to run the business, the company would have to find a logical seller. Or perhaps the shipping agent/network owner wasn't quite ready to retire but wanted a potential exit strategy. But most small networks/agent stations were too small for a financial buyer and would need more importantly the right kind of strategic buyer.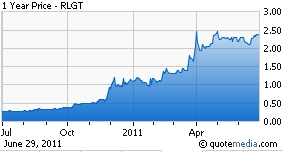 Enter Crain and Radiant Logistics. In 2005, Crain raised just $4 million of capital in a reverse merger/PIPE transaction, and Radiant completed its first acquisition of a freight forwarding network called Airgroup. In September 2008, Radiant Logistics completed its second acquisition, of Adcom. And, at the end of March, the company completed its third acquisition of Distribution By Air.
What is unique about these transactions and this model is that Radiant Logistics not only increases its buying power and its competitiveness in the market place that produces revenue synergies, but it also produces significant cost synergies. Each network has its own IT staff/corporate G&A. In the most recent Airgroup transaction, the company was able to eliminate over $1.5 million in costs. So if we look at the pro-forma math closely, Radiant is really able to buy networks/agent stations at 3 to 4 times EBITDA (structured in 2 times cash and 2 times earnout) when these businesses trade at 10, 12, 15, 20 times EBITDA in the public market place. This resolves in a fabulous, unprecedented opportunity to create shareholder value. And these companies require almost no capex, making them almost infinite ROIC businesses.
If you thought the story couldn't get better, just wait. Radiant is also able to poach/"onboard" agent stations from members who are unhappy on other networks. The company has historically onboarded three to four agent stations a year, and these can add anywhere from 250,000 to 600,000 EBITDA to the business for free. Yes, for free. Crain provides no sign-on bonuses for stations joining his network -- just a little bit of training to use his platform. In fact, most agent stations/network directors buy stock when they sign on (because they get zero grants).
Now, get ready for the piece de resistance. Between 60% to 70% of Radiant is owned by "insiders." Crain started with 15% to 20% of the company to execute on the strategy and through open market purchases and Radiant's share buyback program, has brought his ownership to over 40%. The next largest holder is the single largest agent station holder, Doug Tabor, who has been instrumental in sourcing new network deals and opportunities to onboard new agents. In all the years I have been investing, I have never seen an opportunity with the stars so aligned.
To review:
1. We have an industry that is fragmented in consolidation mode and a very favorable public/private arbitrage.
2. A great business that has superior returns on invested capital and yields high valuations in the public market place. These businesses have also proven to be somewhat recession resistant.
3. Huge insider buy-in/skin in the game matched with a genius capital allocator. He only takes a $200,000 salary and consistently underpromises and overdelivers.
4. Huge operational leverage and at an inflection point in its cycle. The business has found its stride and has accelerated its organic revenue growth (purchasing power driven/stealing market share) and is starting to see the powers of fixed cost utilization corporate G&A flat, sarbox flat and so on.
5. This has been done before. Expeditors International of America executed on a similar strategy in the '80s and '90s and was one of the best performing stocks in terms of ROE and appreciation over that period.
Catalysts
1. Big time earnings beats.
2. AMEX uplist coming up.
3. Accelerating onboards.
4. Gets picked up by research.
Valuation
Taglich Brothers posted a research update (.pdf): 3.35 target on "9mm of ebitda and 282mm of revenue." This assumes no onboards or no pickup in freight volumes. Also minimal synergies with the deal. If you apply the same multiple they use on a more reasonable adjusted EPS number of 0.25 to 0.35, you get $5 to $7 per share.
Variant View
Market/consensus sees an underfollowed nano-cap that appears to be expensive on trailing math.
What I See
A brilliant CEO who has worked doggedly to create a $70 million business in a short period of time and is about to see the fruits of his labor.
Radiant has stated that its existing book of business is about 10 million of EBITDA according to its most recent press release - 3 times debt EBITDA. The company has a history of underpromising and overdelivering. I think that if the economy holds in 2012, Radiant will earn over 31 cents in adjusted earnings, making the company trade at a little less than 7 times forward. This is for a company where the comps trade at 20 to 30 times forward EPS.
In Radiant, you are buying a phenomenal jockey in a great biz/industry at a great price. This has See's Candies written all over it.
Other Consideration
Express-1 Expedited Solutions (NYSEMKT:XPO) (a direct competitor) just received $150 million from United Rentals' (NYSE:URI) founder (Brad Jacobs) to execute on Crain's strategy This is a validation that we have a good macro opportunity. Brad Jacobs has built two billion-dollar businesses previously, so his interest in this space indicates he sees a massive opportunity.
But it also tells us:
1. Jacobs, a very smart and successful investor, is willing to invest $150 million to acquire the platform opportunity that Crain saw years ago.
2. Shareholders of XPO have to suffer 60%-plus dilution in order to have Brad at the helm. Crain is better and is already on board, no below-the-market stock deals or warrant dilution. On the contrary, Crain is a superb capital allocator and will buy back stock when it's cheap and potentially use it as acquisition currency if it ever gets expensive.
Disclosure: I am long RLGT.