In my opinion, MasterCard Incorporated (NYSE:MA) is a company set to see significant growth over the next five-year period. While we are increasingly living in a digital economy attempting to make the transfer to electronic payment means, cash and checks still count for 85% of the world's transactions. In this regard, as a company renowned for payment efficiency and financial security, MasterCard is in a perfect position to capitalize on its "A World Beyond Cash" initiative through the introduction of various technological payment mechanisms across both developed and emerging markets. It is notable that while you have seen the MasterCard and Visa logos on your credit card, these companies do not actually manufacture the credit cards themselves - this is the responsibility of the bank in question. Therefore, it is reasonable to assume that should companies like MasterCard develop new payment technologies in the near future, your local bank will be sure to adapt. This is increasingly heading in the direction of wireless payment mechanisms. The achievements made to date in this area have been numerous. For instance, this year MasterCard pioneered a biometric payment mechanism in Nigeria which is the largest electronic payment initiative in Africa currently. Moreover, in light of the release of MasterPass in the U.S. and Canada last year, this technology has since been rolled out to a consortium of countries, including most recently France and Russia. I believe that given the market for electronic payments and MasterCard's capabilities in this regard, the company will continue to increase earnings and return cash to shareholders. Moreover, earnings growth throughout the past five years has been impressive, consistently showing an upward growth trend: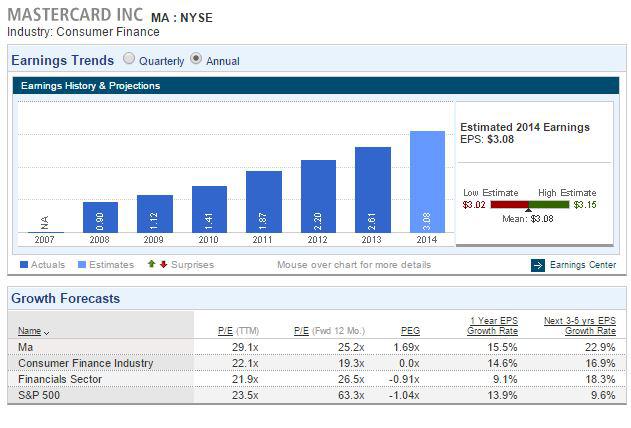 Sources: CNBC
In addition, Gross Dollar Volume for 2013 showed an increase across all major card segments:

Sources: 2013 Annual Report
In this article, I use the dividend discount model to 1) backtest performance from 2009-13 to analyze the impact of dividend and earnings growth on actual price, and 2) extrapolate findings from past trends in conducting a sensitivity analysis of projected dividend and earnings growth to reveal forecasted five-year price targets. I use a 7% discount rate (as a generally accepted long-term rate of return on the S&P 500 Index).

Sources: Business Insider/Goldman Sachs
Backtesting
From the period 2009-2013, earnings grew by an average of 23% while dividends grew by an average of 40% during this time. However, it is notable that the majority of dividend growth came at the end of the period. Therefore, I backtest this model by assuming a 20% year-on-year growth in DPS to account for the compounding effect, along with a 23% growth in EPS.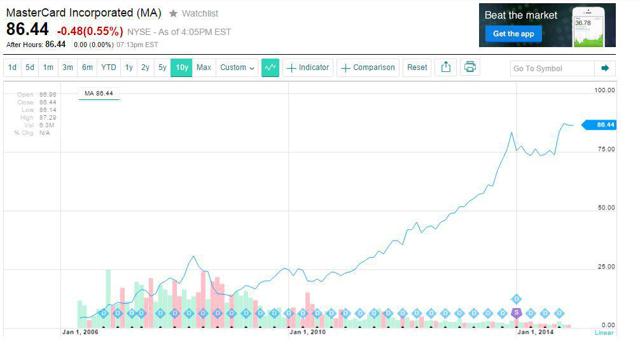 Sources: Yahoo Finance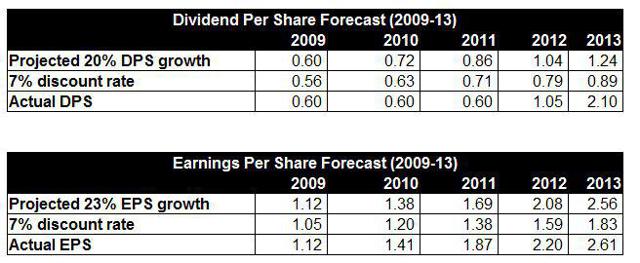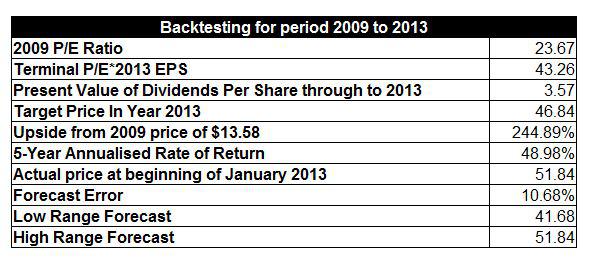 We can see that the model forecasts a price of $46.84 for the year 2013, while the actual price for 2013 was $51.84 - yielding a forecast error of 10.68%. Using a range centered on both a low and high end of the forecast error, this would yield a target range of $41.68 - $51.84, which would represent a minimum 206% upside from the 2009 price of $13.58, and a 41% annual rate of return.
Scenario Analysis - Dividend Discount Model
In light of the above findings, I now use the model on a forward-looking basis under the growth scenarios of 10%, 15% and 20% growth to extrapolate future price targets:
10% scenario


Target Price Range: $100-116
15% scenario


Target Price Range: $124-144
20% scenario

Target Price Range: $152-176
Note that dividends per share for 2014 are left unchanged after the 10-to-1 stock split for the purpose of comparison with past trends. e.g. it is assumed that if an investor held MasterCard and received dividends of $2.10 per share in 2013, the 10-to-1 stock split means he/she would have received (($0.33*10) + $1.10 = $4.40 in 2014. I expect that DPS and EPS growth will be a minimum of 10% annually over the next five years, and this would yield a target price range of $100-116, or a minimum upside of 16%. However, I believe it is much more likely that we could see a 15% growth rate given the prospects in the electronic payments market, and therefore I believe a target price range of $124-$144 is more realistic.
Ultimately, MasterCard is a company that has excellent prospects to capitalize on growth in the electronic payments industry, and in this regard I believe a 15% growth rate is not unreasonable. The company has already raised its dividend forecast for the first quarter of 2015 and earnings appear to be on target to meet 2014 estimates. Should the current growth trajectory continue, then I believe a long-term target price range of $124-$144 is quite achievable.
Disclosure: The author has no positions in any stocks mentioned, and no plans to initiate any positions within the next 72 hours.
The author wrote this article themselves, and it expresses their own opinions. The author is not receiving compensation for it (other than from Seeking Alpha). The author has no business relationship with any company whose stock is mentioned in this article.