It is difficult to find good articles and information as a short seller. Starting with Seeking Alpha, there may be dozens of long idea articles in a day, but only a handful of short-selling idea articles. When I tried using Smart Money's stock screener to find good shorting ideas, I could easily find a variety of long stock screens, but not a single short-selling screen.
How does Smart Money have screens for everything from "Takeover Targets" to "Foxhole" and no short-selling screens? Perhaps it is because people are hopeful by nature and prefer to invest in the growth of companies rather than bet against them. However, every bullish market is always accompanied by a bearish downturn and short-selling resources should be just as common as the resources for buying long.
Since Smart Money did not have a short-selling stock screener, I tried creating my own criteria for what makes a good short-sell prospect. It is easier to short-sell companies that are already on their way down so I began with looking for stocks with negative price change—or negative average earning surprises—over the last four quarters. A company with negative cash flow is also a bad omen but an even worse sign is negative cash flow growth. I also looked for increasing debt to total capitalization, negative free cash flow, and shrinking margins.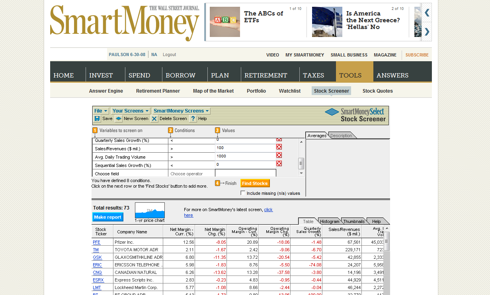 There are many other criteria that investors can use to assess businesses for short-selling opportunities, but to find stocks that fit a broad array of criteria, keep the search fields simple. It does no good to create a list of fields so specific that no companies turn up. After I created a stock screen based on my own criteria, I went through all of Smart Money's preset screens and "reverse engineered" many of them. To list a few, I turned Accelerating Sales Growth into Decelerating Sales Growth, Warren Buffett into Deteriorating Business Conditions, and Bargain Growth into Overpriced Stocks.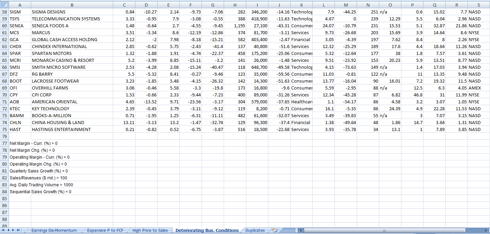 Here is the most important part of the process: after creating my own screener and reverse engineering the preset screeners, I looked for companies that appeared on more than one screen. The best way to screen for short-selling opportunities is to design several basic stock screens and look for companies that show up multiple times.
Between eight stock screens and 252 total stock results, there were only 19 companies that appeared on more than one screen of which only five matched my two favorite conditions: appearing on Deteriorating Business Condition and Expensive Price to Free Cash Flow or appearing on Deteriorating Business Condition and Overpriced Stocks. Here are those six and why they showed up on my screens:
· Energy Transfer Equity (NYSE: ETE) and Potlatch Corporation (NasdaqGS: PCH) had a trailing P/E that is greater than the projected EPS growth for both this year and the next. Their margins were shrinking and quarterly sales growth was negative.
· Inergy (NYSE: NRGY), Owens-Illinois (NYSE: OI), and Temple Inland (NYSE: TIN) were experiencing shrinking margins and negative sales growth, both quarterly and sequential. These three companies were also priced high compared to their free cash flow with a P/FCF greater than 30.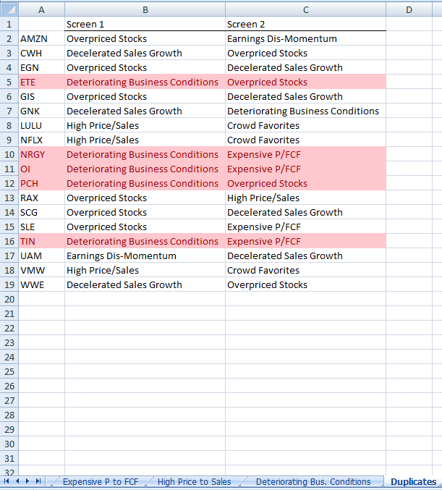 These are only the results of the stock screen, and further company-specific research is required to assess these companies as short-selling investments. I tried to create screens that show a mismatch between the price and performance of a company. For example, stocks that appeared in both a Deteriorating Business Condition screen and Expensive Price to Free Cash Flow screen signal to me that the price, and investor expectations, were too high for a growth company with declining performance.
This assessment worked for growth stocks but would not have worked with cyclical stocks because high P/FCF ratio may actually be a good buy signal, in this case, if you believe you are at the trough of a business cycle. This shows how it is important to think about the type of stocks you want to assess before creating your own short-selling criteria. With few resources for short-selling ideas, properly executed stock screening is a good place to start.
Disclosure: I have no positions in any stocks mentioned, and no plans to initiate any positions within the next 72 hours.