Improved labor conditions, favorable affordability dynamic and a low level of housing inventory have been helping housing demand and sales, though at a slow pace. The housing sector has come a long way from the lows witnessed in mid-2006. A string of housing data released recently portrays a mixed to slightly positive picture of the housing market.
The US equities have enjoyed another year of strong gains this year. The Dow, S&P 500 and the Nasdaq are up 7.4%, 12% and 14.1%, respectively so far this year. Fortunately, the momentum is evident in the real estate mutual funds as well. With 27.9% gains (as of Dec 19), Real Estate is the second highest sector equity mutual fund gainer so far this year.
We will be picking the top 3 Real Estate funds this year based on their year-to-date returns and favorable Zacks Mutual Fund Rank among others. However, before doing so, let's look at the positives for the sector.
YTD Sector Performance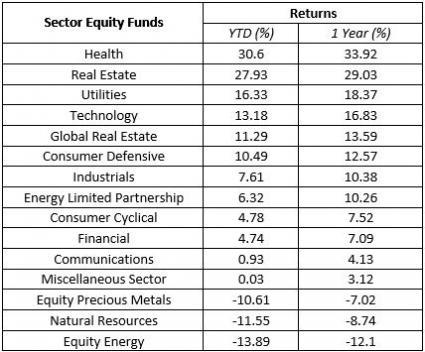 Source: Morningstar
Housing Recovery on Track
There are plenty of reasons to be optimistic about the broader housing sector over both the short and long term.
Most homebuilding companies have been witnessing average price increases across all operating regions. This has been mostly driven by a shift to higher-priced homes as well as market driven price increases.
The rise in home prices has however moderated to an extent in 2014. The median existing-home price rose 5.5% in October but it was much less than the 11.5% increase seen in the comparable year-ago period.
Meanwhile, mortgage rates in 2014 are still below historical levels, though it has risen from the 2013 average, making housing an affordable option. Low mortgage rates and moderating home prices are expected to give homebuyers the much needed confidence paving the way for higher home demand going into 2015.
It is generally believed that the U.S. economy should sustain the growth seen in 2014 next year and do even better. There are several reasons in support of this optimistic outlook. Lower energy costs encourage consumer spending, while further easing of credit conditions and more upbeat consumer and business confidence all foretell faster economic growth in 2015.
Most housing companies are striving to improve their operating and financial performance through strategic restructuring initiatives. The initiatives taken include workforce reductions, improving overhead leverage, managing inventory tightly and implementing new pricing strategies. The homebuilders expect these cost reduction and operating efficiency improvement plans combined with an improving housing demand to continue to boost profitability in 2015.
Best Performing Real Estate Mutual Funds
We will pick 3 top real estate funds that carry a Zacks Mutual Fund Rank #1 (Strong Buy) as we expect the funds to outperform its peers in the future. Remember, the goal of the Zacks Mutual Fund Rank is to guide investors to identify potential winners and losers. Unlike most of the fund-rating systems, the Zacks Mutual Fund Rank is not just focused on past performance, but the likely future success of the fund.
These funds also have high returns year to date. The funds have relatively low expense ratio and carry no sales load. The maximum initial investment required for these funds is $5000.
PIMCO Real Estate Real Return Strategy D (MUTF:PETDX) seeks to provide maximum real return. The fund invests in real estate-linked derivatives and a basket of inflation-indexed securities to achieve its investment objective. It also invests in Fixed Income Instruments including bonds and debt instruments issued by domestic or foreign public and private sector entities.
PETDX has returned 32.4% year to date. The fund carries an annual expense ratio of 1.14% as compared to category average of 1.33%. PETDX carries no sales load.
Oppenheimer Real Estate Y (MUTF:OREYX) invests majority of its assets in real estate companies. These companies either invest at least half of their assets or earn 50% of their revenues from ownership, construction, financing, or sale of commercial, industrial or residential real estate. The fund may invest both in real estate investment trusts (REITs) and real estate operating companies (REOCs).
OREYX has returned 24.2% year to date. The fund carries an annual expense ratio of 1.17% as compared to category average of 1.33%. OREYX carries no sales load.
Fidelity Series Real Estate Equity F (MUTF:FREFX) seeks capital appreciation over the long term and above-average income. The fund invests a lion's share of its assets equities primarily from the real estate industry or other real estate related investments. The fund aims to provide yield higher than that of the S&P 500 Index's composite yield. The fund invests in both domestic and non-US issuers.
FREFX has returned 23.9% year to date. The fund carries an annual expense ratio of 0.59% as compared to category average of 1.33%. FREFX carries no sales load.