If it wasn't bad enough that Freeport-McMoRan (NYSE:FCX) bet big on diversifying into oil, the global miner now faces major headwinds in copper. The latest news from Australia is that both BHP Billiton (NYSE:BHP) and Rio Tinto PLC (NYSE:RIO) are increasing plans to expand copper production.
Despite attempts to diversify, copper remains the most important commodity to Freeport-McMoRan. With copper prices holding up unlike most other commodity prices, Freeport-McMoRan could hit some speed bumps in the next few years if BHP and Rio Tinto keep moving forward with plans to grow production in a slightly over supplied market.
BHP And Rio Tinto Plans
Despite both claiming the expectations for a surplus copper supply until possibly 2018, both BHP and Rio Tinto are moving forward with a major joint venture and separate projects to expand copper production. The forecast is for copper demand growth as emerging markets like India advance and renewable energy sources have growing demands for the red metal. The major concern in the market and for specifically Freeport-McMoRan is that these mega global miners want to control the copper market in a similar manner to the dominance in iron ore. A dominance that has helped crush the iron ore price.
In the case of BHP, it plans to increase production at Olympic Dam in Australia and Escondida in Chile with a goal of growing output by the time the global copper markets turn to a significant deficit starting in 2018. At the same time, BHP predicts that it has some of the lower cost mines allowing it to push out some of the high-cost producers in areas like North America.
According to this slide from a recent presentation, BHP suggests that it has the largest copper resources, some of the lowest costs, yet sits in the middle of current production levels amongst peers.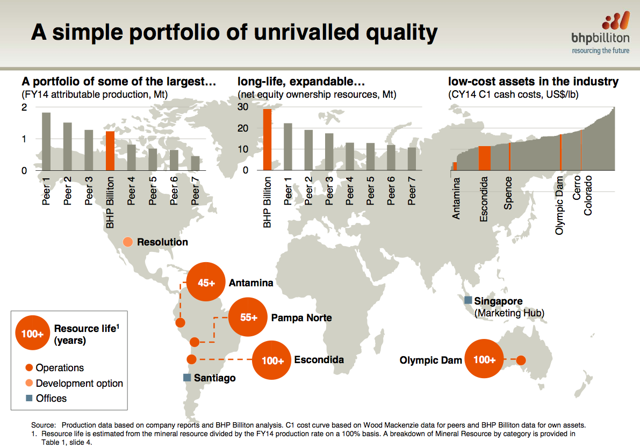 Source: BHP presentation
At the same time, industry-wide challenges would lead to supply constraints in the years ahead. BHP forecasts a large deficit growing by the time 2020 comes around due to declining copper grades at existing mines. Further more, the higher costs at Canada and US mines provides an advantage to the mostly Chile mines owned by BHP.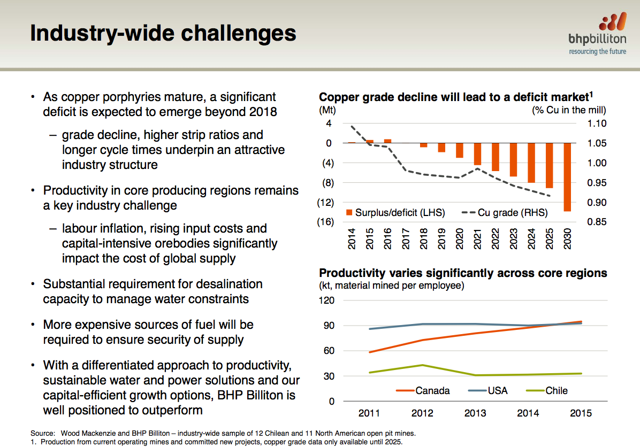 Source BHP presentation
Ironically, BHP is attempting to move forward with a joint venture mine in the US that could produce up to 1 billion pounds of copper per year. The Resolution mine in Arizona that is a joint venture with Rio Tinto got the backing of the US Congress to move forward with spending $6 billion to open the copper mine. The mine is 55% owned by Rio Tinto and 45% by BHP.
Rio Tinto is pushing forward with the previously mentioned Escondida and Resolution mines in partnership with BHP. Outside of that, it has big project in Mongolia that won't reach full production until 2021 and it controls a 40% interest in the Grasberg mine in Indonesia operated by Freeport-McMoRan. The interest doesn't kick into full force until after 2021.
Copper Fundamentals
Copper prices are at 5-year lows making for a precarious time for a couple of large global miners to embark on an aggressive plan for growing production.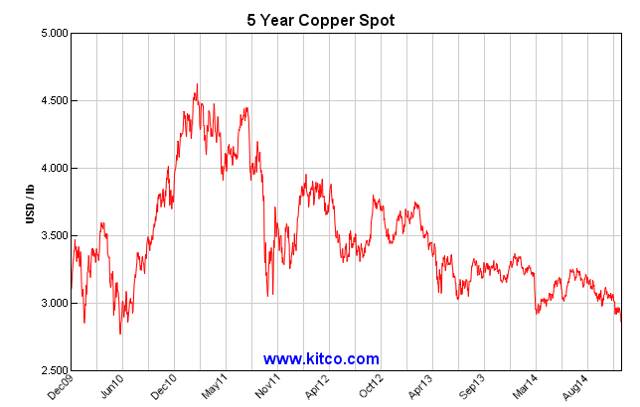 At the same time, LME copper inventories are at multi-year lows, but inventories in China warehouses continue to remain a wild card.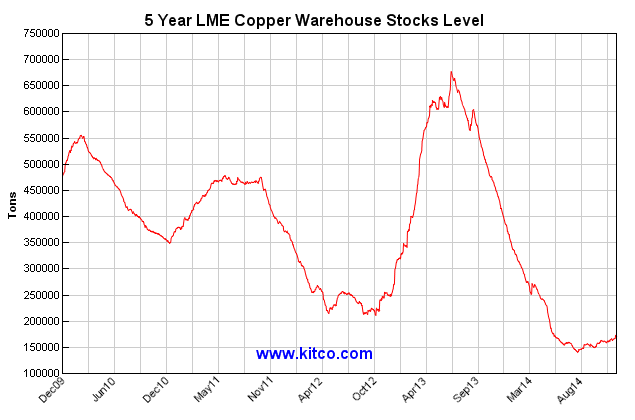 Freeport-McMoRan
For Freeport-McMoRan, the news is concerning though possibly not to the extent of the headlines over the last week or so. It will take years for most of the large-scale projects of BHP and Rio Tinto to come online. In addition, the projection by these two mining giants is that the copper markets will reach significant deficits at that point anyway.
During Q3, Freeport-McMoRan obtained 80% of revenue and all of operating income from the copper division so the company would be hard hit by a plunge in copper prices. The impact is even greater considering the drop in oil prices will further dilute the impact of the US Oil & Gas operations.
Freeport-McMoRan might be its own worst enemy in regards to copper supply with the company in the midst of several expansion plans detailed in this article. In fact, the company forecasts going from production of 4.1 billion pounds in 2013 all the way to 5.5 million pounds in 2016. Based on the supply surplus in 2016, Freeport is bringing a large increase in supply to a potentially weak pricing environment possibly a bigger detriment to itself than the long-term plans of BHP and Rio Tinto.
Takeaway
The collapse in the stock price of Freeport-McMoRan from nearly $39 earlier this year to $21 last week appears extremely overdone. The long-term fundamentals of the copper market are promising, yet the market has a hint of short-term trouble ahead with all of the forecast production coming online relying on copper grade declines and demand growth in emerging markets. Unfortunately for Freeport-McMoRan, the stock market doesn't look ahead three years for the supply deficit to take hold. In the meantime keep an eye on the plans of BHP and Rio Tinto. Freeport-McMoRan should stabilize at these levels, but the stock isn't overly attractive probably for a couple of years now outside the 5.5% dividend.
Disclaimer: The information contained herein is for informational purposes only. Nothing in this article should be taken as a solicitation to purchase or sell securities. Before buying or selling any stock you should do your own research and reach your own conclusion or consult a financial advisor. Investing includes risks, including loss of principal.
Disclosure: The author is long FCX.
The author wrote this article themselves, and it expresses their own opinions. The author is not receiving compensation for it (other than from Seeking Alpha). The author has no business relationship with any company whose stock is mentioned in this article.