Investment Thesis:
Universal Display Corporation (NASDAQ:PANL) is massively overvalued due to a misunderstanding of its strategic positioning within the OLED display market. With a current market cap of $1.6 billion, UDC is trading at a tremendous multiple of what we believe the SAM (Serviced Addressable Market) to be. As the Street becomes aware of what the true opportunity is and begins to see the limited revenue potential, we expect the valuation to return to be more consistent with that of a materials supplier delivering product into a commodity display market. We have no faith in the Street's near and mid-term estimates, and therefore completely dismiss valuations based on 10+ year revenue forecasts. We believe PANL should trade at no more than 4.5x 2013 revenues ($10 a share), or roughly 70% below the current levels.
Background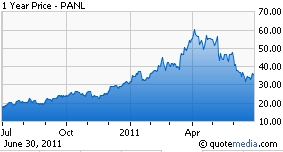 Universal Display Corp (UDC) is a supplier of specialized materials used in Organic Light Emitting Diodes (OLEDs) used in flat panel displays and solid state lighting. UDC was formed in 1985 and went public with Whale Securities in 1996. With current shares outstanding in excess of 45 million, UDC now has a market cap of over $1.6 billion despite the fact that the company's materials and royalties have NEVER generated more than $11 million in annual commercial revenues. Even more impressive is the $229 million in accumulated deficits that have been generated over its 26 consecutive year history of losing money.
For the past year, UDC's stock has been on an absolute tear, exploding from just over $10 in March of 2010 to a high of over $60 in April of this year. Lost in the recent hype are the decades of false starts that the OLED industry has endured; the fact that OLEDs have structural and competitive flaws that constrain the market opportunities; and the development of competing solutions from much larger, better connected chemical companies. Only since the March 31st results were released and the ruling in Japan was disclosed in its 10-Q have investors even questioned the assertions made by UDC.
On the back of the monster stock appreciation, UDC had a secondary offering on March 24, 2011, utilizing the sales efforts of essentially all of its sell-side analysts. According to their lead banker's projections in its initiation report (Goldman Sachs-June 2011), UDC could generate $169 million of revenue in 2013 (2 years from now) if it is able to triple its effective royalty rate and OLED shipments into the smartphone market exceed 300 million. This top line is expected to generate $1.81 in EPS (pro-forma) according to Goldman Sachs. However, without the royalty, the financial outlook is much less attractive as that royalty revenue flows through the P&L at an 100% margin. As the tables below illustrate, Goldman is predicting an increasing realized royalty rates and massive growth in OLED display markets to generate impressive material sales.

Note that if the realized royalty rate doesn't increase 400%, but rather stays at the same level it has been for several years previously, the royalty revenue from handsets would only be $18.5 million in 2013 and $21.5 million in 2015 (assuming the smartphone and display module forecasts are accurate). Thus, it compromise the entire revenue and profit forecast.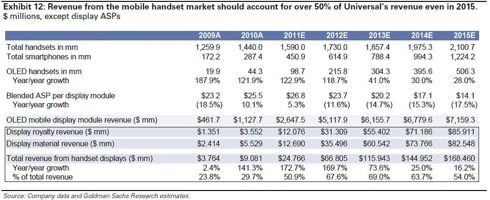 In the table above (exhibit 12 from the GS initiation report) we see several flawed assumptions. First, the penetration of smartphones (relative to the overall handset market), shown to be rising from 28% to 42% in just 2 years, seems a bit stretched at best…we suspect that this is due to a difference in defining what is a smartphone. This level of penetration would imply that there would be a large number of smaller, lower-end phones included in that projection, thus bringing us to our second primary objection—the ASP per module.
Given that Apple's (NASDAQ:AAPL) iPhone 4 LCD display currently fetches less than $25 per handset, we believe the ASP projection is more than a bit rosy. While clearly the high end of the market enjoys a healthy premium, one cannot possibly have 42% smartphone penetration without greater price degradation at the higher volume end of the market. To get a better understanding of where the volume of the market operates, take a look at the current average display module pricing for mobile phones today according to DisplaySearch below.

Why don't we believe UDC will be able to increase its effective royalty rate?
Several weeks ago, an article was published in the Korean Times, highlighting that some of UDCs patents had been challenged and subsequently invalidated in Japan. The article went on to mention that UDC's patents have also been challenged in Europe. On the surface, this isn't news in that it has been disclosed in UDC's public filings for some time. However, the new twist is the challenge that was being reported in Korea, based on the findings in Japan.
Additionally, many of UDC's original core patents are approaching their expiration dates including UDC's "key PHOLED technology patent" which expires in 2017 (most OLED technology is not new, it is in fact over 25 years old). While management of UDC is quick to point out that they have numerous other patents and that the patents in the US have not been impacted by the Japanese ruling, this defense misses the point entirely. The Street's valuation of UDC is predicated on one thing—assumed control of the OLED industry through IP protection.
Without complete control, the numerous other chemical/material suppliers (and there are dozens, including Merck (NYSE:MRK), Sumitomo, BASF (OTCQX:BASFY), Dow Chemical (NYSE:DOW), DuPont (NYSE:DD), Fujitsu (OTCPK:FJTSY), LG Chemical, etc.) can compete for the business at the various manufacturing companies (Samsung (OTC:SSNLF), LG, Sharp (OTCPK:SHCAY), AUO, Chimei, etc.) based on quality and price. Most importantly, without control over the industry, the hopes for an additional royalty to be collected go out the window.
Bulls on UDC predictably point to the royalties collected to date as evidence of the perceived validity of the IP. However, that was when the stakes were low and the patents hadn't been invalidated. With billions of CAPX dollars and tens of millions of new devices in the pipeline, no business, especially a display business, can afford to saddle itself with future costs that could be proven unwarranted by a court. Despite the assurances made during the secondary road show in late March, Samsung and others have not entered into long-term licensing/royalty contracts, and now with IP challenges occurring in Europe, Korea, and the United States, Samsung and its peers have absolutely no reason to agree to any royalties whatsoever.
We believe a closer review of UDCs opportunities is not just warranted, but overdue.
Bulls will argue that the OLED display market is going to be over $10 billion 5 years from now… that sounds good and it may be relevant to Samsung or LG, but more importantly, what does this mean for UDC?
The Display Market (a brief overview)
Today, electronic displays are found on virtually every electronic device, from cell phones to car stereos, the microwave, dishwasher, computers, tablets, and on to the ubiquitous TV. The global display market includes over 4 billion devices and generates roughly $90 billion in annual display revenues.
However, not all of these devices will be better served by the AMOLEDs (Active Matrix Organic Light Emitting Diodes) that UDC hopes to sell into. For instance, E-Readers will likely continue to use liquid paper technologies like the E-Ink display found in the Kindle, Nook, and Sony Reader. Similarly, industrial and consumer appliances may be better served by monochrome LCDs than full color AMOLEDs. Perhaps most importantly, large area TVs (those bigger than 30") are still several years away from being cost competitive with LCD technologies and they may never be commercially viable due to multiple design challenges.
The largest unit volume market by far is the handset market. However, because many people use their phones outside, various LCD technologies actually perform better than OLEDs for outdoor use. This is one of the reasons why Apple currently uses LCD technology and spent over $5 billion in CAPX to secure LCD supply for its mobile devices. As such, we do not expect to see Apple utilizing OLED technologies in its mobile phones for several generations of products (substantially reducing the SAM right off the top).
In notebooks, and computer monitors, OLEDs hold great potential, however, due to the rapid improvements in white LEDs and Liquid Crystal design, the cost differential remains too great for most notebook and monitor suppliers to consider higher percentage allocations. For the record, this is the area where we see Apple most likely utilizing OLED technology, thus the recent visit by Tim Cook (COO) to Samsung.
Even the biggest bulls on OLED technology concede that TVs will not meaningfully switch to OLED technology until the second half of this decade. After attending SID for more than 15 years, we remain skeptical that OLED TVs will ever see meaningful volumes. There are a number of reasons why, but perhaps the most relevant is the enormous capital investment that has already been made in the LCD supply chain. Without a lower cost, marginally better displays cannot be economically justifiable for the display industry. All one has to do is look at how many Plasma TVs remain on the store shelves. Yes, there will be OLED prototypes and high-end niche product offerings / introductions, but we won't be seeing 10s of millions of >30" TV units produced for at least 5 years and we suspect, ever.
How do we evaluate the SAM (Served Addressable Market) for UDC?
Fortunately, the market already provides a good proxy of what to expect in Merck. Merck has a virtual monopoly on the global LCD Video Display industry due to its heritage in Twisted Nematic (TN) and Vertical Alignment (VA) Liquid Crystals. According to its 2010 Annual report, Merck generates roughly EUR1.4 billion in what it calls its performance materials segment of its chemicals division. Realizing that Merck liquid crystals are used in literally every segment of the LCD display markets, this is particularly relevant.
According to our contacts at Merck, OLED displays use less than 30% the amount of material of a same sized LCD display. Given that Merck is also a supplier of OLED and PHOLED material under its livilux brand, we find it critically important to note that Merck believes that it is this volume of material that will ultimately determine the revenue opportunity per display. Thus, if we are to use Merck's reported financials and a 30% volume assumption, this would imply that the TAM for OLEDs would be no more than EUR 450 million if we assume a 100% replacement of Merck's LCD stronghold by OLED.
As for the projected hopes for sales into lighting markets, we are more than a little skeptical. Not just because of the physical light diffusion issues, or the reality that the form factor make the replacement market a complete non-starter. But rather because we believe the LED market is on the verge of a massive oversupply and that LED lights will be much cheaper and widely adopted in the not-so-distant future. For the next 5 years at least, we expect lighting related revenues to be de minimis to UDC.
To dial in the UDC revenue opportunity, one should make their own assumptions on penetration rates, market share, and price erosion and then run the numbers themselves. We don't believe any of the analysts on the Street are taking an honest look at what the realistic outlook is for OLED. Given that nearly all of the firms currently covering UDC were paid on the last round of financing, we can't say that we are surprised.
It is our opinion that unless UDC is able to string together a series of legal victories, there will be no material royalty revenue opportunity for the company. Furthermore, we believe that without said victories, UDC's market share in OLED materials will not exceed 60%. We see no reason to expect UDC will be more legally successful in Korea, Japan or Europe than it has been to date.
Taking these assumptions into account and a more pragmatic view on the mobile display market, we expect UDC's total revenues to grow at a healthy clip, but to stay below $100 million through 2013 and under $150 million through 2015. As such, we believe PANL should be currently trading at no more than $10 a share (4.5x 2013 Sales).
With a market capitalization of $1.6 billion, the risk remains firmly to the downside, despite the significant drop since the euphoric April highs.
Disclosure: I am short PANL.