According to Alibaba's F1 filing (NYSE:BABA), adjusted non-GAAP metrics "provide useful information about our operating results, and enhance the overall understanding" of the performance allowing for greater transparency of the company.
Comparing the non-GAAP metrics to GAAP metrics will show what and where the differences may lie. A large difference may be an indication of a red flag.
To begin, let's look at the regular metrics.
(Please note, all numbers are in millions, and Alibaba's numbers use the exchange rate of 6.2036 RMB per US dollar given in the F1 filings.)
EBITDA
First, I will start with adjusted EBITDA. The calculation is shown below.

Source: Alibaba F-1 filing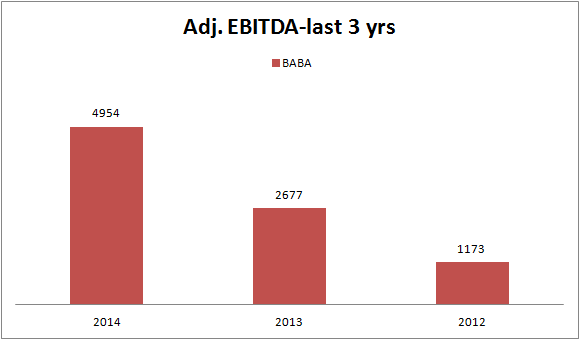 Source: Self-Created
The difference between EBITDA and Adjusted EBITDA yields the stock compensation expense. The reason for the adjustment in EBITDA is that stock compensation is a non-cash expense with very subjective assumptions. Also, it is not part of the core operations.
I have included Alibaba's EBITDA below to help you visualize the difference. Although the adjustment in the stock compensation is helpful, there is not a material enough difference to warrant looking at the adjustment factor. The trend of both metrics and the conclusions are the same - core operations are very strong. (Technically, the EBITDA is a Non-GAAP measure. For the purpose of this analysis, I am referring to Alibaba's adjustments in the F-1 filing as non-GAAP.)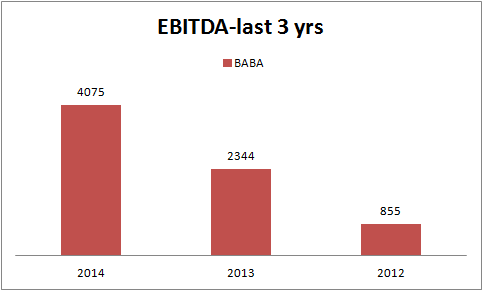 Source: Self-Created
Net Income
Next, I will look at adjusted net income.

Source: Alibaba F-1 filing
The formula above may be familiar to some of you. Alibaba is essentially normalizing its earnings.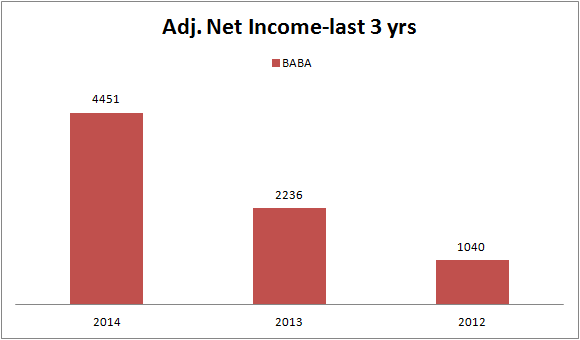 Source: Self-Created
Again, share based compensation is added back to net income because this expense is non-reoccurring. Rather, it can be viewed as a one-time expense. The amortization, impairments and gain/loss on disposals are based on the non-cash expenses and one-time events that are really not part of the daily core operations, which is why they get added back as well. The last two line items are company specific. Thus, this net income shows the income from the core daily operations. If a company is trying to tout its short-term results, this adjustment paints a rosier picture.
For comparative purposes, I have included the GAAP earnings below. What you will notice is the GAAP and non-GAAP earnings do not have a significant variance. This signifies that Alibaba's business operations is not heavily influenced by these nonrecurring costs, and its earnings are mostly created by the company's daily operations. If you are investing in a company, that is a characteristic you should pay attention to.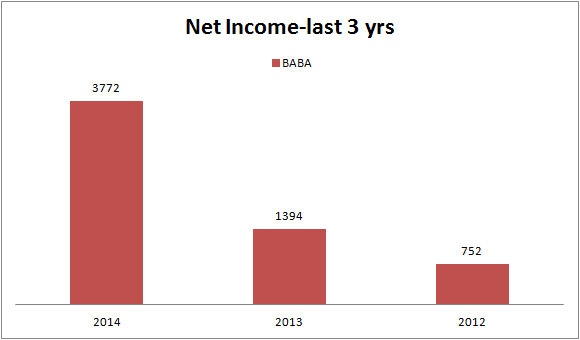 Source: Self-Created
Free Cash Flow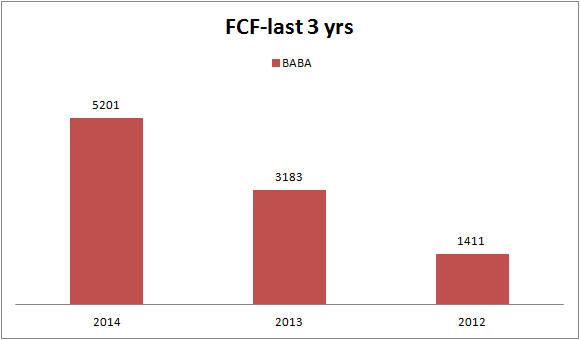 Source: Self-Created
According to the SEC, free cash flow is a non-GAAP measure because "free cash flow" does not have a uniform definition and its title does not describe how it is calculated." I was surprised since text book definitions define FCF as NOPLAT minus net investments.
The above chart can be interpreted in two ways. You can think of the chart showing that Alibaba's business has not been very capital intensive for a simplistic comparison. Another interpretation is that Alibaba's investments have generated value which is why the cash flows have been increasing each year. I'd lean on the latter interpretation because companies want to create value for their shareholders and the initial interpretation does not reveal anything significant.
By using GAAP and Non-GAAP metrics, an in-depth picture is provided. The information conveyed in both metrics indicates that Alibaba is a well run company due similar, non-conflicting information. Thus, Alibaba is generating value for its shareholders.
Disclosure: The author has no positions in any stocks mentioned, and no plans to initiate any positions within the next 72 hours.
The author wrote this article themselves, and it expresses their own opinions. The author is not receiving compensation for it (other than from Seeking Alpha). The author has no business relationship with any company whose stock is mentioned in this article.