This report focuses on providing investors the true costs incurred when investing in Small Cap Value ETFs and mutual funds. A key component of our fund ratings, Total Annual Cost (or TAC) accounts for all the costs borne by investors, including transaction costs and many other fees. Expense ratios often drastically understate the total cost of a fund.
Figure 1 shows ETFs and mutual funds in the Small Cap Value style whose expense ratios understate their TACs by the most.
Figure 1: Funds With Most Misleading Expense Ratios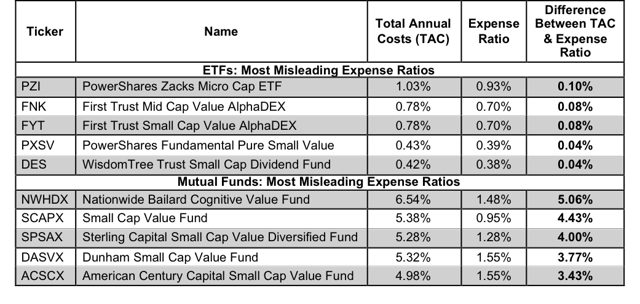 Source: New Constructs, LLC and company filings
The PowerShares Zacks Micro Cap Portfolio ETF (NYSEARCA:PZI) is the Small Cap Value ETF with the greatest disparity between its TAC and expense ratio. While the difference seems small now, over time that difference adds up. More importantly, investors deserve to know the true costs of being in any ETF. Nationwide Bailard Cognitive Value Fund (MUTF:NWHDX) has the most misleading expense ratio amongst mutual funds in the style as its expense ratio is 5.06 percentage points lower than its actual Total Annual Costs.
5.06 percentage points is a large difference. Over just ten years, 5.06% compounds to 64%. I think most investors would like to know about such a large additional cost before they put their money into NWHDX.
The key takeaway for fund investors here is that they should focus on the Total Annual Cost of funds rather than just the expense ratios, which can significantly understate the costs of being in a fund.
The average TAC for ETFs in this style is 0.43% and for mutual funds it is 2.33%. We recommend investors focus on funds with TACs that are below these averages. I strongly recommend that investors avoid funds that charge far above-average TACs as it will be extremely difficult for these funds to consistently earn returns above a less-expensive benchmark.
Figure 2 shows the number of ETFs and mutual funds with TACs above the average and below the average.
Figure 2: Number of Funds With Above and Below Average Total Annual Costs (TACs)

Source: New Constructs, LLC and company filings
Kyle Guske II contributed to this report.
Disclosure: David Trainer and Kyle Guske II receive no compensation to write about any specific stock, style or theme.
Disclosure: The author has no positions in any stocks mentioned, and no plans to initiate any positions within the next 72 hours.
The author wrote this article themselves, and it expresses their own opinions. The author is not receiving compensation for it. The author has no business relationship with any company whose stock is mentioned in this article.