PHH Corp. (NYSE:PHH) provides outsourced solutions to financial institutions, real estate companies, credit unions, corporations and government agencies through its mortgage subsidiary. They are one of the top 10 originators of retail residential mortgages in the country. They also provide home financing directly to consumers.
In July, they completed the sale of their fleet management services business. The company was founded in 1946 and is currently headquartered in Mount Laurel, New Jersey.
Disappointing Third Quarter Results
On November 4, the company reported its financial results for Q3 2014. Net loss from continuing operations (excluding gains from the sale of fleet management business) was $88 million or $1.64 per share. Core loss (excluding unfavorable market related mortgage servicing rights fair value adjustment) came in at $1.19 per share. This was significantly worse than the Zacks Consensus Estimate for a loss of $0.23 per share.
Mortgage Production segment reported a loss of $28 million, compared to a loss of $27 million in the second quarter, primarily due to a lower gain on mortgage loans partially offset by growth in mortgage fees. Mortgage Servicing segment's loss in the third quarter of 2014 was $71 million, compared to a profit of $10 million in the previous quarter.
Downward Revisions
Due to disappointing results, quarterly and annual estimates have been revised sharply downwards in the past few weeks by analysts.
Zacks Consensus Estimate for the current year now stands at ($2.41) per share versus ($1.00) per share, while the next year's Consensus Estimate is $0.61 per share now, down from $1.01 per share, 60 days ago.
The following "Price and Consensus" chart shows the negative earnings momentum for the company: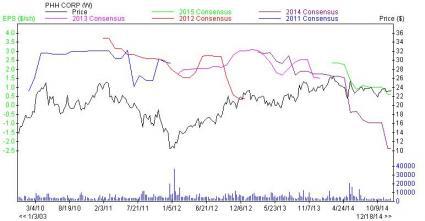 Better Play?
Investors looking to play the mortgage servicing industry could look at Essent Group (NYSE:ESNT), which currently enjoys Zacks Rank # 1 (Strong Buy). The company delivered a strong beat for the third quarter and has seen a nice increase in earnings estimates by analysts. But we may add that the industry in general faces a number of near-term challenges.
The Bottom Line
PHH is currently a Zacks Rank # 5 (Strong Sell) stock and the mortgage servicing industry currently has a Zacks Industry rank of 199 out of 265 (bottom 25%). Both indicate strong chances of underperformance in the short term.
The sale of the fleet business, which was the major source for stable cash flows for the company leaves it with the loss making mortgage business, which does not show any signs of turning around soon. Further, due to lack of visibility in the short-to-mid term with ongoing restructuring, the investors may like to avoid the stock for the time being.