In reference to previous analysis.
Conn's (NASDAQ:CONN) stock got crushed after Q3 earnings. There has been no fundamental changes to the business, thus the new lows make Conn's an even more attractive investment. Management reiterated its expansion plans and the FICO score increased. Conn's should continue to see total revenue growth while decreasing charge-offs going forward. The status quo would yield satisfactory results for shareholders, but there are alternatives that could generate more value.
Out of all the potential steps the company could take, as outlined in the press release, the spinoff would create immediate value. The combined segments work in theory if they are executed properly, but that is not the case today. While the retail segment is flourishing, the credit segment lags behind in terms of collection and labour efficiency.
A spinoff should fix the above problems as the credit segment becomes more focused, but the biggest driver of value is the increase in FCFE. Currently, cash is being reinvested into receivables (working capital) instead of more profitable options such as store expansions. A spinoff would allow the retail segment to freely deploy its cash without any obligation to fund receivables.
Suppose the retail segment experiences zero same-store growth to perpetuity, the post spinoff entity would then be worth ~$14/share at a 10% discount rate by itself, around 80% of Conn's current value.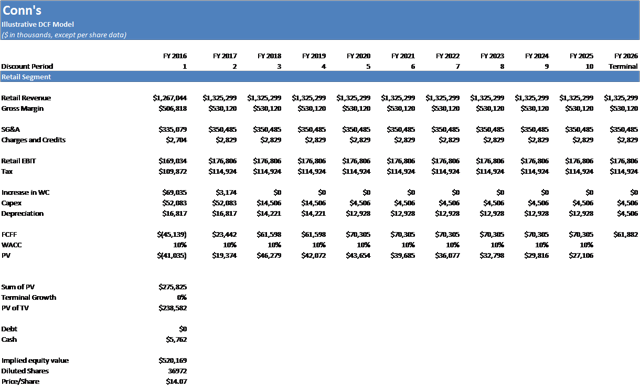 Source: Own Calculations
The floor for credit segment's valuation is the book value. Even if we take a 20% haircut of the $1.1 billion portfolio, what is left ($180 million) after settling existing debt translates to $4.74/share. The combined value of two segments would then be $18.74/share.
The retail segment would still be providing a steady stream of receivables to the credit segment. The only advantage lost post spinoff would be the flexibility of the credit policy, Conn's could solve this by having a stake in the spun off credit segment.
Disclosure: The author has no positions in any stocks mentioned, and no plans to initiate any positions within the next 72 hours.
The author wrote this article themselves, and it expresses their own opinions. The author is not receiving compensation for it (other than from Seeking Alpha). The author has no business relationship with any company whose stock is mentioned in this article.