During the time I have spent writing for Seeking Alpha, I have offered sentiment on quite a few stocks. I regularly update my performance on both bullish and bearish opinions. As always, I urge readers to use my thoughts and employ them as just one part of a much wider research effort.

As I noted in a recent article on Sirius XM (NASDAQ:SIRI), I use two main technical indicators to help me make buy, hold (or wait) and sell decisions. Long-term investors often scoff at such an approach, but studying a chart can pay off for investors just as it does traders. There's no reason why investors should not include technical analysis in a stock selection arsenal, particularly when trying to secure a favorable entry price.

When you go to store, you would buy an item on the spot if the sales clerk told you it would be more expensive on your next visit. On the flip side, you might put off the purchase if she indicated a forthcoming sale. I presume you would use this strategy even if you intended to keep whatever it is you were buying over the long-term. From this perspective, it makes sense to at least attempt to buy a stock at the right time.

The approach I will illustrate is distinct from "timing the market." Rather, it involves using tried-and-true technical analysis to at least give yourself a better chance of getting in at the "right" price or getting the best price possible. Even if you intend to hold for the long haul, there's nothing worse (pardon the hyperbole) than buying a stock only to see it go red for several days and weeks on a pullback you might have been able to see coming.

I urge you to read these excellent tutorials on the two technical indicators each chart displays - MACD and Williams %R. Not only will they help you follow along with this article, they could help improve - or at least add another component - to your trading and investing.

The stocks listed are among those I have expressed bullish sentiment toward in previous Seeking Alpha articles. The accompanying charts come courtesy of FreeStockCharts.com.

Best Buy (NYSE:BBY) WAIT
Click to enlarge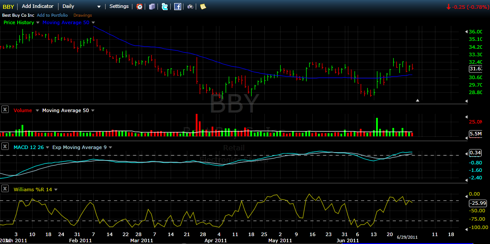 I relayed initial bullishness on BBY when the stock traded around $30.87. It closed Wednesday's session at $31.67. It traded as high as $32.85 on June 21st.

At this point, BBY's mid-June run appears to be fizzling. The most recent bullish MACD crossover is a thing of the past. The Williams %R appears headed down. I will keep an eye on the Williams %R for one of two signals. If it heads down into oversold territory (-80 to -100), I would buy once the indicator turns up. If it reasserts itself into overbought territory and closes there for several sessions, I would buy as that type of bullish move indicates sustained buying, i.e., a rally.

CBS (NYSE:CBS) BUY
Click to enlarge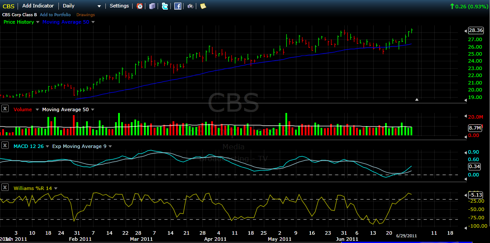 On April 6th, I suggested CBS as one way to play the otherwise weak terrestrial radio space. At that juncture, the stock traded at $24.51. It closed Wednesday's session at $28.36, after reaching its 52-week high of $28.54 intraday. Even if you're in it for the long haul, you never want to buy at one of a stock's many tops. In this case, however, CBS appears to be in rally mode.

The MACD crossover looks even sharper than it did when CBS kicked off its upward trend in May. If the Williams %R follows through and holds bullishly in overbought territory, I would feel even more confident. Nevertheless, because CBS is not the most volatile stock in the world, you likely would not lose much by waiting for stronger confirmation of a sustained rally. That said, plenty of bullish technical factors exist beyond the MACD and Williams %R. CBS just broke through resistance to touch its 52-week high after powering past its 50-day moving average. Confidence abounds ahead of CBS's August 2nd earnings call, when it might just tell investors how much Netflix (NASDAQ:NFLX) helped spruce up its bottom line.

Disney (NYSE:DIS) BUY
Click to enlarge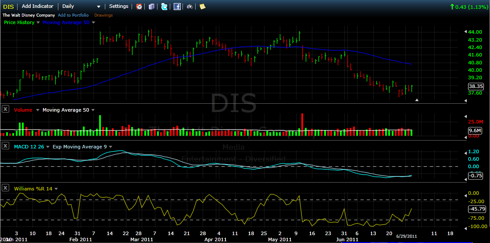 I dropped the ball on DIS, suggesting an options play on the stock back in late March when it traded for $42.94 a share. While plenty of time still exists for the LEAPS call options I offered up to become profitable, DIS closed at $38.35 on Wednesday, a long ways from $40.00, let alone $42.94.

From a technical standpoint, I think DIS has hit bottom. The MACD looks ripe to cross over its signal line (give it another session or two) and the Williams %R looks like it did prior to mid-March and mid-April DIS rallies. Proceed with caution, however, as Disney reports earnings on August 8th. I expect a strong report, as the company's theme park revenue, a sore spot from its May report, should rebound after overcoming temporary headwinds. Nevertheless, I would use any sign of weakness to pick up shares on the cheap.

McDonald's (NYSE:MCD) BUY

While I have not officially suggested buying MCD, I think it warrants a mention. The stock continues to act independently of the broader market. That's always a good sign. For the most part, MCD has been in rally mode since mid-March. It sports a pretty chart.
Click to enlarge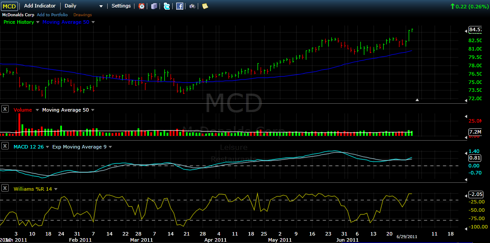 MCD shares similar technical characteristics with CBS. MCD touched its 52-week high during Wednesday's trading session after blowing past its 50-day moving average. Ahead of the company's July 22nd earnings report, both the MACD and Williams %R look to be setting up bullish formations after a slight breather and a bit of consolidation from late May.

Sprint (NYSE:S) BUY
Click to enlarge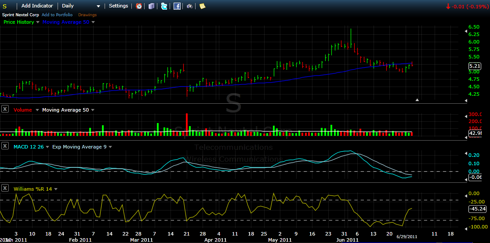 When S closed at $4.68 on March 28th, I suggested buying in-the-money options. That would have likely turned into a profitable trade. Since late March, S has traded as high as $6.45, closing shop on Wednesday at $5.21.

I would be comfortable adding to my S position anywhere between $4.50 and $5.50, therefore I call it a buy on that alone. Over the next couple of days, the MACD could crossover, which would add to my bullishness. Seeking Alpha contributor Thoughts Worth Thinking provides a nice qualitative case for investing in S that any prospective shareholder should spend some time with.

Disclosure: I am long SIRI, S.