TJX (NYSE:TJX) is the industry leader in department stores. The company has a market cap of $45 billion, about twice as large as Macy's (NYSE:M), and nearly four times as large as Kohl's (NYSE:KSS) based on market cap. TJX sells clothing, accessories, and home goods through its TJ Maxx, Marshalls, Home Goods, Winners, TK Maxx, Home Sense, and Sierra Trading Post stores, magazines, and websites.
TJX has a long history of rewarding shareholders; the company has not reduced its dividend payments since 1996. The company is a Dividend Achiever, meaning it has paid increasing dividends for 10 or more consecutive years. TJX's business operations, growth prospects, and competitive advantage are analyzed below. Additionally, the TJX stock's dividend, total return, and valuation are discussed so you can see the relative investment merits of the company.
Business Overview
TJX operates in four business segments. Each segment's percentage of total revenue contributed to TJX in the company's most recent quarter is shown below:
Marmaxx: 63% of total sales
Home Goods: 12% of total sales
TJX Canada: 11% of total sales
TJX Europe: 14% of total sales
The Marmaxx segment is TJX's largest by far. The segment includes Marshall's, TJ Maxx, and Sierra Trading post sales in the US. In total, the segment has 2,092 stores (1,113 TJ Maxx stores, 973 Marshalls stores, and 6 Sierra Trading Post stores). TJX was founded in 1976 and acquired Marshalls in 1995. The company launched its e-commerce site tjmaxx.com in 2013.
The Home Goods segment operates entirely in the US (as well as the Marmaxx segment). The segment includes the operations of TJX's 485 Home Goods stores. TJX generated 75% of sales in the US in its most recent quarter (12% from Home Goods, 63% from Marmaxx).
The TJX Canada segment includes the operations of TJX's Canadian stores which are: Winners, Home Sense, and Marshalls. TJX Canada operates 234 Winners stores, 96 Home Sense Stores, and 38 Marshalls stores for a total store count of 368.
The TJX Europe segment consists of TJX's Home Sense and TK Maxx stores in Europe. The segment controls 407 TK Maxx stores and 33 Home Sense stores for a total store count of 440.
Competitive Advantage & Growth Prospects
TJX has had a fantastic growth run over the last decade. In the last 10 years, the company has increased revenue per share by about 10.5% a year, EPS by 19.2% a year, and dividends by 21.6% a year. Just as impressive, TJX has increased its EPS each year since 2005.
TJX is the leading off-price retailer of clothing, accessories, and home goods in North America. The company's focus on low prices and in demand brands have resulted in a decade of strong growth. The company managed to grow EPS each year of the Great Recession of 2007 through 2009, while other retailers were faltering.
TJX's rapid growth has been spurred by its competitive advantages. TJX is the low-cost operator in discount retail. As a result, it charges consumers less for its merchandise. This increases sales volume, which allows TJX to buy in greater bulk, which further drives down prices. The company's virtuous price cycle is similar to what has driven Wal-Mart (NYSE:WMT) to become the world's largest retailer. You can think of TJX as the retail world's Wal-Mart.
The company's low price advantage is driven not only by its size, but also by its efficiency. TJ Maxx has built an excellent supply chain. The company focuses on high inventory turns and lean inventory management to further increase margins and drive down prices. The company's focus on its supply chain has helped operating margins rise from 8.5% in 2005 14.6% in 2014.
TJX still has significant growth potential ahead. The company currently operates 3,385 stores. The company's management believes it has room to comfortably grow to 5,150 stores. The company believes it can grow another 50% organically before saturating its current markets. The image below shows TJX's expected store growth by segment (note that the image does not include Sierra Trading Post Stores):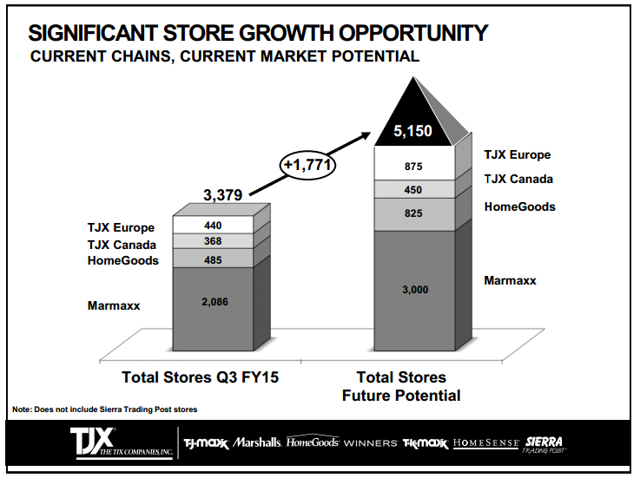 Source: TJX Investor Presentation, page 3
TJX has increased its store count at about 4% a year over the last decade. At its current store count growth rate, it will reach market saturation in between 10 and 11 years. TJX is poised for another decade of strong growth. In addition to store count growth, the company also has goals to improve its margins in Home Goods and TJX Europe. The image below shows the company's current margins by segment, and its margin improvement goals: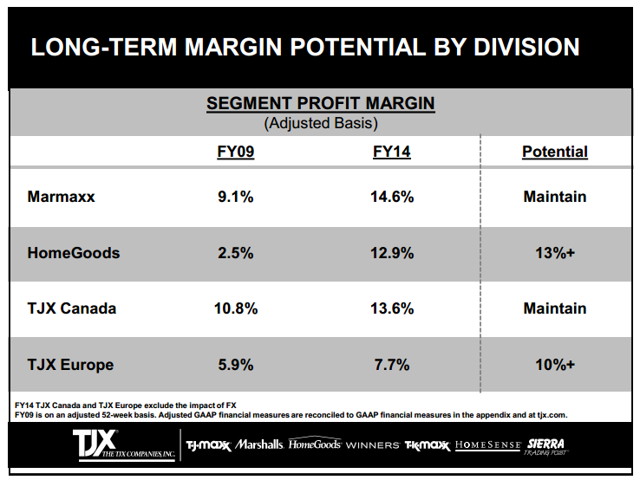 Source: TJX Investor Presentation, page 7
EPS growth will come from store count increases, margin improvements, comparable store sales growth, and share repurchases. Over the past decade, comparable store sales have grown at an average of 2.7% a year. Management expects 2% comparable store sales growth over the next 3 years, which seems reasonable given historical numbers. Finally, TJX has decreased its net share count by about 3.25% a year over the last decade, which has contributed to EPS growth.
10-Year Forecasted Total Shareholder Return
The growth drivers for TJX were discussed above. In summary, TJX will grow EPS through:
Store Count Growth: 4.00% per year
Margin Improvement: 0.50% to 1.00% per year
Comparable Store Sales Growth: 2% per year
Share Count Reductions: 3% per year
Total EPS growth should be about 10% a year over the next decade. These numbers are based on management projections and do not take into account unforeseen growth drivers. In addition to 10% per year EPS growth, TJX shareholders receive a 1.1% dividend yield, bring total shareholder return to about 11%.
TJX currently trades at a P/E multiple of about 21.6. This is above its competitors' P/E ratios. Together, Dillard's (NYSE:DDS), Macy's, and Kohl's have an average P/E ratio of 15.1. If TJX's P/E ratio falls to around 15 over the next decade as its growth prospects eventually slow due to market saturation, the company's total return will be reduced by about 4% a year. In summary, TJX shareholders can expect the following total returns:
TJX's P/E ratio stays at 21.6 in 10 years: 11% a year total return
TJX's P/E ratio falls to 18 in 10 years: 9% a year total return
TJX's P/E ratio falls to 15 in 10 years: 7% a year total return
Final Thoughts
TJX is not eligible for inclusion in the Sure Dividend ranking system because it does not pass the strict first rule of The 8 Rules of Dividend Investing; a stock must have 25 or more years of dividend payments without a reduction.
With that said, qualitatively, TJX is a very strong business with 10-year plus growth runway ahead and solid expected returns, even if its P/E ratio falls. The company has friendly management and is recession-resistant. TJX will make a solid addition to long-term growth-oriented portfolios.
Disclosure: The author is long WMT.
The author wrote this article themselves, and it expresses their own opinions. The author is not receiving compensation for it. The author has no business relationship with any company whose stock is mentioned in this article.