Shares of Facebook (NASDAQ:FB) have more than doubled since the company's highly-publicized 2012 IPO, leading some to (wrongly) conclude that the stock has become overvalued. On the contrary, I would argue the stock deserves its current valuation, and is even still somewhat undervalued, given its unbreachable economic moat, strong profit margins, and huge long-term growth potential. In short, I believe Facebook is one of the best investment opportunities available in the Internet space right now.
The "Social Network Effect" Advantage
Facebook is the world's largest and most profitable social media company, with more than 1.35 billion users worldwide, or one out of every two Internet users. Additionally, Facebook also owns other popular brands, including Instagram, Messenger, and WhatsApp, which together also have well over a billion users worldwide. By collecting detailed information about its users, Facebook has built a lucrative database that is highly valuable to advertisers who pay to display their ads on its platform (as well as third-party platforms), which is how Facebook generates over 92% of its total revenue.
As a result of its unrivaled scale, both in terms of its user base and data collection, Facebook benefits from a powerful network effect (or "social network effect"). This simply means that the more users its platform attracts, the more others will want to use it - creating a self-reinforcing mechanism that has turned Facebook into a social media monopoly. This network effect also creates significant switching costs, since people are unlikely to leave Facebook unless they can take their network of friends, content, and applications with them (a very unlikely scenario indeed).
Continued Growth In Global User Base
For about a decade now, Facebook has been among the fastest growing companies in the world. Its MAUs (monthly active users) grew 100%+ annually from 2004 to 2014, an impressive feat by any standard. And although the rate of growth is slowing, percentage-wise, the volume of growth (i.e., the number of MAUs added) has remained relatively steady, with the company consistently adding about 150 million to 200 million MAUs annually. As explained above, a lot of this growth can be attributed to Facebook's powerful self-reinforcing network effect.
Exhibit 1: Facebook Annual MAUs Growth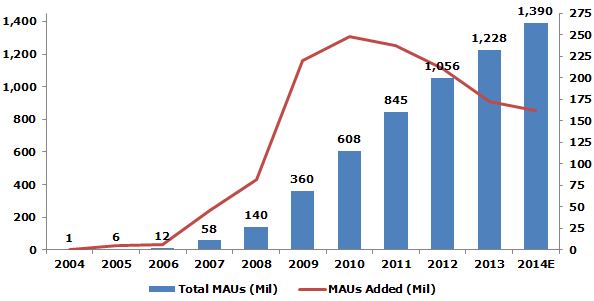 Note: The number of new MAUs added in 4Q14 has been conservatively estimated to be ~40 million.
Source: A North Investments, company reports
Although nearly 50% of Internet users already have a Facebook account, the worldwide Internet penetration rate is still relatively low at only 40% as of 2014. This means that billions of people will be connecting to the Internet in the coming decades, and most of them will choose Facebook as their preferred social media platform for the same reason they will choose Google (NASDAQ:GOOG) (NASDAQ:GOOGL) as their preferred search engine - these are the largest global Internet brands and the ones they are probably most familiar with. This will further strengthen Facebook's network effect, ensuring it retains its social media monopoly for a very long time.
Exhibit 2: Growing Internet Population Driving Facebook User Growth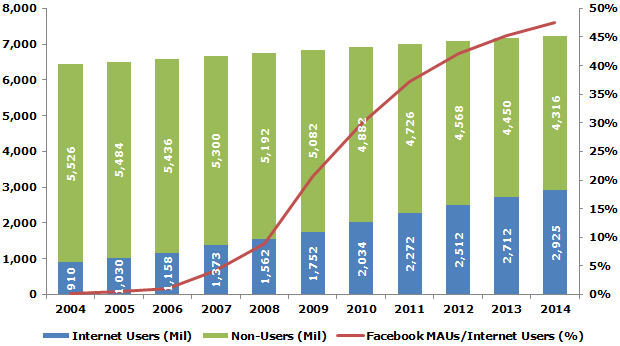 Source: A North Investments, Internet Live Stats, company reports
Improving Ad Monetization
The leading source of revenue for Facebook is advertising. It accounted for more than 92% of total revenue in 3Q14 (66% of it coming from mobile ads), and is growing ~2x faster than the company's overall user base. As shown below, this has resulted in significant ARPU (average revenue per user) growth, which reached an all-time high of $2.40 in 3Q14. However, since Google's ARPU is still ~6x higher, it is reasonable to assume there is still plenty of growth ahead for Facebook.
Exhibit 3: Global Average Revenue per User (ARPU) Growth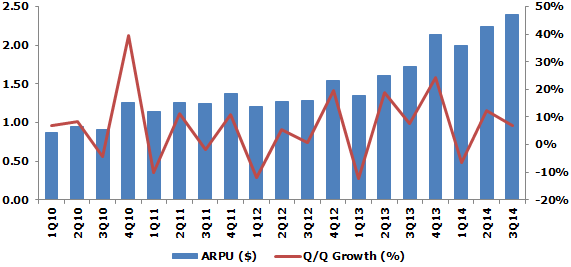 Source: A North Investments, company reports
The primary ARPU growth driver is rising user engagement. In other words, people are spending more time on Facebook, which means they see more ads and provide more valuable data about themselves. For example, according to a recent analysis by eMarketer, U.S. Facebook users spent ~39 minutes per day on the site in 2014, up from only ~14 minutes per day in 2010. Moreover, as shown below, the percentage of MAUs turning into DAUs (daily active users) is steadily increasing, meaning people are visiting Facebook more frequently - a trend that should continue for the foreseeable future.
Exhibit 4: Percentage of MAUs turning into DAUs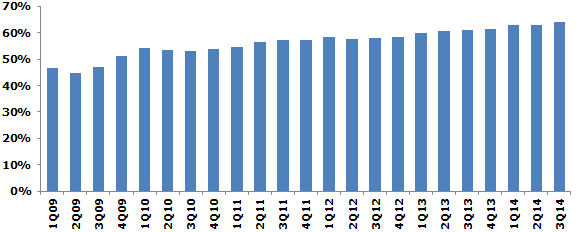 Source: A North Investments, company reports
In addition to rising user engagement and ARPU growth, there should be continued monetization improvement as a result of enhanced video advertising through Facebook's recent acquisition of LiveRail, the second largest U.S. video ad exchange platform; and from Atlas, a superior alternative to Google's AdSense because it allows advertisers to both target and track users across different device platforms, without the need to employ cookies. I also expect Facebook's Audience Network to substantially increase the number of ads served, leveraging data of Facebook users, allowing third-party apps to host Facebook's inventory of ads.
It is also worth mentioning that Facebook, the second largest ad publisher in the world, is ideally positioned to benefit from the long-term shift in ad dollars from offline to online. Although Internet usage is soaring, only one in four ad dollars spent globally in 2014 was on Internet-based marketing, leaving plenty of room for growth. As more ad dollars flow online, Facebook, along with its main competitor Google, will likely gain a disproportionate share of this shift in advertising budgets.
More Upside in Facebook Shares
With the current enterprise value of $209 billion, Facebook is trading at nearly 19x trailing revenue (~234% premium to peers) and 52x normalized EBIT (~145% premium to peers). Given these high valuation multiples, the stock does not exactly look cheap. However, taking into consideration the company's impressive profitability and huge long-term growth potential, it could be argued that the premium valuation is somewhat justified in this case.
It is also important to point out that Facebook's valuation does not seem so high on a growth-adjusted basis. Among its large cap Internet peers, the median EV/EBIT/Growth ratio is 0.99x, whereas Facebook trades at a ratio of only 0.89x. Assuming Facebook was trading more inline with peers, the stock would be worth about $88 per share, implying ~10% potential upside from the current price. The point is that Facebook shares offer both growth and value and are attractive.
Exhibit 5: Facebook Valuation is Attractive on a Growth-Adjusted Basis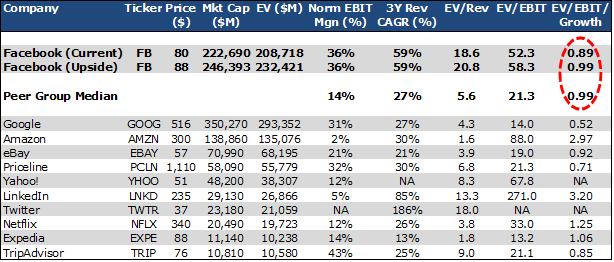 Note: EV/EBIT/Growth ratio is calculated using the most recent three-year revenue growth rate.
Source: A North Investments, Bloomberg, company reports
Another good way to value Facebook is on a per user basis. Currently each Facebook user is valued at $155, roughly twice that of Twitter's (NYSE:TWTR) and LinkedIn's (LNKD) average per user value. Again, as in the example above, this looks expensive at first. However, considering that Facebook's users generate more and higher-margin revenue, this valuation premium makes logical sense.
Exhibit 6: Facebook vs. Twitter vs. LinkedIn per User Valuation

Source: A North Investments, company reports
A third and final way to value Facebook is to conservatively estimate its five-year EBIT growth from September 2014 (the base year) to September 2019 (the projection year). If the company can achieve 20% average annual revenue growth over this five-year period (substantially lower than what analysts forecast), and assuming normalized EBIT margins remain at ~36%, Facebook would generate roughly $10 billion in EBIT during the 12-month period ending September 2019. Based on the current enterprise value of $209 billion, the stock would be trading for about ~21x EBIT. In my opinion, this is not an expensive price to pay for one of the fastest growing and most dominant companies in the world.
Summary And Conclusion
As the title of this article says, Facebook is an economic castle protected by an unbreachable moat. In this case, the "unbreachable moat" is Facebook's massive user and data scale. This scale creates a powerful self-reinforcing network effect, which essentially locks out competitors by creating high barriers to entry or high barriers to success. As a result of this tremendous competitive advantage, Facebook is able to generate huge profits, which get reinvested to fuel further growth and expansion (as well as build shareholder value). This is what makes Facebook one of the best large cap investment opportunities available today; investors with longer time horizons are likely to realize significant gains.
Disclosure: The author has no positions in any stocks mentioned, and no plans to initiate any positions within the next 72 hours.
The author wrote this article themselves, and it expresses their own opinions. The author is not receiving compensation for it (other than from Seeking Alpha). The author has no business relationship with any company whose stock is mentioned in this article.