In this series on well results in the Bakken, we are moving towards a more prolific area. We started this with a focus on Emerald's (NYSEMKT:EOX) acreage given its high well costs and moderate production levels. Emerald has had significant issues since that article, as its fringe acreage does not have the economics needed to support its business at today's oil prices. We also covered well results in the Antelope prospect by EOG Resources (NYSE:EOG). This acreage is considered to be Bakken and Three Forks core, and not only has the economics to support today's oil price but it's possible the acreage is good even if oil heads appreciably lower. We were also able to show the upside provided by EOG's sand heavy fracs, as these use approximately a million pounds of sand per one thousand feet of lateral. We followed this article with well results in southwest Williams County. This area was once thought to be a secondary core area, but activity has slowed recently. We covered results by Oasis (NYSE:OAS), Statoil (NYSE:STO) and EOG. EOG's results were better, but we found that this area would require $100/bbl WTI to produce good economics.

This series' goal is to provide an idea of what oil price is needed for differing areas of the Bakken. Locations may only be a few miles apart, with one well producing only half the resource of the other. By focusing on specific areas, and finding the price per bbl. needed we can better understand which players may have the most downside in a prolonged low oil price environment. The most important variable is geology. It gives a very broad picture of the play, and more importantly shows where the best areas are.
The Bakken core is characterized by high pressures. These high pressures help to push more resource up and out of the well bore in a shorter period of time. The areas of high pressure is where one should focus for the best well economics. The map below provides this location in green, which is on and near the Nesson Anticline. It not only exhibits the greatest well pressures, but also the thickest shale. This makes the area excellent for pad drilling, as the most middle Bakken and Three Forks wells can be drilled per section.
---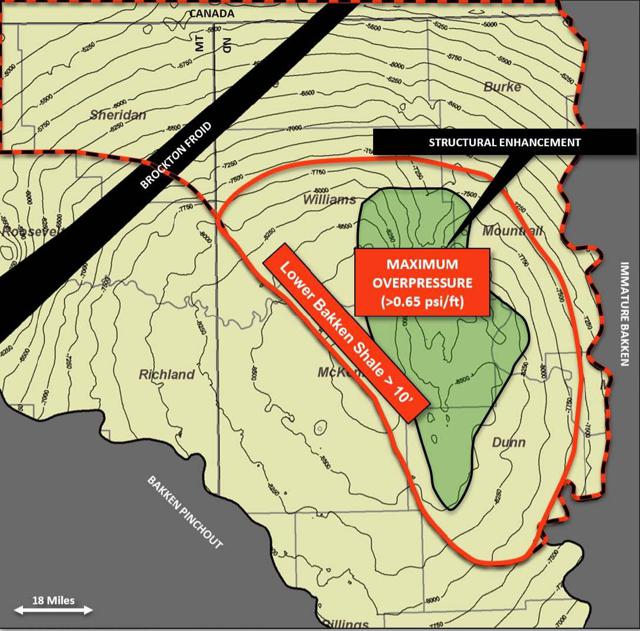 (Source: Continental Resources)
---
The further away the locations get away from the Nesson Anticline, the lower the EURs as a general rule. The map above also shows the depth of the source rock. This depth decreases significantly to the north, and with it initial production rates drop off.

Divide County has seen significant traffic in recent years. Although EURs aren't particularly high, well costs are lower because of shale depth. Because it is shallow, it takes less time to drill. Shale thickness is also good, especially in the southeast.
---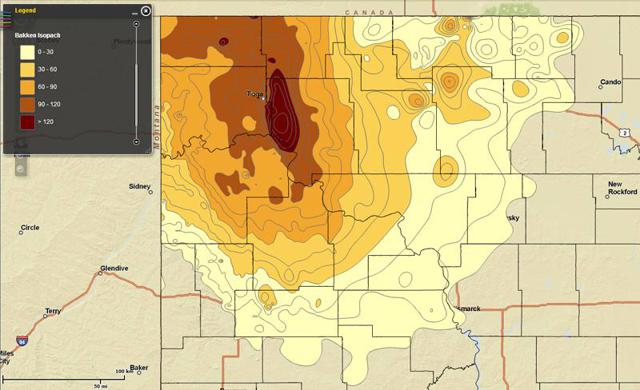 ---
As you can see, the darkest areas have middle Bakken shale thickness of over 120 feet. The majority of Divide County is over 90 feet. This provides more possible middle Bakken locations per section than western Williams and McKenzie counties. Because of shale thickness and its closeness to the Nesson Anticline the Divide County core has been in the southeast. There are large number of operators here including Continental (NYSE:CLR), Exxon (NYSE:XOM), SM Energy (NYSE:SM), Newfield (NYSE:NFX), Hess (NYSE:HES), and Kodiak (NYSE:KOG).
Divide County has a second core position located in the north/northwest. Although this area has seen a decent amount of activity, the area has been worked in a different manner. In the southeast, the middle Bakken has been the focus with the Three Forks a secondary target. The source rock is deep and seems to be a good area for pad development focusing on three to four intervals. Continental used this area as part of its productivity testing of the lower Three Forks.
---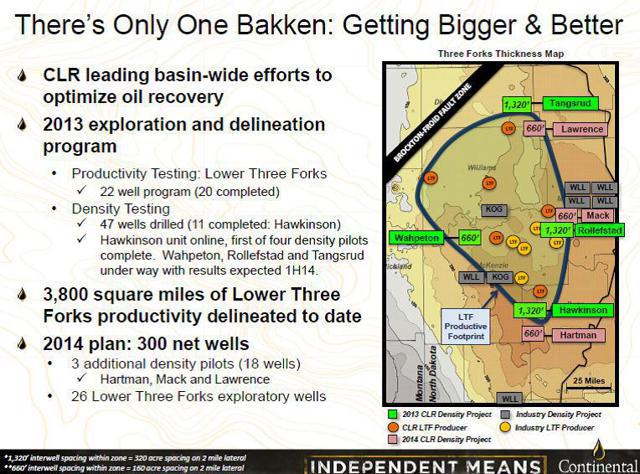 (Source: Continental)
---
As you can see, the Tangsrud and Lawrence pads tested 1320 foot and 660 foot well spacing. It is important to note, this area was part of its testing because it is at the fringe of the optimal productivity footprint. All seven of these pads were drilled at the edges, six of which were on the Nesson Anticline.
---
---
The second core is much shallower, and has lower well pressures. The middle Bakken is so shallow, that it has not been that productive. The upper Three Forks has become the target as it has more depth. This produces better results. Because it is shallower, well costs are much lower at $6.4 million per long lateral. The lower costs help with payback times as initial production numbers have not been that good. American Energy had reported fairly decent IRRs in wells in this area. The majority of long lateral development has occurred in Colgan, Ambrose and West Ambrose fields. The table below lists wells from Colgan, where American Eagle (NYSEMKT:AMZG) has focused its development.
---
| | | | | | | | |
| --- | --- | --- | --- | --- | --- | --- | --- |
| NDIC | Date | 360 Day Bbls | 360 Day Mcf Sold | Days | Total Production Bbls | Total Production Mcf Sold | Total Production Boe |
| 22474 | 6/12 | 73333 | 8154 | 759 | 108408 | 22422 | 112496 |
| 22960 | 8/12 | 81159 | 6104 | 777 | 117484 | 16273 | 120451 |
| 22961 | 9/12 | 72796 | 4242 | 863 | 96097 | 9147 | 97765 |
| 23808 | 2/13 | 83467 | 17345 | 626 | 113527 | 27263 | 118498 |
| 24590 | 5/13 | 55382 | 2278 | 565 | 67913 | 8698 | 69499 |
| 25810 | 9/13 | 20435 | 3208 | 387 | 21161 | 8698 | 22747 |
---
AMZG's well results have been good with the exception of 25810, but it looks like they had some production issues. These wells do not produce as well as other marginal areas in North Dakota, including both SW Williams and Western McKenzie counties. Initial production over the first 360 days is less, but from year one to year two depletion is more pronounced. This lowered pressure environment shows
SM Energy is also active in Colgan Field. Its results are below.
---
| | | | | | | | |
| --- | --- | --- | --- | --- | --- | --- | --- |
| NDIC | Date | 360 Day Bbls | 360 Day Mcf Sold | Days | Total Production Bbls | Total Production Mcf Sold | Total Production Boe |
| 22516 | 5/12 | 108024 | 0 | 815 | 177277 | 21718 | 181237 |
| 22717 | 7/12 | 68610 | 310 | 737 | 105704 | 12567 | 107995 |
| 22793 | 8/12 | 69812 | 0 | 753 | 109523 | 2223 | 109928 |
| 24751 | 8/13 | 66757 | 12644 | 370 | 67485 | 12849 | 69828 |
| 24750 | 9/13 | 65600 | 11243 | 368 | 66124 | 11384 | 68200 |
---
SM Energy had one excellent well (22516) but the others underperformed AMZG's wells on an average. SM's production numbers were fairly consistent and we expect an average well will produce around 70000 barrels of oil over the first year. Magnum Hunter (MHR) is also present here. The table below shows figures and estimate payback time for AMZG's best well (23808). It is a better result than the average, but gives an idea of how quickly a good result will pay back at varying oil prices.
---
| | | | |
| --- | --- | --- | --- |
| WTI/Bbl | 360 Day Total Revenues | Total Revenues | Payback (Estimated) |
| $100 | $7331009 | $9946229 | 20 months |
| $75 | $5244334 | $7147726 | 5 years |
| $50 | $3088279 | $4309551 | ? |
---
I used a $13 Bakken differential in figuring the table above. Currently differentials are at $16 and widening, but we believe those differentials will be tighter in 2015. I also used a natural gas price of $4/Mcf. AMZG does have some issues as LOEs have been high and these wells are in a very low pressure area. Because of this, initial production has underperformed. When oil prices are high, paybacks haven't been bad given the much lower well costs, but with oil prices much lower those times spread out significantly. This gets much more problematic if WTI sees $50/bbl where payback could be closer to 10 years.
In summary, Divide wells could have some of the longer payback times in North Dakota of areas that have seen significant development to date. The issue with this area seems to be low well pressures, which affects production in the longer term. Low well costs help to support quick payback times when WTI realized prices are at or above $100/bbl., but poor production rates aren't supported when oil prices head lower like recently. AMZG has further issues as LOEs are high, as they are operating in an area that still doesn't have a lot of infrastructure in place. This is troublesome for American, as it does not have other, better acreage to move rigs to. So if this oil pullback is drawn out further than expected, we could see significant issues.
Disclosure: The author has no positions in any stocks mentioned, and no plans to initiate any positions within the next 72 hours.
The author wrote this article themselves, and it expresses their own opinions. The author is not receiving compensation for it (other than from Seeking Alpha). The author has no business relationship with any company whose stock is mentioned in this article.
Additional disclosure: For specific stock recommendations, or additional info on AMZG, contact us at shaletrader.com. This article is limited to the dissemination of general information pertaining to its advisory services, together with access to additional investment-related information, publications, and links. Accordingly, the publication of Split Rock Private Trading articles should not be construed by any consumer and/or prospective client as Split Rock Private Trading's solicitation to effect, or attempt to effect transactions in securities, or the rendering of personalized investment advice for compensation, over the internet. This information is provided for guidance and information purposes only. This information is not intended to provide investment, tax, or legal advice. The information contained herein has been compiled from sources deemed reliable and it is accurate to the best of our knowledge and belief. However, Split Rock Private Trading cannot guarantee its accuracy, completeness, and validity and cannot be held liable for any errors or omissions. All information contained herein should be independently verified and confirmed. Split Rock Private Trading does not accept any liability for any loss or damage whatsoever caused in reliance upon such information. Readers are advised that the material contained herein should be used solely for informational purposes. Split rock private trading is a registered investment adviser. Information presented is for educational purposes only and does not intend to make an offer or solicitation for the sale or purchase of any specific securities, investments, or investment strategies. Investments involve risk and unless otherwise stated, are not guaranteed. Be sure to first consult with a qualified financial adviser and/or tax professional before implementing any strategy discussed herein.
Editor's Note: This article covers one or more stocks trading at less than $1 per share and/or with less than a $100 million market cap. Please be aware of the risks associated with these stocks.