There is a belief among many that total return is the consummate (or only) measure of equity investment success (or failure). If Investor A generates better total return than Investor B, well, they must be a better portfolio builder and/or better stock picker.
For those without tunnel vision or blinders, we know that there are a variety of ways to exemplify equity investment success. It can be defined through a speculative growth portfolio that pushes the risk/return envelope and achieves robust gains. Others may see success through the eyes of lower-volatility equities that may admittedly lack superior growth potential, but provide simplicity to a portfolio, predictable income streams, and most of all the ability to sleep well at night during market volatility.
Dividend growth investing is representative of this more conservative measure of success. Though critics continually like to punch holes in the thought that following the income stream is an inferior methodology to exclusively following the earnings stream and consequent price gains, there really is no evidence to necessarily support that conclusion. For every growth stock you show me that outperforms the market, I can find one that didn't. For every garden variety dividend growth name that outperforms the market, I can show you one that didn't.
Getting Real
Regardless of what you think about the wisdom of following income, one of the real values of dividend investing rests in the ability to custom tailor cash flow. Though mainstream dividend growth investors are typically seen as eliminating equities with sub-3% yields or short payout histories from consideration, a dividend growth strategy can be as constrictive or liberal as one so chooses.
I've often spoken about the fact that aging investors without sufficient capital probably won't be able to load a portfolio with companies like those gleaned from Mike Nadel's recently constructed "Dividend Growth 50." This would mean that dividend mainstays like Procter & Gamble (NYSE:PG), Coke (NYSE:KO), and Johnson & Johnson (NYSE:JNJ) might need to be augmented with higher-yielding vehicles like REITs, MLPs, or even select business development companies to boost yield. However, price and payout volatility is typically much higher as yields rise, which in my view generally raises a portfolio's risk profile.
One can pick a blended group of stocks that throw off a 3% yield -similar to Mike Nadel's DG 50 - or theoretically they can build a double-digit yielding portfolio (not really DG) full of mREITs, BDCs, MLPs, and leveraged ETF or ETN products. Although I certainly don't recommend that.
When you go off the beaten path, you should be prepared for a rough ride. Over the past two years, we've seen tremendous volatility in some of these higher payers. In 2013 BDCs and MLPs were fairly stable performers, while mortgage REITs took it on the chin. Here in 2014, the inverse has occurred with mREITs providing robust return, while BDCs and MLPs somewhat variably struggled. This all points to the power of diversification as a hedge against broader portfolio and income stream volatility, especially when higher-yield is brought in as a kicker.
Admittedly, in addition to a core dividend growth portfolio, I like to live on the wild side of things with high-yield equities. This has led me to companies like Northstar Realty (NRF) and American Realty Capital (ARCP), two dividend-growing REITs that have taken drastically different directions this year. It also led to Prospect Capital (NASDAQ:PSEC), which not surprisingly lowered its dividend, but still yields 4-6 times the typical dividend growth stock.
But getting back to our core topic; dividend and dividend growth strategies are all about extracting cash from businesses. Thus there is value in examining balance sheets and cash positions as well as payout ratios and payout expansion potential. For longer-term investors looking to grow the cash stream, there is wisdom in examining mature low payout/lower yielders or even perhaps non-yielders flush with cash, ready, willing, and able to return it to investors. This should lead investors to tech companies like Microsoft (NASDAQ:MSFT), Cisco (NASDAQ:CSCO) and Apple (NASDAQ:AAPL), which are all cash flow machines with low payout ratios.
It might also lead to companies like Visa (NYSE:V) and Royal Caribbean Cruises (NYSE:RCL), which sit low on the yield scale, but are hitting the ball out of the park operationally and seem destined to move the dividend needle in a robust manner. Over the long haul owning these types of companies may be a better yield on cost bet than owning something like a McDonald's (NYSE:MCD), whose slowing growth and high payout should give investors a pause.
Value Is As Value Does
The problem in today's zero interest world is that there is unquestionably a premium being put on blue-chip dividend paying equities. So, the dividend investor taking positions in companies trading at better than 20X earnings and growing mid-single digits - your Procter & Gambles (PG) of the world - are taking somewhat of a risk. I'm not talking bubble risk here like the frequent provocateurs here on SA, but certainly enough risk that you should think twice before pulling the buy trigger.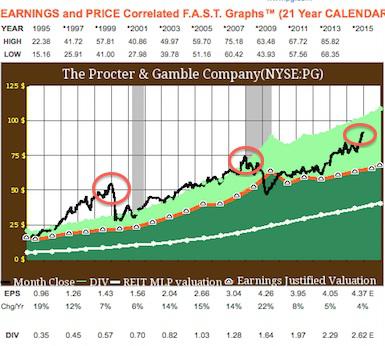 While many pundits say that "yield-chasing" occurs when investors seek out high-yield securities, I would opine that yield-chasing can similarly occur when lower yield, slow growing equities are purchased at unattractive valuations. So is there a yield chase going on with P&G today? The above chart might lead one to believe that might be the case.
Another popular dividend growth stock that I accused investors of chasing last year was Realty Income (NYSE:O) when it eclipsed $50 a share and was selling well about 20X FFO. The stock fell back to the mid-$30s by the end of 2013, at which point I suggested buying it. Well, with a pullback in Treasury yields this year, the stock has roared back 25% and is pushing up against $50 again. As Ronald Reagan said in his 1980 debate with Jimmy Carter, "There you go again."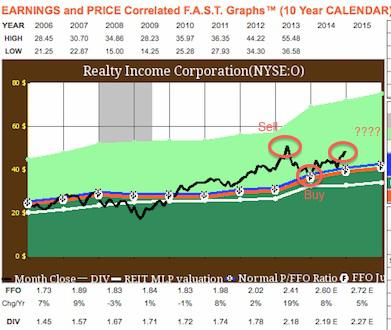 And while I mentioned Microsoft above, it's hardly what I would consider a table pounding buy at the moment. Having tripled in value since the depths of the financial crisis, Mr. Softee may still be a nice step-up CD going forward, but don't expect its stock price to be quite so cooperative.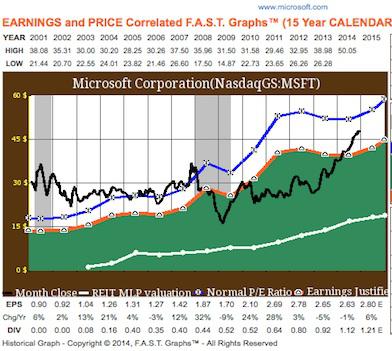 Conclusion
There is an unquestionable general value proposition to a focused equity-income strategy. The ability to control yield and select equities where cash can likely be liberally extracted over time are just two of the main benefits. Of course with risk-free yields much less than what can be attained in many stocks, investors are driving valuations higher in many household names, which should certainly be viewed as a total return risk going forward.
For those less attuned to total return and more focused on dividend growth, there doesn't appear reason to be concerned. Still, no matter the strategic inclination, one should be prudent in where new monies are going.
On a sector story basis, I think you buy or add to big oil here with a long-term view, although this has obviously become a near-term high volatility, earnings-weak proposition. My favorites are Chevron (NYSE:CVX) and Conoco (NYSE:COP). For higher-yield players, I think the sell-off in business development companies is overdone, creating opportunity in the more diversified, higher-capitalized, well-managed names. High-yield bonds similarly appear wholesale oversold on the oil panic, but tread carefully as falling prices as a negative leading indicator and the potential for default spikes should not be ignored.
Another space I continue to like is covered call closed-end funds selling at discounts to net asset value. Here income investors can generate upper single-digit yields with mild capital upside. They represent a solid higher-yield income solution, especially if you think the market treads water from here.
In the REIT milieu, the hotels seem to be a good secular growth story that appear reasonably valued given growth prospects. For a more aggressive stabilization/turnaround story, investors could look to the casino companies that have taken it on the chin as growth in China/Macau has slowed precipitously.
Dividend investing in many ways shields investors from the stresses of market and price fluctuation and locks in periodic profits. Though critics abound, there is absolutely no evidence that a dividend/income-focused investment portfolio is subservient in any way, as compared to other methodologies. In the end, for conservative income investors, it's all about discipline and buying yield/dividend growth at a reasonable value.
Disclosure: The author is long AAPL, CVX, MSFT, PSEC, ARCP, JNJ, NRF, COP, CSCO.
The author wrote this article themselves, and it expresses their own opinions. The author is not receiving compensation for it (other than from Seeking Alpha). The author has no business relationship with any company whose stock is mentioned in this article.
Additional disclosure: Disclaimer: The above should not be considered or construed as individualized or specific investment advice. Do your own research and consult a professional, if necessary, before making investment decisions.