Barron's recommended 5 oil stocks in an article over the weekend of December 20-21st. These stocks include Chevron (NYSE:CVX), Shell (NYSE:RDS.A), Occidental Petroleum (NYSE:OXY), EOG Resources (NYSE:EOG), and Schlumberger (NYSE:SLB). This is a great opportunity to further explore the right way to analyze potential oil investments. Before doing so, I will give readers some background on past oil stock recommendations by Barron's, and my contrary views on those recommendations, and how far off the mark Barron's fell due to the use of the wrong valuation metrics.
On September 21, 2013, Barron's recommended Approach Resources (NASDAQ:AREX). The stock was at $25 per share it traded at 9x its expected 2013 EBITDA. I wrote a response published on Seeking Alpha on September 23, 2013, highlighting the problems with Barron's approach and suggesting that Gastar Exploration (NYSEMKT:GST), a similar size and type company, was a better candidate for investment. I explained the problems with Barron's valuation methodology and selection criteria, and highlighted asset specific problems that made Approach unsuitable for investment at $25 per share.
On December 5th, Barron's published a follow-up article further recommending Approach, despite the stock having fallen by 20%. It did not address my article from September 23, but did seem to try to address the points I made by focusing on asset quality and EV/EBITDA as valuation metrics. However, it was off the mark, as I explained in my follow up article on December 6, 2013. Specifically, Approach was more expensive than its peers on this and other relevant metrics, and its asset quality was less good than represented by Barron's.
Subsequently, Approach resources is down 73% from when Barron's recommended it. Admittedly, the entire small-cap upstream oil and gas universe of stocks is down a lot in that time. But the stock I suggested as an alternative, Gastar Exploration , is down 38% in that time, approximately half as much. $100 invested in Approach would be worth $27 today, whereas $100 invested in Gastar would be worth $62. Quite a difference.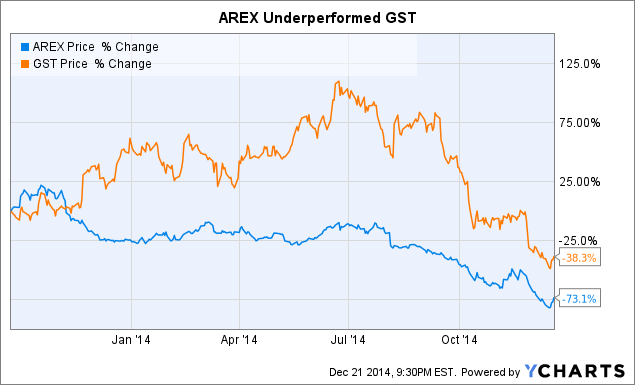 This background is helpful when reviewing Barron's recent article recommending buying 5 particular oil stocks. This is because Barron's yet again is recommending oil stocks on the basis of faulty valuation metrics. While it is unlikely the stocks Barron's is recommending will fall by as much as Approach fell, the methodology is just as problematic and the recommendations may also underperform.
The specific metric that Barron's focuses on is Debt to Cap. This is a measure compares the amount of debt a company has to its market capitalization. It is a shorthand way of measuring financial leverage. However, it is an incomplete and inaccurate measure, as some stocks with a lot of debt also have a lot of stock market equity value, while others have very little. This stock market equity value does not help investors if a company gets into financial distress, as often excess equity value "disappears" as the company's cash flow coverage gets worse.
There are a number of better metrics that can be used to assess financial leverage that are more descriptive of the actual ability of a company to pay its interest, pay down its debt, and potentially borrow more money. These metrics range from a "quick ratio" to Debt/EBITDA. Two metrics are more useful for assessing financial leverage for oil companies are Debt/EBITDA (be sure to try to forecast forward EBITDA) and Debt/Proved Reserve Value (often expressed as PV-10 value in a company's financial statements, and also should be adjusted for changes in commodity prices and drilling results subsequent to the reported value).
Barron's does not show either of these in its table assessing the metrics of the 5 companies that it recommends. Considering the basis of the recommendations are almost entirely that the companies are unlikely to be financially distressed, this seems to be a gaping hole in the analysis. And as I mentioned in previous articles, some of the companies recommended by Barron's, such as Chevron and Shell, are having tremendous fundamental problems. These companies have been unable to grow production despite dedicating huge portions of their cash flow to drilling and development. Nary a mention of these problems in the Barron's article.
It is important to use the right metrics to assess an investment opportunity. In the past, Barron's articles using the wrong metrics to recommend stocks ended up recommending stocks that substantially underperformed. This underperformance was predictable because of the use of these metrics. Barron's is yet again using the wrong metrics to recommend other oil stocks. Caveat Emptor.
Disclaimer: Opinions expressed herein by the author are not an investment recommendation and are not meant to be relied upon in investment decisions. The author is not acting in an investment adviser capacity. This is not an investment research report. The author's opinions expressed herein address only select aspects of potential investment in securities of the companies mentioned and cannot be a substitute for comprehensive investment analysis. Any analysis presented herein is illustrative in nature, limited in scope, based on an incomplete set of information, and has limitations to its accuracy. The author recommends that potential and existing investors conduct thorough investment research of their own, including detailed review of the companies' SEC filings, and consult a qualified investment adviser. The information upon which this material is based was obtained from sources believed to be reliable, but has not been independently verified. Therefore, the author cannot guarantee its accuracy. Any opinions or estimates constitute the author's best judgment as of the date of publication, and are subject to change without notice.
Disclosure: The author has no positions in any stocks mentioned, and no plans to initiate any positions within the next 72 hours.
The author wrote this article themselves, and it expresses their own opinions. The author is not receiving compensation for it (other than from Seeking Alpha). The author has no business relationship with any company whose stock is mentioned in this article.