About a month ago, I introduced here my portfolio that delivers in average a 4% dividend yield with an expected 5% future Dividend Growth Rate (DGR).
A month perspective is usually too short for a sufficient post mortem but as this was a very volatile period, I wanted to re-exam the portfolio.
The portfolio includes 10 stocks from diversified sectors. It includes: Avista Corp (NYSE:AVA), BHP Billiton (NYSE:BBL), Cracker Barrel Old Country Store, Inc. (NASDAQ: CBRL), Chevron Corporation (NYSE:CVX), Eaton (NYSE:ETN), HCP (NYSE:HCP), Unilever (NYSE:UL), Universal Corporation (NYSE:UVV), Ventas Inc. (NYSE:VTR) and Wisconsin Energy (NYSE:WEC).

As I examine the current status of the holdings, it is showing a $2,867 gain based on December 19th stock prices. The 3 main gainers were CBRL, UVV and WEC. The 3 main losers were BBL, CVX and UL. UL change was pretty immaterial.
Highlights:
CBRL issued a great earnings release with an expected EPS for fiscal year 2015 at the range of $5.95 to $6.10. This will open the door for another dividend increase that I expect to be declared in mid-2015.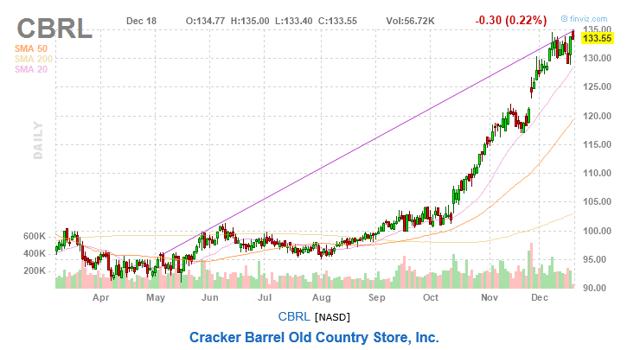 UVV suffered in the recent couple of quarters from tobacco excess supply. During the recent month, it slightly recovered. I'm counting here less on dividend growth but on the dividend yield on cost which is above 5%.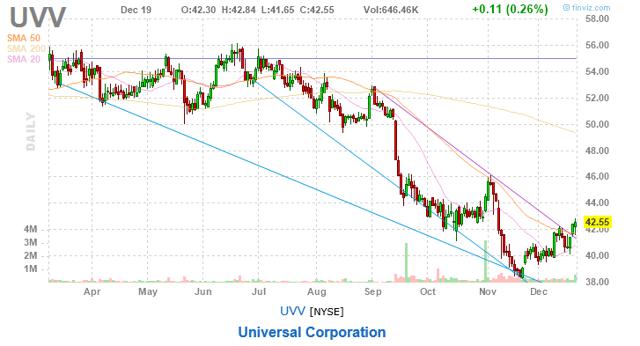 WEC announced a dividend raise in early December. Current dividend yield on cost is at 3.5%. The 8% increase was higher than my initial 7% increase expectation hence I am very happy with this holding.
Lowlights:
BBL faced a terrible month dropping 20% as both the iron ore prices as well as the oil prices faced significant drops.
I cannot say if the low 40's should be treated as a floor of if it will go down even further.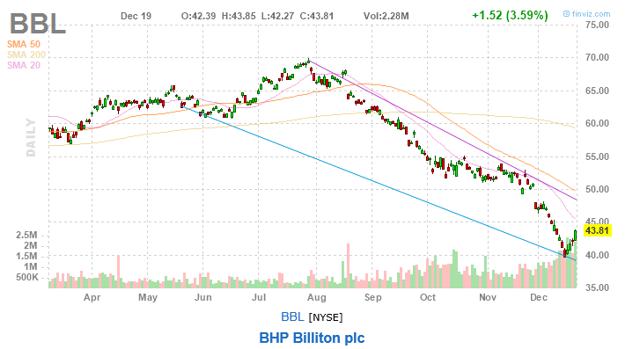 The current prices could be very appealing if one would like to improve the average dividend yield but I would like to see some stability first in commodity prices before considering to add to the position.
In term of the future dividend or the dividend safety I don't expect a drop or a freeze in the foreseen future as the payout ratio is 48% so there is some margin of safely there.
CVX suffered from the oil price drops. Indeed $100 was a bottom as I mentioned in my previous article. During the recent couple of days, it started to recover but I suggest to wait for some stabilization in the oil prices that should be followed with lower volatility in the Oil and Gas sector.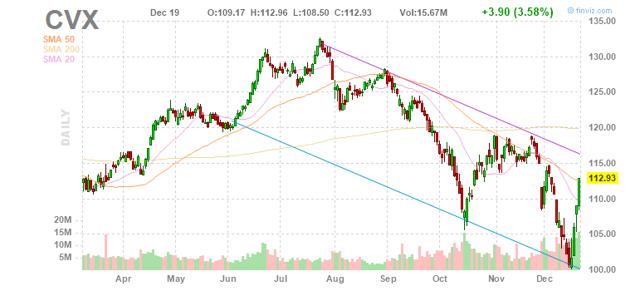 The strategy:
As I mentioned in my previous articles, the goal of the portfolio is to deliver a 4% dividend yield with a growth rate of 5% every year in average. This strategy, without dividend reinvestment is expected to deliver a 6.6% yield on cost after 10 years.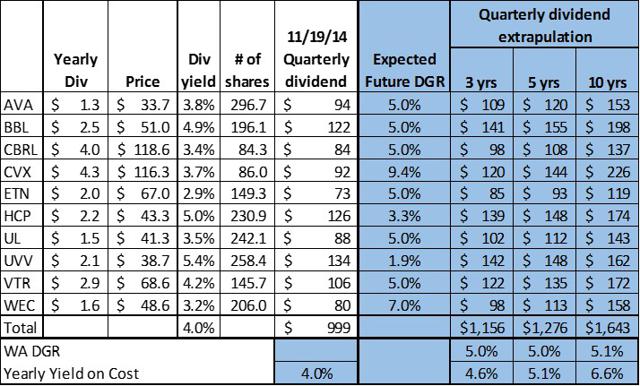 During the recent month, two companies increased their dividends. VTR increased the quarterly dividend from $0.725 to $0.79 and WEC increased the quarterly dividend from $0.39 to $0.42. Both ~8% increases surpassed my expected DGR for both of these companies. The quarterly dividend went up from initial $999 to $1,015 after one month.
The next round of increases is expected in Q1'15 when AVA, ETN, HCP and UL are expected to declare a dividend increase. I currently do not see risks in any of those not meeting the expected DGR. The more challenging will be BBL and CVX which should declare raises toward mid-2015. As more clarity will be gathered on the direction of the oil price and the implications of the iron ore price war, more conclusions could be drawn regarding these two holdings. As of now, I am keeping the original portfolio as is.
As always, I would very much like to get your comments.
Happy holidays season to all!
Disclosure: The author is long AVA, BBL, CVX, CBRL, UL, HCP, VTR, WEC, UVV, ETN.
The author wrote this article themselves, and it expresses their own opinions. The author is not receiving compensation for it (other than from Seeking Alpha). The author has no business relationship with any company whose stock is mentioned in this article.
Additional disclosure: The opinions of the author are not recommendations to either buy or sell any security. Please do your own research prior to making any investment decision.