With Christmas fast approaching, one company that is definitely on a lot of consumers' minds is undoubtedly Apple (NASDAQ:AAPL). The computing giant's iPhones, iPads, and computers are favorite gift items for many, and will definitely be waiting under the tree for some lucky people on the 25th.
Yet investors might also want to consider adding Apple to their portfolio wish lists for the New Year. This is because Apple appears to be positioned for another surge in the 2015 thanks to its solid brand name, a rising consumer market, as well as a new product launch. Let's take a closer look at some of these positive developments below:
Reasons to Buy Apple
As the ultimate consumer discretionary company, Apple stands to benefit from surging consumer confidence and increased levels of disposable income. Confidence levels are at a post-Great Recession highs, while the crash in oil prices is putting extra money in everyone's pockets.
Apple looks to take advantage of this in 2015 thanks to its already solid line-up of in-demand products and its normal refresh cycle. However, there are plenty of fresh opportunities on the horizon including possible developments on the Apple TV and iTunes fronts, as well as the release of the Apple Watch.
The Apple Watch is expected to sell at least eight million units, while some analysts are looking for 10 million units as a possible sales figure. While it is true that this is unlikely to move the needle too much for the company, let's consider that it opens up a new product category for Apple and that we shouldn't underestimate the company or its marketing machine at this point. After all, many were wrong about the impact of the iPhone and especially the iPad, so it will be interesting to see what Apple can do with its newest potential game-changing product.
Let's also not overlook Apple Pay system as this slowly reaches a critical mass. The mobile payments world is one with massive potential and Apple, thanks to the incredible number of iPhones out there, stands to capture a chunk of this space too, further diversifying its revenue stream. Again, this isn't likely to be a huge driver in the near term, but just the like the watch, it has strong potential to help down the road.
Analysts Agree
Analysts also like the outlook for Apple in the near term and have been raising their earnings estimates as a result. The trend has been universally positive, as not a single estimate has been cut for any of the time period that we study, including the current year and next year time frames. In total, 20 estimates have gone higher for the current year, and not a single one lower.
The consensus estimate has also made a nice surge as a result of these rising estimates, as 90 days ago it was about $7.03/share for the current year, while today it is at $7.73/share. We have seen a similar trend for the next year period, insuring that, according to analyst projections, we will see double-digit EPS growth for Apple in the foreseeable future.
And before you worry about Apple hitting these loftier targets, consider the company's incredible performance at earnings season. AAPL is 7/8 in the last eight earnings reports (in terms of beats vs. misses) while it is riding a six-quarter streak too, so the company is a pretty safe bet when it is reporting.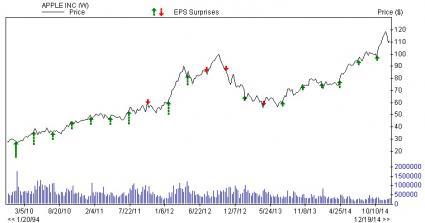 Bottom Line
For the bevy of positive earnings estimate trends listed above, it shouldn't be too surprising to note that AAPL is a Zacks Rank #1 (Strong Buy) stock. This means that we are looking for outperformance from this company in the near term, and expect it to be a top choice to start off 2015.
So if you are looking for a great consumer-oriented stock to add to your portfolio for the New Year, consider the most famous one of all, Apple. An incredible strong brand name, new products, and rising consumer confidence all suggest that 2015 will be another great year for investors in this consumer product legend.
Disclosure: The author is long AAPL.