It seems like every day there is a new burger startup. Companies are springing up in this space all over the country, and they are eating into the market share of traditional burger giant McDonald's (NYSE:MCD).
MCD is being left in the dust by a number of upstarts that are either offering arguably better burgers with more choices, or by restaurants that feature healthier ingredients. McDonald's has tried to revitalize its brand in recent months, but it has little luck overall. Instead, the company continues to flounder, and looks to remain in trouble thanks to the uncertain direction MCD will head in next.
Identity Crisis
One of the main problems for MCD right now is its lack of focus. The company is trying to go in too many different directions and its menu has become bloated as a result. Many of these new items are premium ones too, moving the company away from its low-cost roots.
However, consumers no longer associate MCD with either low costs or speed, two of the top reasons for going to McDonald's for many. With such a huge menu, staffs are having a difficult time keeping up, and especially so for a relatively high employee turnover business segment. And with a new lineup of premium chicken and beef focused products, not to mention items in the coffee and breakfast markets, it has lost its low cost appeal too.
This struggle comes at the worst possible time for MCD as everyone seems to be jumping into the burger game, assaulting McDonald's position from all angles. And then there are traditional rivals, like Burger King (BKW), which are also doing a much better job lately, and have found more success in establishing a turnaround.
Analyst Opinion
Analysts are universally against MCD and its near term prospects, at least if we look to recent earnings estimate revisions as a guide. Not a single estimate has gone higher for either the current year or the current quarter period, while at least 10 have gone down for both periods instead.
These declining estimates have also had a negative impact on the consensus estimate for MCD, as the consensus has fallen for the current quarter and the current year as well. Current consensus numbers went from $1.35 to $1.21/share in just the past month, while we have seen a six cent decrease for the current year too. This has pushed expectations for MCD earnings to a 13.6% contraction for this quarter (yoy) and a 6.7% contraction for the full year (again, yoy).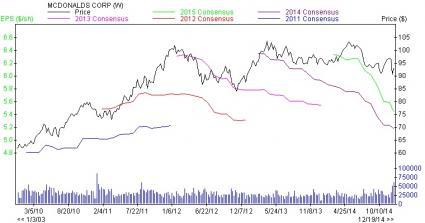 Thanks to these factors, it shouldn't be too surprising to note that we have given MCD a Zacks Rank #5 (Strong Sell) and that we are looking for underperformance from the company in the near term, and especially when compared to its peers in the industry.
Other Picks & Bottom Line
Fortunately for investors who want to stay in the restaurant industry, there are a number of better choices right now. That is because the restaurant industry is in the top 35% of all industries, so earnings estimate revisions have been pretty positive overall for the space.
One company that stands out in particular, and could be one for MCD to partially emulate in the future, is Domino's Pizza (NYSE:DPZ). The pizza chain has reinvented itself in a delicious way and has completely reinvigorated its brand in what is an incredibly difficult market.
The company is also a Zacks Rank #2 (Buy), and it has been seeing rising earnings estimate revisions as of late too. So if you need to stay in the restaurant segment, consider looking to DPZ or one of the other highly ranked securities instead of MCD, as McDonald's still has a lot of work to do before it can be a solid stock once more.