Introduction
The InterContinental Hotels Group (NYSE:IHG) shares and prices referred to in all of my IHG articles are the American Depositary Receipts [ADRs] traded on the New York Stock Exchange, not the London Stock Exchange shares. The tax implications are usually a consideration with non-U.S. companies, since almost all nations (about 75%) tax dividends (many at rates as high as 35%), but the U.K. does not. Thus, IHG shareholders retain the full approximate 1.82% yield the company pays. I always state share prices in U.S. dollars, but elsewhere the share price is sometimes stated in terms of U.K. Pence Sterling [GBX], so a currency converter is helpful. For example, $40.00 U.S. is 2,560.48 GBX.
This article is split into five sections. I'll start with a Company Overview, since some readers may be unfamiliar with the company. The Opinion Context part attempts to put my opinions in perspective for readers who don't have access to my prior IHG articles. The Investment Thesis section recaps the core tenets of my investment thesis, but primarily focuses on new developments, namely the acquisition of Kimpton announced last week. The Valuation Updates part tweaks and supplements the valuation considerations offered in prior articles.
Company Overview
InterContinental Hotels Group is the largest hotel operator in the world based on room count, serving nearly one hundred countries with over 697,000 rooms in over 4,760 hotels under ten distinct brands: Crowne Plaza, InterContinental, Holiday Inn, Holiday Inn Express, EVEN, Indigo, HUALUXE, Staybridge Suites, Candlewood Suites and Kimpton. IHG is headquartered in Buckinghamshire, England and its four operating and reporting regions are: 1) the Americas, 2) Europe, 3) Asia, the Middle East and Africa [AMEA], and 4) Greater China.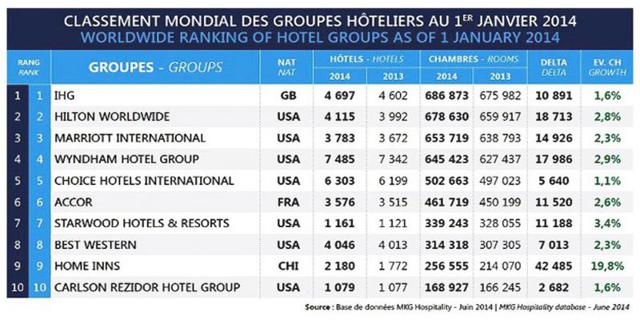 source: MKG Hospitality
Most of IHG's 4,760 hotels operate under franchise agreements (over 4,000), over 700 are managed by IHG but separately owned, and only nine are owned by IHG (all counts as of September 2014, and do not factor in pending deals).
IHG primarily franchises its hotel brands and manages those hotels, which are owned by partners. In other words, the IHG primary expertise and business is hotel management, systems and marketing; while the company's partners are responsible for most real estate investment and maintenance costs, which are the more capital-intensive aspects of the hotel industry. The key characteristic of this "asset-light" strategy is that the fee-based income streams IHG earns from managing hotels are much more even and reliable. The result is the IHG business generates large amounts of cash and has a high return on capital.
IHG also operates branded hotels on U.S. military bases through an exclusive contract with the U.S. Army. In 2009, the Privatization of Army Lodging [PAL] program led to the IHG Army Hotels portfolio, which has since then grown into 77 hotels with 11,657 rooms on 39 U.S. military installations across 25 states and territories. In November 2014, IHG celebrated its fifth year of managing U.S. Army hotels and, in 2014 alone, IHG opened 1,300 on-post guestrooms, including 800 rooms opened on a single day. A list of the IHG Army Hotels is available here, and the booking site is here. IHG plans to brand 2,000 more guest rooms on two U.S. military posts by the end of 2015.
IHG also manages the IHG Rewards Club program, which now has more than 82 million members globally, and is both the first and the largest hotel loyalty program in the world. The program officially launched in 1983 under the name Priority Club Rewards, but also has its earliest roots with predecessor program The Six Continents Club, which first debuted in the early 1960s.
The origins of InterContinental Hotels Group can be traced all the way back to 1777 when William Bass founded Bass Brewery in the U.K., and that company later acquired a small line of inns. While that company was transforming into Bass, Mitchells & Butler through a series of mergers (later renamed Bass PLC), the InterContinental Hotels brand was born as International Hotels Corporation in 1946 when Pan American Airways founder Juan Trippe began building hotels at key Pan Am destinations. In 1947, the first InterContinental Hotel opened in Belém, Brazil as Hotel Grande. In the 1960s, Bass PLC acquired or established hotel chains Charrington Hotels and Crest Hotels. In the 1980s, Pan American sold its interest in InterContinental Hotels, which Bass PLC eventually bought. In 1990, Bass PLC bought the Holiday Inn chain, which had been founded by Kemmons Wilson in 1952. In 2001, Bass PLC was renamed Six Continents PLC and the current IHG was formed by the 2003 separation of Six Continents into two companies - the restaurant and pub segment became Mitchells & Butlers, while the hotels and resorts segment became InterContinental Hotels Group.
For more about InterContinental Hotels Group PLC, see the corporate website.
Opinion Context
My current opinions of IHG are in the context of this being my fourth article on the company. Since many readers can no longer access those prior articles, I'll recap some of the takeaways, but this is more of an update, so there are still some subjects that are not covered. To avoid only getting parts of the story in the future, click "Follow" at the top of this page to see my new articles on your SA home page, since many are only free for thirty days after they're posted.
The conclusions of my opinions from my first IHG article on 11/21/2013 were:
I'm a buyer of IHG at $28-29, would likely add to my position at $27-28 and would definitely add at $26-27. I think it is unlikely that IHG revisits the bottom of that range, unless there's another economic downturn. For that reason, and since I already missed the one dip to $27-28 in 2013, I recently opened my position at $29. My twelve-month price target is $36 (24% above $29) and I consider downside risk $26 (10% below $29). I believe a dip would be brief and a great buying opportunity, so I consider return potential that is more than double the downside risk worthwhile.
IHG was $33 at that time and only dipped to that same level thereafter, so the call is tracked from $33, not my $29 buy price. I raised my buy range through a follow-up comment, a year-end review and another article on 2/23/2014. By April, IHG had already exceeded my initial $36 price target and was sustaining the $34-36 range. I wrote another article about the company on 7/28/2014 to comment on some specific developments, including the following:
To make clear that I'm not at all suggesting that the current IHG share price is the result of an M&A bid, I'll point out that the offer news broke several weeks after IHG shares gapped up to a $40-41 range (from the prior $34-36 range), due to a very strong 2014Q1 earnings report. Also, as I warned in my IHG article on February 23, which was a month prior to the last buyable dip from $35 to $33 and before the gap up to the new $41-44 range, "Traders using a dividend capture tactic typically sell right after dividends are paid, so it may take another quarter to shake out the traders trying to predict the IHG special dividend, but that doesn't affect the IHG thesis. In fact, any resulting sell-offs can create opportunities for investors to continue building positions, which is how I will be using the current dip." My initial IHG price target of $36 has been exceeded and I'm raising my twelve-month price target to $46, which is 40% above the $33 price during my initial call, and 11% above the current $41.50 price. Those potential returns do not include the dividends expected to be paid.
The prior articles collectively cover my investment thesis in detail and this one focuses primarily on new developments, so I'll just list the main points in order to avoid repeating prior articles, yet still convey how new developments relate to the thesis. For the same reasons, I've included links to more information on each thesis component, as well valuation updates to support my price target.
Investment Thesis
The primary components of my investment thesis are: [1] as an independent company for only a short time before the recent global financial crisis, IHG is only recently being revalued in a more normalized economic environment, [2] with strong new leadership of the independent company, IHG has a refreshed focus on hotel quality and brand identity, which has meant consistent growth in market share via an improved and growing portfolio, [3] the IHG asset-light business model continues positioning the company for sustainably-high cash generation, increased profitability and expansion in growth markets, and [4] the travel and lodging industries are among the latest and slowest to recover from economic downturns, but the entire hotel industry has indeed recovered and the industry outlook favors the largest global players, so IHG is very well positioned to capitalize on both the initial rebound and subsequent growth.
Kimpton Hotels & Restaurants Acquisition
This new development speaks directly to the following core components of my investment thesis: "refreshed focus on hotel quality and brand identity," "the asset-light business model," and "expansion in growth markets." I'll explain.
On December 16, IHG announced plans to buy Kimpton Hotels & Restaurants for $430M in cash. Founded by Bill Kimpton in 1981 as the first boutique hotel and restaurant company in the U.S., privately-held Kimpton is now the largest independent boutique hotel company in the world. Kimpton manages 62 hotels with over 11,000 rooms across 28 U.S. cities, and its pipeline includes another 3,000 rooms in 16 hotels, 10 of which are already under construction. Kimpton is also considered a "sophisticated food and beverage operator," operating 71 hotel-based restaurants and bars, including the first celebrity chef restaurant in the U.S. - Postrio at The Prescott, opened in 1989 with Wolfgang Puck. In addition to the ability of boutique hotels with unique characteristics to draw a new stable of customers to IHG, there are also more direct financial benefits.
The asset-light business model is clearly a perfect fit for IHG and, as the slide below indicates, Kimpton has a strong track record both in terms of operations and financial performance, with its 4% per year system-size growth and 7.7% average growth in Revenue Per Available Room [RevPAR] over the most recent five years. Kimpton's 2014 EBITDA is about $20M, and IHG expects to nearly double it to about $39M by 2017. IHG states that the deal will be accretive in its first full year and achieve returns above IHG's cost of capital by year three.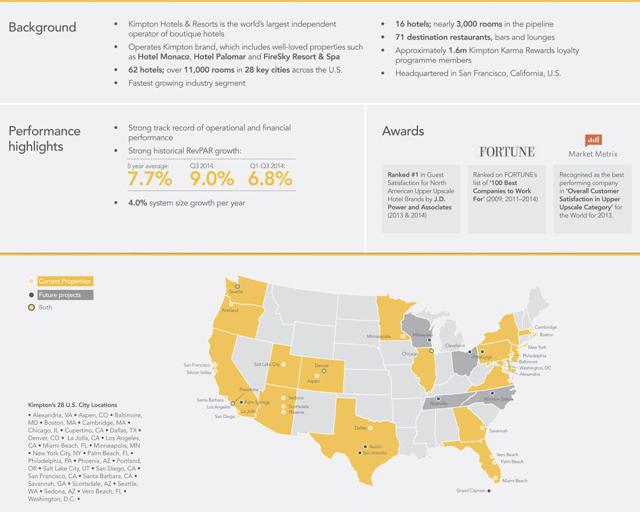 source: Kimpton presentation
As the slide below shows, adding Kimpton to the IHG portfolio of Hotel Indigo boutique hotels creates the leading boutique hotel business by far, with nearly 200 open and pipeline hotels that span across over two dozen nations.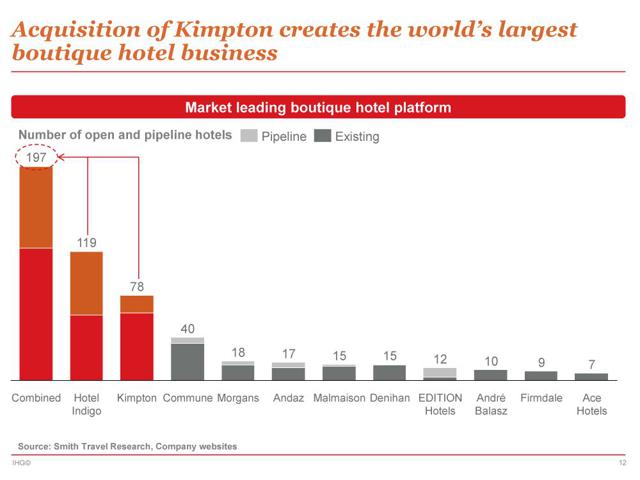 source: IHG presentation
This acquisition makes IHG the clear market leader in the boutique category, which is a huge win for many reasons. The first can be summed up with one important word - margin[3]. Being the simpleton that I am, one way I look at business is that there are only two basic ways to make money in any business - margin and volume. In other words, one can sell relatively few widgets at a high profit per widget (a margin-driven business), or still make a comparable amount of money by selling tons of widgets at relatively low profit per widget (a volume-driven business). My point is that boutique is a higher-margin area of the industry, which perfectly complements IHG with its very strong position in more volume-oriented categories (i.e., Holiday Inn Express). Just so that last statement doesn't misdirect anyone who may be just getting to know IHG, I'll mention again that IHG also operates InterContinental Hotels & Resorts, as well as several other brands that are also in higher-margin categories.
Another reason it's a huge win that IHG is becoming the market-share leader in the boutique category can also be summed up with one word - growth. As the slide below indicates, boutique is the fastest growing industry segment by every measure (7.5% demand growth, versus 4.2% industry average). Even so, the category still represents only a small portion of market supply, which means a lot of room for growth. IHG has stated that it plans to accelerate the U.S. expansion of Kimpton, and also launch the brand globally, particularly in Europe and Asia where there is strong demand for boutique brands.
According to a lodging industry report from research firm IBISWorld:
The Boutique Hotels industry has grown rapidly over the past five years as a result of increased travel demand and consumer preferences for unique accommodations with a focus on style and individualization. Like the entire traveler accommodation sector, the industry was negatively impacted by the recession of 2008-09 as consumers tightened their budgets and declining corporate profit restricted business travel. However, since 2009, industry revenue has climbed an impressive 6.1% per year on average to an estimated $5.9 billion in 2014.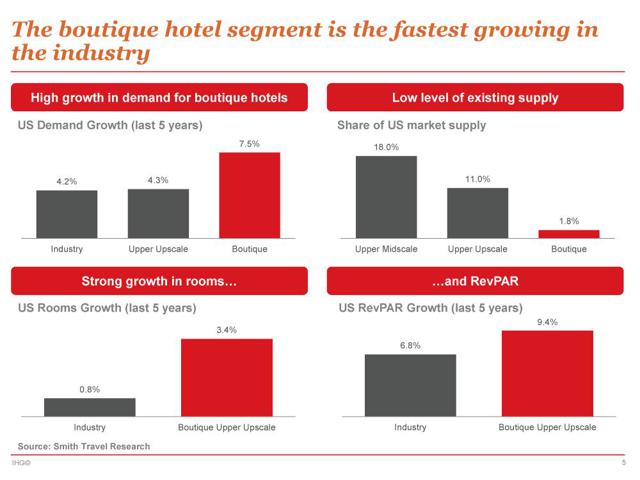 source: IHG presentation
Kimpton is scheduled to open its first Caribbean resort in 2016, which will also be its first international location. Announced last July, the project is a four-star $240M resort that is the first new development approved in over a decade for the famed Seven Mile Beach in the Cayman Islands, which are recently seeing a significant resurgence in tourism. The resort will have 266 guestrooms, and five restaurants and lounges. To be managed by Kimpton, the resort is owned by the Dart Group, which also owns the adjacent Camana Bay property and is working on a master plan for a full Camana Bay development project that the group recently confirmed will eventually include homes and a "resort village" sprawling over 500 acres. There are no indications of additional management contract wins for this resort village, but the Kimpton hotel is progressing well.
The Kimpton acquisition is expected to close in the first quarter of 2015. The 6-K filing with the Securities and Exchange Commission [SEC] can be viewed here, and IHG has posted a variety of additional related information here.
Saudi Arabia Additional Expansion
This development is a specific example of the "expansion in growth markets" part of the third core component of my thesis. First, I'll touch on background information to convey why Saudi Arabia is so important for the future of IHG.
As the slide below illustrates, ten specific markets will account for over 75% of total hotel room revenue growth to 2020, and are expected to grow at a 4.6% compound average rate to 2020. These ten markets represent more than 85% of the IHG system and pipeline, and the Middle East is third largest. According to the World Bank, Saudi Arabia occupies about 80% of the Arabian Peninsula, and has the second largest economy in the Middle East, in terms of GDP. For 2014Q3, IHG's RevPAR in the AMEA region was up 4.4% (more than China).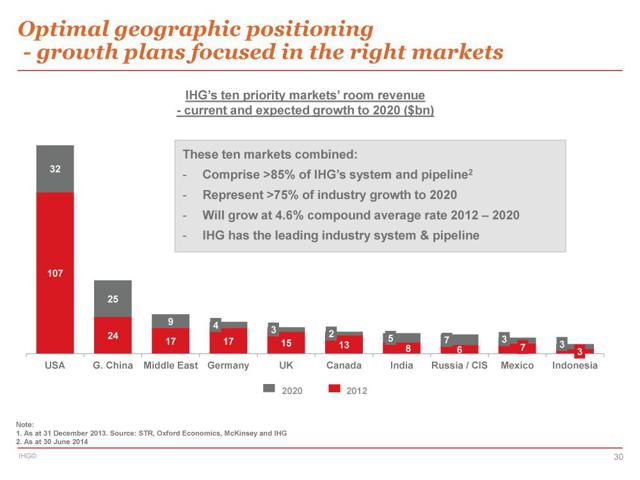 source: IHG presentation
IHG opened the first international hotel in the Kingdom of Saudi Arabia [KSA] in 1975, has 24 hotels across KSA, and remains the largest hotel firm in KSA, both by number of rooms and number of hotels. KSA is a focal point for IHG, representing the largest AMEA region pipeline, with nine hotels scheduled to open in KSA over the next three to five years (beyond the announcements last week). That includes InterContinental Riyadh, King Abdullah Financial District [KAFD], as well as Hotel Indigo Riyadh, KAFD, which will mark the entrance of the Hotel Indigo boutique brand into the Middle Eastern market.
On December 15, IHG announced that it has signed a master development agreement [MDA] with Saudi developer Dur Hospitality. The number of hotels the MDA will ultimately include wasn't disclosed, as the company only referred to "a number of Holiday Inn & Suites branded hotels developed across KSA over the next five years, significantly enhancing the brand's footprint in KSA."
In February, IHG signed a twenty-year management deal for a new Staybridge Suites hotel in Al Khobar, Saudi Arabia. The hotel is intended to meet growing demand for extended stay hotels in Al Khobar, due to the city's rising status as a regional and international business hub. For example, Al Khobar is the home of many employees of Saudi Aramco, the world's largest oil company, which is a steady source of very many business and leisure visitors to the city.
In 2013, IHG opened a new Holiday Inn in downtown Riyadh and also signed an agreement with Makkah Real Estate Company to build the world's largest Holiday Inn in KSA. The two-tower Holiday Inn Makkah will have 1,238 rooms and is due to open in 2016. Currently, the largest Holiday Inn in the world is the 1,224-room Holiday Inn Macao Cotai Central in Macau, Greater China.
InterContinental Paris Le Grand Disposition
As IHG's third major property disposition in the last twelve months alone (the others are here and here), this development relates to the third component of my thesis: "the asset-light business model continues positioning the company for sustainably-high cash generation, increased profitability and expansion in growth markets." In fact, it's partially a catalyst for the growth moves above.
On December 8, IHG announced that it has agreed to sell the InterContinental Paris Le Grand hotel to Constellation Hotels for $405M in cash. The deal terms remain unchanged from those announced in August, when the talks were first made public. So, IHG has secured a thirty-year contract to continue managing the hotel, with three ten-year extension rights, and will earn fees of about $5M per year from the property. Constellation will invest about $74M to renovate the property, which initially opened in 1862 and has been operating under the InterContinental brand since 1982. The deal is expected to close in 2015Q1.
Valuation Updates (Upside Potential & Downside Risk)
Supported by IHG's aggressive growth actions discussed above, my general valuation opinions remain the same as previously stated: "I contend that IHG will continue to justify valuations more similar to peers, though I don't believe that will happen quickly or all at once."
My price target for IHG is based on evaluations of Price-To-Earnings [P/E] and Enterprise Value-To-EBITDA [Earnings Before Interest, Taxes, Depreciation & Amortization]. I factored in the EV/EBITDA and P/E ratios both in terms of the IHG historical ranges and the multiples relative to the IHG peer group.
| | | | | | |
| --- | --- | --- | --- | --- | --- |
| Company (Exchange:Ticker) | EV/EBITDA (trailing) | P/E (trailing) | Dividend Yield | Market Cap | Share Price |
| Hilton (NYSE:HLT) | 16.44x | 47.77x | N/A | $25.78B | $26.18 |
| Hyatt (NYSE:H) | 13.58x | 46.90x | N/A | $9.07B | $59.75 |
| IHG | 14.42x | 26.90x | 1.82% | $9.68B | $40.59 |
| Marriott (NYSE:MAR) | 19.66x | 32.93x | 0.99% | $21.94B | $77.43 |
| Starwood (HOT) | 14.95x | 28.60x | 1.76% | $14.22B | $79.63 |
| Wyndham (NYSE:WYN) | 12.56x | 20.27x | 1.65% | $10.45B | $84.76 |
source: GuruFocus
As the table shows, the ratios the market values these companies with span a very wide range. That is, at least in part, due to significant differences among the companies such as: operating business model (property ownership levels), as well as portfolio composition details like geography (position in high-growth markets) and categories (luxury, boutique, midscale, economy, etc.). Detailing various differences among a half dozen companies is beyond the scope of this article, but it's widely known that IHG valuations historically align most closely with HOT and MAR. It's also worth noting that higher dividend yields normally help drive higher valuations, but as you see, that is not yet the case with IHG.
P/E Multiples
The focus of my valuation estimates is the twelve-month timeline of my price target, so I'll offer example scenarios with the 2014FY consensus estimate of $1.56 EPS, since IHG reports actual EPS for 2014FY in about two months. The consensus of $1.56 is reasonable to estimate with because it has already come down from the $1.62 estimate during my last article five months ago, it is only modestly above the $1.52 estimate for 2014FY during my IHG article from ten months ago, and it is slightly below the midpoint of those two prior estimates.
Excluding the extreme outliers, the P/E multiples for most peers are roughly between 29x and 33x, yet the P/E multiple for IHG is now only 26.90x.
At exactly the same 26.90x P/E with which the market currently values IHG, a $1.56 trailing-twelve EPS would make the IHG share price $41.96. However, if IHG can achieve the 29x low end of the P/E range where most all competitors already trade, the IHG share price would be $45.24. If IHG can achieve a 30x multiple, which is still on the low end of that 29x to 33x range, the IHG share price would become $46.80. Finally, if we find out in a couple of months that the $1.56 estimate is lower than the actual results (as I expect), the example share price ranges would obviously be achievable at even lower P/E multiples.
EV/EBITDA Multiples
Similar to the disparity among competitor P/E ratios, the EV/EBITDA multiples of competitors also include outliers, such as 13x and 20x. With those extreme outliers excluded, the EV/EBITDA ratios for all other competitors are in the 14x to 16x range. That is exactly the range where the EV/EBITDA for IHG typically hovers, but at 14.42x, IHG is now very near the bottom of its typical valuation range. I contend that this further indicates undervaluation of IHG, and that will become even more true as IHG assumes the Kimpton $20M in current EBITDA, which the company plans to nearly double to $39M over the next three years.
Valuation Conclusions
Again, it's important to remember that my estimates don't necessarily indicate fair value today, since my valuation focus is the twelve-month timeline of my price target. With that said, I'm leaving my twelve-month price target for IHG at $46 for the same reasons that I set my target at $46 while IHG was already in the $42 to $45 range, and I did that in an article titled "Caution Is Due" -- I believed that the shares approached $45 too soon, and that a retreat seemed likely. In other words, I probably should've set my price target slightly lower in that July article, so that I would be writing this article to raise my price target to $46. In any case, $46 is my target for now, and I'll adjust later, if needed.
My $46 IHG price target is 39% above the $33 buy price of my initial opinion, 31% above the midpoint of my current $34-36 buy zone, and 13% above the $40.59 current share price. The upside-potential and downside-risk estimate percentages don't include the additional return from the 1.82% dividend yield.
Downside-Risk Estimate
I convey downside-risk estimates via the 200-day Exponential Moving Average [EMA], so that readers have a ballpark idea of my opinion well after an article is posted, but my opinion is actually based on the most pessimistic variations of the same valuation methods used to develop my price targets. For example, if IHG were to not only miss the $1.56 EPS estimate for 2014FY by $0.05, but also trade down to a 24x P/E ratio (the 2013FY low), the share price would dip to a $36 range. I round these figures to emphasize that they're just estimates.
I obviously don't believe that IHG will do worse than both missing earnings by a wide margin, and also trading down to an even lower P/E ratio than in 2013. However, anything is possible, especially if the market or key economies get weaker than I expect to happen within the timeline for my price target, and it happens much faster than usual. So, if IHG does dip lower than the $36 range, I expect the shares to find support at a distance from their 200-EMA similar to where the last dip ended. The longest and deepest stint IHG has spent below its 200-EMA in the last two years was October 2014. IHG spent that full month below the 200-EMA, bottoming on October 16 at $34, which was 9% below the 200-EMA of $37.58 at that time. To add a layer of conservatism, I call the risk 10%, which would take IHG to $34-35 from the $38.23 current 200-EMA.
So, $34-36 is the range at which I'll consider adding to my IHG holdings again (I last added at $35, as I commented in an October StockTalk). Again, I don't see IHG trading down to these levels, but if so, I'm very likely to buy the dip.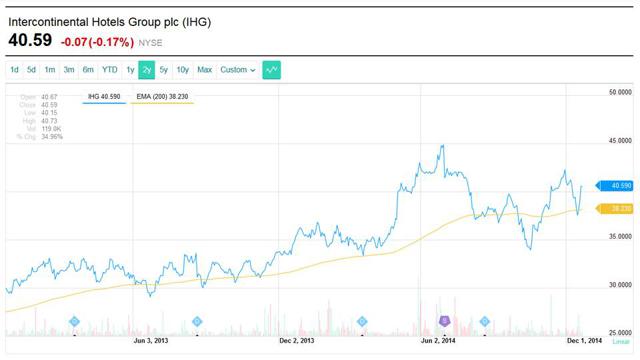 source: Yahoo Finance
Final Thoughts
My opinions of IHG are even more positive than when I began researching the company a few years ago. That's not only due to the financial performance to date, but also a number of operational factors like the move to acquire such a high-quality operator as Kimpton in the most attractive category of the hotel industry. I also like that the IHG team has taken what had, frankly, become a stale neglected brand (Holiday Inn) before IHG was an independent company and successfully transformed it into a collection of attractive economy hotels.
I especially admire that Mr. Solomons and the IHG Board of Directors haven't caved to the whims of activist investors who just want to use the company as a pawn to garner some tax advantages for a U.S. company in which they have a financial interest. It's a bit odd that Marcato Capital believes that IHG would be easy prey for such tactics when the IHG management team and Board had already successfully fended off a year-long series of advances from one of the most powerful activist investors ever, Nelson Peltz. I'd prefer to see what the independent IHG can do over the long term with its very strong portfolio, but I'm confident that IHG would command a significant premium in a scenario that involves M&A, or will also continue to do increasingly well independently.
In any case, all of these things collectively indicate that IHG has the one thing that I value most in any investment - strong, focused leadership with a plan.
With that all said, as mentioned in the Valuation Opinions section, I'm unlikely to add to my IHG holdings again soon, since I added fairly recently and, as a long-term investor, I'm in no hurry to raise my cost basis. I believe it's always best to stage into stock positions with at least several buys, in order to make each buy price less critical, and I believe the recent dip was a great chance at IHG. In fact, anticipation of such opportunities is why I've written about IHG a number of times now. It's not possible for me to write new articles about all of the dozens of companies I cover in a few days when a market-wide correction occurs, so I write articles as time permits in attempt to help other investors be prepared when opportunities do arise. In other words, my opinions are always most suitable for other long-term investors who build positions over time and, therefore, don't panic sell when a stock dips, but instead buy at sale prices.
Again, this article is intended to focus primarily on the new developments with IHG and, since my theses are always long-term oriented, my earliest articles about a company tend to include much more detail about the thesis and risk factors. So, if you're interested in IHG, you may want to also read those prior articles, as there are many pertinent subjects that this article doesn't cover.
Thanks for reading. I wrote this article 12/15-12/22. Perhaps consider clicking the "Follow" button at the top of this page to see my new articles on your SA home page, since many of them are only free for the first thirty days after the publish date. As always, my opinions are not individual investment advice and every reader is free to dismiss any or all of my opinions. Or, as SA states that idea: "Read. Decide. Invest." Best of luck with the rest of your due diligence.
Disclosure: The author is long IHG.
The author wrote this article themselves, and it expresses their own opinions. The author is not receiving compensation for it (other than from Seeking Alpha). The author has no business relationship with any company whose stock is mentioned in this article.
Additional disclosure: I am long IHG, will not buy or sell any shares in the next 48 hours, and do not plan to close my position for at least several years.