According to Barchart one S&P 100 stock showing great price momentum is Norfolk Southern (NYSE:NSC). The stock has seen four new highs and is up 2.26% in just the last month. The company has some new plans in place to cut costs and take advantage of the higher fuel costs the trucking industry is experiencing.
Click to enlarge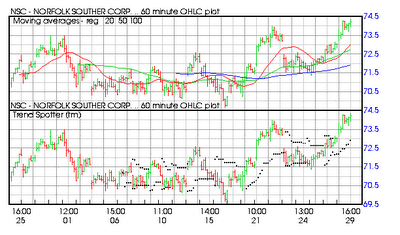 Norfolk Southern Corporation, through its subsidiaries, engages in the rail transportation of raw materials, intermediate products, and finished goods primarily in the United States. The company transports coal products, such as coal, coke and iron ore; automotive products, including finished vehicles and auto parts; chemicals products consisting of sulfur and related chemicals, petroleum products, chlorine and bleaching compounds, plastics, rubber, industrial chemicals, chemical wastes, and municipal wastes; metals and construction products comprising steel, aluminum products, machinery, scrap metals, cement, aggregates, bricks, and minerals; and paper, clay, and forest products, including lumber and wood products, pulp board and paper products, wood fibers, wood pulp, scrap paper, and clay. It also transports agriculture, consumer and government products such as soybeans, wheat, corn, fertilizer, animal and poultry feed, food oils, flour, beverages, canned goods, sweeteners, consumer products, ethanol and items for the military. In addition, it engages in the intermodal operations that include moving of shipments in trailers, U.S. and international containers, and roadrailer equipment. Further, the company transports overseas freight through various Atlantic and Gulf Coast ports as well as provides a range of logistics services, and operates passenger and commuter trains. Additionally, it is involved in the acquisition, leasing and management of coal, oil, gas and minerals; the development of commercial real estate; telecommunications; and the leasing or sale of rail property and equipment. As of December 31, 2010, the company operated approximately 20,000 route miles in 22 states and the District of Columbia. The company was founded in 1883 and is based in Norfolk, Virginia.
Factors to Consider
Barchart Technical Indicators
100% Barchart technical buy signal
Trend Spotter buy signal
Above its 20, 50 and 100 day moving averages
Four new highs and up 2.26% in the last month
Relative Strength Index 61.07% and rising
Trades around 74.21 with a 50 day moving average of 71.53
Wall Street brokerage analysts consider the stock a core transportation holding.
Analysts have issued 10 strong buy, 11 buy and 10 hold recommendations on this security.
Sales are projected to increase by 15.10% this year followed by another 7.80% next year.
Earnings are the real story with forecasts of a 23.40% increase this year, another 15.10% next year and an annual increase of 13.59% for the next five years.
General Investor Sentiment
The readers of Motley Fool vote 1056 to 28 or 97% that the stock will beat the market.
The more experienced All Stars are even more positive with a 99% vote for the same result.
Summary: As oil prices rise power plants become increasingly dependent on coal to control cost and trains carry the majority of the coal. As gasoline and diesel prices stay high more and more companies use intermodal means of shipping containers and use the rail to ship them. The company is hiring but this is a good thing as it is trying to lower the costly over-time they have been paying. It's hard not to see how trains benefit over trucking in a high oil price environment we are now experiencing, so put Norfolk Southern on your watch lists.
Disclosure: I have no positions in any stocks mentioned, and no plans to initiate any positions within the next 72 hours.