Regeneron Pharmaceuticals (NASDAQ:REGN) has enjoyed incredible success over the last five years. Its market capitalization recently surpassed $40 billion as its shares have gained nearly 50% during the past 52 weeks. Regeneron's key product is Eylea, which is used to treat age-related macular degeneration (vision loss). Eylea's sales in the United States grew 23% in the third quarter of 2014 and represent more than 60% of the firm's total revenue. The company has sixteen different treatments currently in clinical development, including six in collaboration with Sanofi (NYSE:SNY). Analysts expect that Regeneron will continue to achieve impressive earnings growth moving forward, but its elevated valuation reflects this optimistic outlook. This article will focus on the fundamentals to determine whether the company's stock price can continue its stellar run in 2015.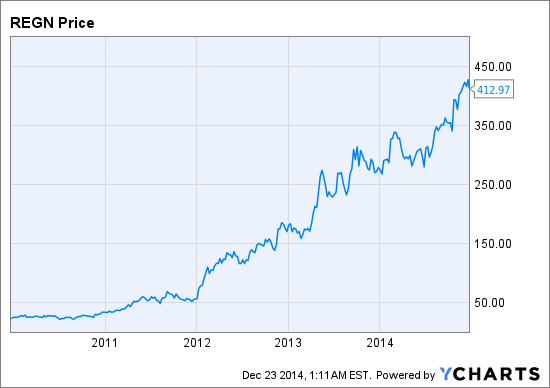 Please click here to read my article which outlines the DRAG analysis framework in more detail.
To summarize, the four variables used in a DRAG (dividend and risk adjusted growth) analysis are as follows (each company is ranked from 0 to 3 in each category):
1) How cyclical is the industry in which Regeneron operates?
2) How strong is Regeneron's competitive position within this industry?
3) How risky is Regeneron's balance sheet?
4) What is Regeneron's dividend yield and dividend growth history?
The premise is that a company that operates in a non-cyclical industry, with a strong competitive position and a clean balance sheet that pays an attractive dividend should trade at a higher earnings multiple than a company without these attributes, even if the lower quality company has higher projected future earnings growth. After adjusting for these variables, it becomes easier to compare companies in different sectors with different levels of future growth potential.
Regeneron DRAG Analysis:
Regeneron Industry Analysis

Industry Beta

0.82

Stock Beta

0.85

10 Year EPS Std Dev

164.3%

Industry Score

1.5/3
Regeneron is somewhat similar in its risk profile to other large cap biotechnology stocks that derive a large percentage of their current revenue from one drug, such as Gilead Sciences (NASDAQ:GILD) and Celgene (NASDAQ:CELG). And while the concentration risk increases the level of volatility inherent in Regeneron's share price, the fact remains that the biotechnology sector has a lower than average beta, as is demonstrated by the iShares Nasdaq Biotechnology ETF (NASDAQ:IBB). On the other hand, an academic research website suggests that the average biotechnology stock has a beta of 1.12. Regeneron's share price has exhibited a beta between these two estimates over the previous five years.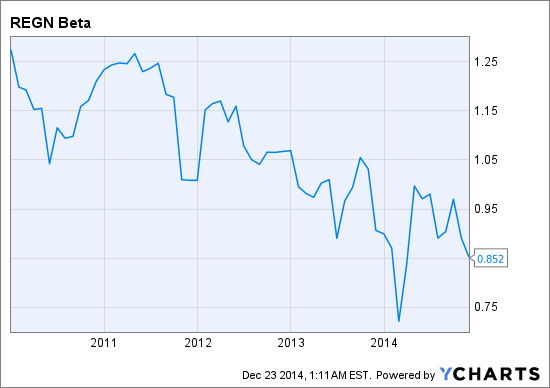 After seven years of consecutive operating losses, the firm achieved profitability in 2012 thanks to this explosive sales growth: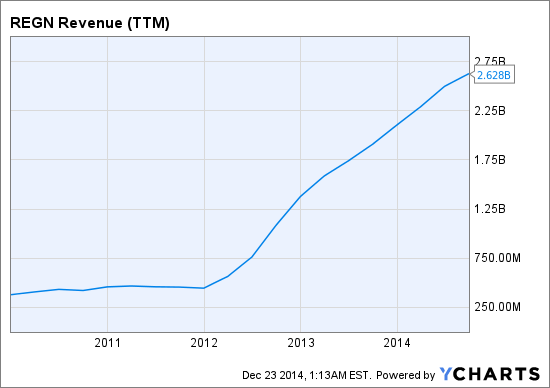 Although the biotech sector of the market appears to exhibit roughly average levels of volatility as a whole and is not overly economically sensitive, Regeneron only deserves an average score thanks to its short history as a profitable business and concentrated source of revenue.
Regeneron Competitive Position Analysis

Gross Margin

92.6%

Operating Margin

30.6%

Return on Assets

10.5%

Return on Invested Capital

13.7%

Competitive Position Score

1.5/3
Analyzing Regeneron's competitive position is challenging due to its widely variable corporate results. However, its margins are solid relative to comparables such as Biogen Idec (NASDAQ:BIIB) and Amgen (AGMN) and if the firm can maintain an operating margin of 30% or greater moving forward, it will be in good company in the biotechnology space. However, after achieving a return on invested capital of nearly 60% in 2012, it promptly declined to 22% the following year and now sits below 15% over the last four quarters. Regeneron does seemingly possess a strong competitive position in the macular degeneration market, but its product pipeline will be critical to determining the ongoing competitive strength of the overall firm. Until further commercial progress is made on one or more of these products, the firm does not warrant an above average score in this portion of the DRAG analysis.
Regeneron Balance Sheet Analysis

Debt to Equity Ratio

0.22

Current Ratio

5.36

Interest Coverage

18.6

Balance Sheet Score

2.5/3
One aspect that reduces the risk of this high growth biotechnology company slightly is its conservative financial position. Regeneron has over $1 billion in cash and short term investments on hand compared to $565 million in total debt outstanding. This impressive cash position also helps the firm maintain a remarkable current ratio. Furthermore, Regeneron does not account for any goodwill. The firm became cash flow positive in 2013 and its flexible balance sheet should allow management to focus on the future success of Eylea and bringing additional products to market.
Regeneron Dividend Analysis

Current Yield

0.0%

Payout Ratio

0.0%

1 Year Dividend Growth

N/A

3 Year Dividend Growth

N/A

Dividend Score

0/3
Not unsurprisingly for a firm in the biotech sector that only recently became profitable, Regeneron does not pay a dividend. As previously mentioned the company is now generating free cash flow but has so far (rightly) focused on future growth rather than returning these funds to shareholders. Regeneron is not an appropriate investment for individuals seeking to generate income in their portfolios and this will likely continue to be the case for at least several years to come.
Regeneron DRAG Analysis

Total DRAG Score

5.5

/4 = Average DRAG Score

1.375

x Projected LT EPS Growth Rate

22.11%

x Projected 2015 EPS

$11.74

= Regeneron Target Price

$356.91
The positive news for Regeneron shareholders is that the analyst community has a fairly optimistic long term earnings growth forecast for the company. While growth is expected to remain muted over the next two years, it should accelerate significantly into 2017 and beyond: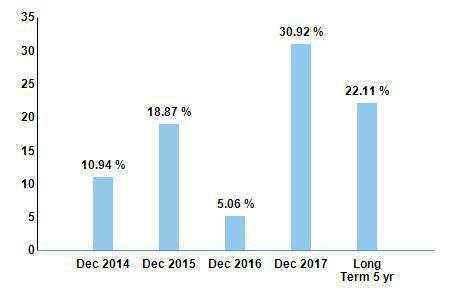 However, even an anticipated long term earnings growth rate of more than 20% makes it difficult to justify Regeneron's current valuation of 35 times projected 2016 earnings. The firm currently relies on one product for the majority of its revenue and while it has an attractive balance sheet, its return on invested capital currently sits below 15% and is difficult to predict moving forward. Based on its future earnings growth potential and the fundamental characteristics mentioned in the DRAG analysis, the stock appears overvalued by approximately 10% and long term investors interested in purchasing shares of this fascinating biotechnology company should be patient and wait for a pullback before initiating a new position.
Disclosure: The author has no positions in any stocks mentioned, and no plans to initiate any positions within the next 72 hours.
The author wrote this article themselves, and it expresses their own opinions. The author is not receiving compensation for it (other than from Seeking Alpha). The author has no business relationship with any company whose stock is mentioned in this article.