If you accept what you read on message boards and in the comment sections of Seeking Alpha articles as some sort of consensus, young people without money comprise most of Pandora's (NYSE:P) audience and an older crowd with disposable income makes up Sirius XM's (NASDAQ:SIRI).

In this article, I use one method of determining who uses each of the "radio" services. As I report the respective demographics, in comparison to Clear Channel's (CCMO.PK) iHeartRadio and CBS Radio's (NYSE:CBS) Radio.com, I consider the implications some of the numbers have on advertising and other aspects of Pandora and Sirius XM's businesses.

I deploy Alexa, a service that tracks visitors to websites. The most obvious limitation of this approach is that it does not tell us who actually subscribes to Pandora or Sirius XM or who streams at iHeart and Radio.com. It only tells us about the traffic each website sees. That said, I believe, with a high level of, albeit unofficial, confidence, that the traffic statistics paint a representative picture of subscribers. From this approach, we can also learn about the type of person who acts on an interest in any of the services by visiting its website even if that person never subscribes, streams or clicks on an ad.

At day's end, Alexa can tell us a bit about subscribers and the demographic each company attracts. While my analysis presents just one piece of a highly-complicated puzzle, it's useful to investors as they attempt to dissect the future revenue prospects of some of the major players in audio entertainment.

Age
Click to enlarge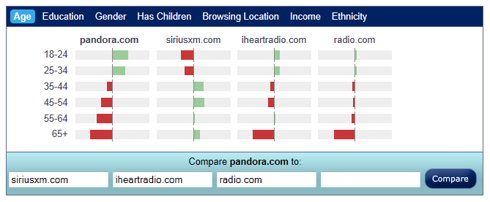 Green bars indicate that the attendant values are over-represented, while red bars tell us that the values are under-represented. The length of the bars illustrate the strength of the over- or under-representation. For instance, 18- to 24-year olds and 25- to 34-year olds are over-represented at Pandora, while people 65 years of age and older are "greatly" under-represented. Alexa uses the general population as the benchmark for making this determination.

The age numbers come out pretty much as expected. You can see for yourself that Pandora skews younger, while Sirius XM skews older. It's best to analyze this data in conjunction with income data.

Income
Click to enlarge



While Sirius XM appears to attract a larger sample of upper-income earners to its website, Pandora certainly does not slack (pun intended) in that category. While Pandora sports a younger base, it's still affluent, relative to the general population.

Having worked in terrestrial radio for quite some time, I can tell you this - Sirius XM would like to add more youth to its base. In the old days of Arbitron (NYSE:ARB) radio ratings, the general statistic used to report ratings in the media was 12-plus, which basically includes everybody in the population 12 years of age and older. Stations that ranked high in this demographic tended to skew older. In other words, they would also do quite well with the 65-plus crowd. This appears to apply at least a little bit to Sirius XM's age breakdown.

In radio, from an advertising standpoint, you don't want the people who we used to refer to as being "on death's doorstep." Depending on the format, you wanted 18-34 year olds and 25-54 year olds, or both. These demos represent the sweet spot for advertisers. Because Pandora and Sirius XM sell, and will sell, their ad time across formats (terrestrial radio has moved this way in a post-consolidation world), it's safe to say they want to be able show advertisers a large and loyal 18- to 54-year old following.

I have little doubt in my mind that Pandora wants to attract some of that 35- to 54-year old demo that Sirius XM owns. Sirius XM likely wants to capture some of the 18- to 34-year olds Pandora appears to dominate.

This conversation matters to investors looking to make long-term plays on Pandora and/or Sirius XM, particularly if you believe Pandora needs to generate more subscription revenue and Sirius XM needs to bring in more ad revenue. In terms of revenue generation, as it stands, the two companies are polar opposites of one another.

By bringing more of that 35- to 54-year demographic into the fold, Pandora could probably trigger more subscription revenue. And I do not think it's all about disposable income. It has at least something to do with the notion that the older crowd is more used to paying for entertainment on a monthly basis. The under-35 set knows it can get any song it wants for free, for example, and it has been brought up on audio and video entertainment services that are free or at least close to it.

Consider the following excerpt from a recent Arbitron press release:





And, of course, Pandora skews younger because it's an Internet- and smart phone-based interface. Sirius XM tends toward the upper-end of these key demos, as it is closer to terrestrial radio in terms of functionality. What I find interesting, however, is that iHeart and Radio.com both skew toward the younger audience that Pandora owns. It shows that terrestrial has done a nice job of bringing that audience from the receiver to the stream. Sirius XM appears to not have done that. In fact, it doesn't seem to have much of that 18- to 34-year old demo in the first place.

You can argue that Sirius XM does not need the 18- to 34-year old demographic. It's a debatable point. Ultimately, advertisers decide. Sirius XM also gets to decide if it wants it.

Does Sirius XM intend to stick to a model that generates revenue almost solely from subscriptions, which tend toward an older audience? Or will it do the types of things it needs to do - subsidized receivers, more aggressive promotional trials, focus on the quality of its online stream, and emphasize online, mobile and social as listening platforms and marketing tools -- to draw in that younger audience? I don't think it's necessarily a matter of cost. Instead, I think it's about how you draw in a demographic that knows how to get and expects to receive "premium content" for free or cheap. As somebody who is long the stock, I sincerely hope so.

The following story that I received in my morning Radio-Info.com email blast could mean quite a bit vis-a-vis Pandora and Sirius XM's futures: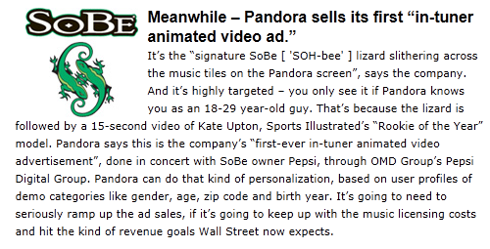 Pandora needs more of this - and lots of it - just to survive. To Sirius XM's credit, it has the relative luxury of deciding if it wants to take this route or focus on subscriptions only. In the interest of not being a one-trick pony and diversifying its revenue stream, Sirius XM hopefully plans to use SatRad 2.0 to change not only the way people listen to radio, but the way it, as a company, targets prospective and current subscribers with promotions, marketing and advertisements.

Disclosure: I am long SIRI.

Additional disclosure: I am long SIRI via the stock and September $2.50 call options.