By Parke Shall
Just two days ago we wrote an update on our original piece on McDonald's Corp. (NYSE:MCD). Our update emphasized that we continue to stand by our original price range for McDonald's around $74-$82. Our last piece, which you can view here, went through each of the points brought up during the company's investor presentation and offered our thoughts.
The last week has brought some excitement and rumors, with the stock price jumping hard off its lows. The rumor that Bill Ackman, hedge fund manager at Pershing Square Capital Management, was interested in McDonald's sent the stock flying. It was being passed around on Wall Street that Mr. Ackman is considering spinning McDonald's off as a REIT, and when asked about it on TV and by the media, Mr. Ackman has simply responded with, "we don't comment on rumors."
Here is how the stock responded. You can see clearly on the 16th and on the 17th where the rumors made their rounds across social media and the trading floor: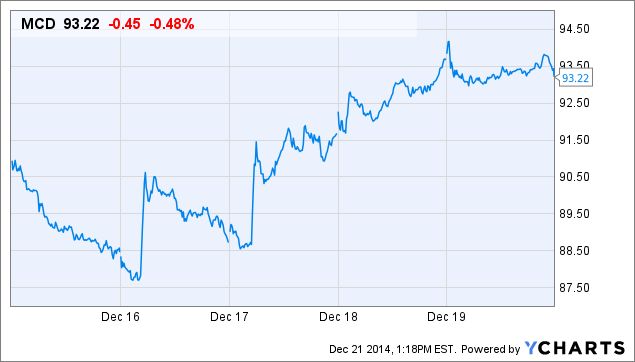 MCD Price data by YCharts
This piece is going to lay out three common sense reasons we think the Ackman rumors are probably true. If confirmed, we will revisit our thesis on McDonald's after Mr. Ackman makes his case as to what he'd like to do with the company. If not confirmed, we'll fall back on our original write-up and price target. Here are the three things that tell us Mr. Ackman is likely involved:
1. Pershing Square only said "they didn't comment on rumors."
We believe if they weren't involved in some facet, they would have come out and denied it. There's nothing lost in saying "no," if you're genuinely not interested in working on something. Investors and managers do it all the time in financial news and media. The only reason someone would say "no comment," could likely be that they don't want to tip their hand, and they're not ready to disclose their position/thesis yet.
2. McDonald's and Ackman have a past.
Mr. Ackman likes fast food. His fund currently owns a large part of Burger King (BKW) and this isn't the first time rumors of Mr. Ackman and McDonald's have come to surface. In 2005, those rumors became reality as Mr. Ackman made a pitch at the Value Investors Conference to try and get McDonald's to spin off 65% of itself. We think that Mr. Ackman could be on his way to finish what he once started with the fast-food chain, especially since Mr. Ackman's fund/resources have grown significantly since 2005.
3. Although it could have really been simple speculation, an enormous number of call options have been going off.
There was some major options action highlighted in MCD calls last week. A $5.5 million option gamble on McDonald's was profiled on CNBC, and you can read about it here. The open interest in the January 2015 options is also enormous, big enough for a whale investor to take a large stake before announcing his intentions for the company.

Conclusion
This could be the best possible thing for McDonald's, at the best possible time. The company's response of "we welcome all investors," while an obligatory PR statement, also resonates because the company is in need of something...anything...that's going to change the anemic and tired path the company has been on this past year.
Whether or not Ackman would find a way to monetize McDonald's as a REIT remains to be seen. Many of McDonald's branches are leased out to those who are franchising in them, so a REIT probably wasn't the first thing on the minds of activist investors looking for a way to monetize McDonald's. However, if one investor were going to try it, it would likely be Ackman, due to his firm's growing expertise in real estate. We don't have a stake in the company, but if we were betting men, we'd bet that the Ackman rumors are likely true.
Disclosure: The author has no positions in any stocks mentioned, and no plans to initiate any positions within the next 72 hours.
The author wrote this article themselves, and it expresses their own opinions. The author is not receiving compensation for it (other than from Seeking Alpha). The author has no business relationship with any company whose stock is mentioned in this article.