An Overview of Timmins Gold
Timmins Gold (TGD) is a small gold producer in Mexico focused on producing at its San Francisco Mine. The project has been able to generate consistent cash flow and production growth since it began producing in 2010. This year management expects the San Francisco Mine to produce ~120,000 oz. of gold, which is a great deal for a company with a market capitalization of ~$150 million (pre-Caballo Blanco), working capital of ~$65 million (as of 9/30) and an NEV of ~$140 million.
In spite of its success on several fronts, it has faced a few issues of late. First, costs have been rising. The San Francisco Mine has been generating cash flow, but the mine plan released late last year resulted in the company's expected production costs to rise. "All in" costs are expected to be ~$850/oz. through next year but as the company mines lower grade ore these costs are anticipated to rise to >$1000/oz. starting in 2016.
Second, the company has (pre-Caballo Blanco) no immediate growth prospects. While it has a substantial exploration land package, it has no other deposits - only early stage targets. Thus, while the company has been growing resources at San Francisco, its immediate growth plans were essentially non-existent until a few days ago when management acquired the Caballo Blanco Project.
As a result of these issues, Sentry Investments - the company's top shareholder - began an activist campaign earlier this year. This led to speculation in the shares as investors were hoping for a takeover that never manifested, and this sent shares spiking to nearly $2 each, or nearly double the price at which they started the year.
With shares trading at nearly $2 each I wrote an article suggesting that speculation in the stock had gotten way out of hand. A takeout seemed unlikely and the stock was overvalued unless you ascribed significant value to the company's acquisition targets, and Sentry Investments was putting undue pressure on Timmins' management - which has been extremely successful and competent in the recent past - to act in order to satisfy the desires of short-term investors.
The "sell" thesis was extremely well timed. Shares are since down ~52% vs. the Market Vectors Junior Gold Miners ETF (NYSEARCA:GDXJ), which is down 45%, and the speculative frenzy seems to be in the past.
But that didn't mean that the company was unresponsive to the market's concerns, as it recently announced that it is buying a new project - Caballo Blanco - which is a small gold mine owned by Goldgroup Mining (OTCPK:GGAZF) in south-east Mexico off of the Gulf of Mexico.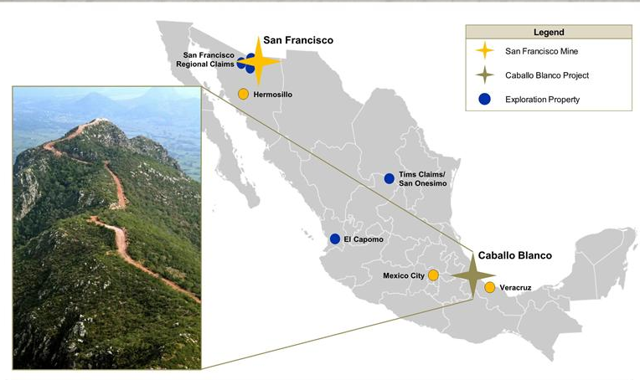 (Source: Timmins' Caballo Blanco Webcast)
The way that Timmins presents the deal it is quite a good one, and it is hard to argue with a ~$25 million price tag. However, considering that project is only at the level of a PEA it makes sense to stress test it, and as we see below the price tag doesn't look that great in my stress-tested scenario. With that being the case, Timmins got a fair deal in my stress tested scenario which assumes no resource expansion, no mine-plan optimization, and higher than expected operating costs (capital costs were already sufficiently stress tested).
Nevertheless, I think now is a good time to consider Timmins shares again.
Investment Thesis
The 52% decline in Timmins shares has been overkill, and while much of this has been due to sector weakness since July, Timmins' profitability is uncompromised by the weakness in the gold market, unlike many of its peers. As we will see presently, the company ex-Caballo Blanco offers good value at the current share price.
The Caballo Blanco Project comes with some risks given that it is somewhat early in its development, but it is going to be a similar mine to San Francisco, meaning that the management team has the necessary experience needed to develop it. Development can be fully funded internally even in a stress-tested scenario. It is a decent value proposition insofar as I calculate its DCF valuation to be in-line with the acquisition price of ~$25 million. This is a stress-tested analysis meaning that there is a good chance that the valuation will be substantially higher, and I add 0 value for resource expansion potential.
Timmins is taking a gamble with the Caballo Blanco Project, although if it works out the company has affordable growth, relatively lower costs than if it were operating just San Francisco, and more production on a per-share basis.
In short, Timmins is once again a growth company with good value, a strong balance sheet and strong cash flow potential even at $1,200/oz. gold. Based solely on its discounted cash flow the stock is fairly to slightly undervalued after the sharp decline in the share price. However, both of the company's projects have the potential to be substantially more valuable than my quantitative estimates give them credit for. San Francisco has substantially more resources than the 8-year mine life or ~1 million ounces of total production indicates. Caballo Blanco is a large property with substantial exploration potential while my cash flow estimates are heavily stress tested.
Effectively, investors are getting the company's discounted cash flow at value while they are getting the company's management's proven ability to bring out additional value from its properties for free. Given management's track record, and given the numerous ways in which it can bring out value at its projects, I think an investment in Timmins at current prices makes sense.
The Caballo Blanco Project
The Caballo Blanco Project, as we have seen, is located in Southeast Mexico off of the Gulf of Mexico. Timmins' management stresses the significance of the project being located just 65 kilometers from The Veracruz Port, which will make it relatively easy for the company to ship goods to the mine site. The project is also near existing infrastructure such as roads and electricity, and management should have no trouble finding labor nearby without having to develop a costly mining camp.
The project contains ~1 million ounces of gold split between indicated and inferred resources as shown below. Note that Timmins highlights the 0.3 gpt. cutoff grade resource estimate, although we can see that the project has more gold should a higher gold price warrant the utilization of a lower cutoff grade.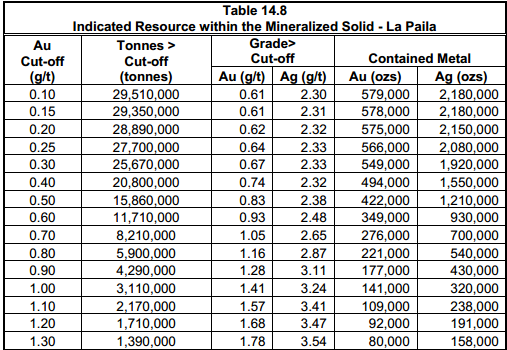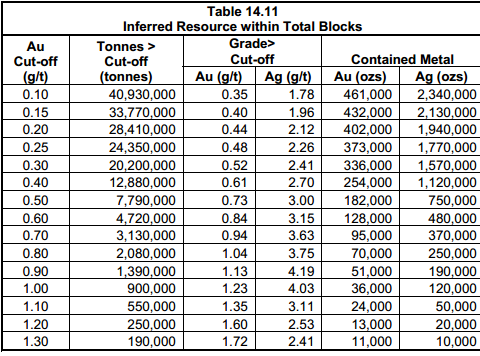 (Source: Caballo Blanco PEA)
The project has extremely good economics thanks to its low opex and capex estimates - less than $800/oz. cash costs and just $85 million in initial capex ($81 million ex-working capital), while the mine will produce an average of 91,000 oz. per year for 7.5 years. Now given that this is a PEA one needs to be skeptical that these figures are subject to change. However, I was impressed with the PEA's relatively large 25% contingency, which means I feel comfortable using that figure.
I'm less confident in the $784/oz. opex figure for a couple of reasons. First, it contains no contingency and it makes sense to add one, as I will presently. Second, this figure incorporates silver by-product credits at $30/oz. silver. Considering the current price of $16/oz. and the fact that Caballo Blanco will be generating an average of ~200,000 oz. of silver annually, the company is going to effectively lose out on nearly $3 million in cash flow per year. Thus, at 90,000 oz. of annual gold production it makes sense to add ~$25/oz. to cash cost estimates. I will also add a 10% contingency on top of this so that the uncertainty that comes with an early report such as a PEA is adequately accounted for. These changes will be made to the figures provided on the following visual by Timmins in its recent webcast: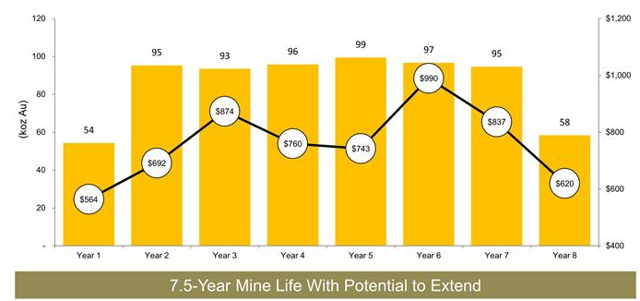 Sustaining costs are expected to be:
$14 million in year 2 or ~$150/oz.
$17 million in year 3 or ~$190/oz.
$7.5 million in year 8 or $120/oz.
So while all-in sustaining costs nearly reach $1,100/oz. at the peak costs generally remain relatively low throughout the mine's life. The following table provides approximate production data and cash flow data at $1,200/oz. gold given these assumptions for the mine's 7.5 year life.
| | | |
| --- | --- | --- |
| Year | Costs | Pre-Tax Cash Flow |
| 1 | $650/oz. | $32 million |
| 2 | $940/oz. | $26 million |
| 3 | $1,180/oz. | $2 million |
| 4 | $860/oz | $34 million |
| 5 | $840/oz. | $38 million |
| 6 | $1,120/oz. | $8 million |
| 7 | $950/oz. | $15 million |
| 8 | $830/oz. | $23 million |
If we factor in taxes of ~35% (this includes the mining royalty) the project has a $26 million valuation using an 8% discount rate and $14 million using a conservative 12% discount rate.
This is far lower than the estimates put forth in the PEA, and it may appear as if the $25 million price tag was too high, although keep in mind that I stress tested the project assumptions. Also keep in mind the following:
Timmins has developed a similar project in the past in San Francisco.
Management is confident that it can develop a superior mine plan that will reduce initial capex and even opex costs.
Management can fund this project internally, and if it takes on debt it has the cash flow that enables it to borrow at a low rate that would increase the project's NPV.
The San Francisco Project
*Note that I've discussed this project extensively in the past, and since my assessment of it is similar to my July assessment this section will be brief, although it does reflect a couple of crucial updates.
The San Francisco Project remains Timmins' primary source of value. It is currently slated to produce through 2022. According to the November 2013 mine plan update, the project is supposed to produce 121,000 ounces of gold this year and in 2015 and ~135,000 oz. through 2021 before dropping to 53,000 oz. in 2022. Despite this "short" mine life the San Francisco Project has sufficient resources to produce long after this, and management has done an excellent job growing the project's resource base, as the following chart illustrates.

(Source: Timmins' Presentation)
The following table shows production along with the company's estimated production costs before taxes.
| | | |
| --- | --- | --- |
| Year | Production | All In Costs |
| 2014 | 30,000 oz. | $846/oz. |
| 2015 | 121,000 oz. | $846/oz. |
| 2016 | 135,000 oz. | $1,016/oz. |
| 2017 | 135,000 oz. | $1,016/oz. |
| 2018 | 135,000 oz. | $1,016/oz. |
| 2019 | 135,000 oz. | $1,016/oz. |
| 2020 | 135,000 oz. | $1,016/oz. |
| 2021 | 135,000 oz. | $686/oz. |
| 2022 | 53,000 oz. | $686/oz. |
With these figures and a $1,200/oz. gold price we get an estimated value of $130 million using an 8% discount rate and a $114 million valuation using a 12% discount rate.
Valuing Timmins Gold
Using an 8% discount rate and a $1,200/oz. gold price the company has mining assets valued at $156 million, and using a 12% discount rate the valuation is $128 million. As of the end of September the company had $65 million in working capital and $16 million in long-term debt. The company spent $10 million in cash on the Caballo Blanco acquisition, which brings working capital down to ~$55 million, or working capital minus long-term debt to $39 million, bringing the valuation estimates to $195 million and $167 million. The company has a share price of $0.92 and 180 million shares outstanding after the Caballo Blanco deal, meaning it has a market valuation of $166 million, meaning that if we look solely at the company's discounted cash flow and its net financial assets it is fairly valued using a 12% discount rate, and it has 18% upside using an 8% discount rate.
The Bottom Line
Timmins currently offers good value if we look strictly at the value of its discounted cash flow given current mine life estimates. However, I must stress that this is somewhat of a "worst-case scenario" for the company. San Francisco has a mine life that estimates 1 million ounces of production but which actually has nearly 4 million ounces. Caballo Blanco has the potential to be a much larger project than the current mine plan indicates. Finally, the management team has the capital and the acumen to bring out the value beyond the figures I calculated above.
With this in mind I think Timmins is a compelling stock at the current valuation for those looking for exposure to the gold market. The downside is relatively low at this point and would be the result of a downside surprise (e.g. rising costs, lower production, lower gold prices). Meanwhile, we've seen that there are numerous ways in which we can see enhanced value at Timmins' projects, and given management's track record for growing production and resources the risk/reward is compelling in this name.
Disclosure: The author has no positions in any stocks mentioned, and no plans to initiate any positions within the next 72 hours.
The author wrote this article themselves, and it expresses their own opinions. The author is not receiving compensation for it (other than from Seeking Alpha). The author has no business relationship with any company whose stock is mentioned in this article.
Editor's Note: This article covers one or more stocks trading at less than $1 per share and/or with less than a $100 million market cap. Please be aware of the risks associated with these stocks.