I was hesitant to read about and write about soft drink giant Coca-Cola's (NYSE:KO) venture into the milk market. However, after digging deeper into the company's venturing and emerging brands, Coca-Cola is making the proper investments and shifts away from carbonated beverages. This, along with the low expectations, and fact that the company's stock is only up 1.6% in 2014, sets up a possible buy low opportunity in this great brand.
Coca-Cola has 17 billion-dollar brands. Among them are popular carbonated beverage brands like Coca-Cola, Sprite, Diet Coke, and also some non-carbonated brands like Powerade and Minute Maid. Along with getting other brands into the $1 billion category, the company is setting a new goal of focusing on the companies that generate between $500 million and $1 billion in annual sales. One way to get there is the company's new focus on its VEB category, or venturing and emerging brands.
Launched in 2007, Coke's VEB has been responsible for finding brands like FUZE, NOS, Honest Tea, Zico Coconut, and illy issimo. The company credits FUZE and NOS as the biggest winners from the VEB category. In fact, FUZE is on its way to become one of Coke's newest $1 billion brands. Zico Coconut gave Coke entry into the growing coconut water market where the brand is the number two overall leader with an estimated 20% share. VEB looks at 150 to 200 brands each year that have at least $10 million in revenue. After this, the company narrows it down to 25 and ultimately talks to a couple of companies about possible investments or partnerships.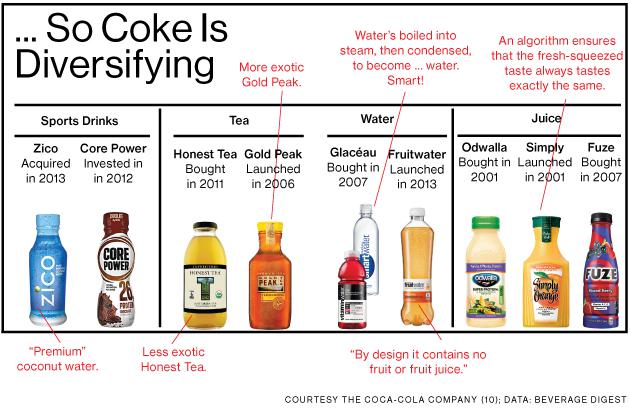 Coca-Cola's latest new venture comes through a partnership with Select Milk Producers, the same company behind Core Power. The new venture is bringing Fairlife, a premium milk product, to the marketplace. The product tested in three markets (Chicago, Denver, and Minneapolis) and is expected to see a national rollout later this month.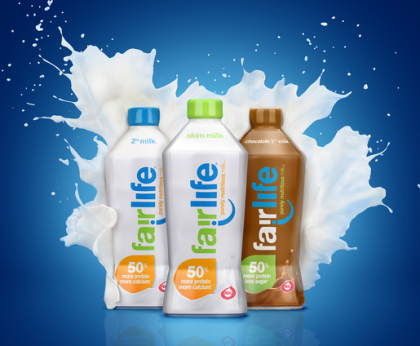 Fairlife is a premium product that uses a "proprietary milk filtering process." This process allows the protein content in the milk to increase by 50% and sugar content to be lowered by 30%. The milk is also lactose free. Essentially, the milk is a Frankenstein creation, as the process separates parts out and then keeps the best ones for a new creation.
Coke formed its joint venture with Select Milk Producers back in 2012. The partnership also included Core Power, a high protein milk shake, being distributed by Coca-Cola. Select is a partnership of more than 80 American farms. The launch of Fairlife will offer the premium milk in three types: skim, 2%, and chocolate.
Some analysts and critics have argued against Coke's entry into the milk category, after all milk is declining along with carbonated soft drinks. The USDA says milk sales declined 2.6% in 2013. However, Coca-Cola has a couple huge advantages going into the milk market, particularly the premium one:
First off, Coca-Cola is a huge brand and has strong branding and advertising power. The company can easily cross promote, use its strong distribution channels, and also capitalize on potential sponsorship deals with current partners.
Despite the decline of 2.6% for conventional milk in 2013, sales of organic milk gained 5.1% in 2013. There is growth being seen in non-conventional categories, such as organic, almond, and soy. More on that below with competitor WhiteWave (NYSE:WWAV).
The milk market is highly fragmented. There are no clear leaders in the category and store brand milk accounts for more than 30% of the entire market.
Coca-Cola promised the Fairlife brand will someday help "rain money" for the company. This won't come overnight, but if Coke does this launch and growth right, I believe Fairlife could be a strong brand. The product has been selling well in test markets despite a sales price up to two times higher than conventional milk. The reason why is simple. Consumers continue to want to buy healthier products that have a clear differential from the store brand. While milk sales are declining and some customers are switching to the store brand anyway, just as many consumers are looking for a healthier option as milk starts to get attacked as a contributing factor to childhood obesity.
WhiteWave has been a hot stock in 2014. This comes after I recommended the stock over a year ago as it expanded into other food categories. WhiteWave has seen success with its Silk almond milk and Horizon organic milk. In the most recent third quarter, North American sales increased 36%, led by its Earthbound Farms acquisition, but also its strong premium milk growth and market share gains. European sales increased 24% in the same time period, as premium milk has been selling well there as well.
WhiteWave, which was spun out of Dean Foods (NYSE:DF), has fared well since the split. Shares are up more than 52% in 2014 and the company now has a market capitalization of $6.4 billion. Analysts expect WhiteWave to see double-digit revenue increases in the current and next fiscal year. Dean Foods, on the other hand, is expected to see a slight increase in revenue this year, before seeing a 6.6% decline in revenue. Shares of Dean Foods are up 9% in 2014 and the company trades with a market capitalization of $1.8 billion despite $9 billion in annual sales.
Perhaps another example of the strong growth in the milk and workout drink category is the recent acquisition of Muscle Milk by Hormel (NYSE:HRL). Meat company Hormel paid $450 million for CytoSport, the maker of Muscle Milk. The number one brand of ready-to-drink protein drinks, Muscle Milk, was expected to have $370 million in sales for 2014.
Coke could use a strong launch of Fairlife as its shares need a boost. The company reported adjusted net revenue growth of 2% in the last fiscal quarter. Recently, the company said it expects its 2015 earnings to be on par with 2014, which falls below its long-term plan of high-single digit earnings growth. Coke has also launched new partnerships with Hansen's Natural, owner of Monster, and Keurig (NASDAQ:GMCR), that will help boost 2015 numbers slightly.
Shares of Coca-Cola are up only 1.6% in 2014. This comes after a decent 2013 that saw an 11.5% rise in the share's price. Over the last 52 weeks, shares have traded between $36.89 and $45.00. Yahoo Finance doesn't list that great of estimates for the current and next fiscal year. Analysts see earnings per share dropping to $2.04 for the current year. That comes as revenue is expected to decline 1.9% to $45.95 billion. In 2015, analysts see earnings per share hitting the same $2.04 figure and a mild 0.2% increase to $46.04 billion.
I think shares of Coca-Cola are on sale at current levels. This is a great brand and company that is facing challenges, but has conservative estimates set against it. Some of the bets being made by the company, like milk, the Hansen's Natural partnership and Keurig partnership, are set to make a difference in 2015. Get behind Coca-Cola now and benefit from the long-term potential of the company.
Disclosure: The author has no positions in any stocks mentioned, and no plans to initiate any positions within the next 72 hours.
The author wrote this article themselves, and it expresses their own opinions. The author is not receiving compensation for it (other than from Seeking Alpha). The author has no business relationship with any company whose stock is mentioned in this article.