Crude oil prices have been in an official downtrend since the beginning of August, when the price was hovering just below $100 a barrel. Four months later, oil stands, battered, at $57.77. However, recent price action this week suggests that the commodity may have found some temporary support and could be getting ready to stage a relief rally, or "dead cat bounce." Ultimately, the world supply of oil greatly outpaces current demand and this certainly creates a bearish picture for oil over the next six months to a year. While some U.S. shale producers are beginning to slow or cease production, U.S. oil production is still up and forecast to continue despite falling profit margins. Taking a look at this very interesting and informative chart of breakeven oil prices around the world really shows the reasoning for why U.S. oil producers relatively continue to press forward (Business Insider):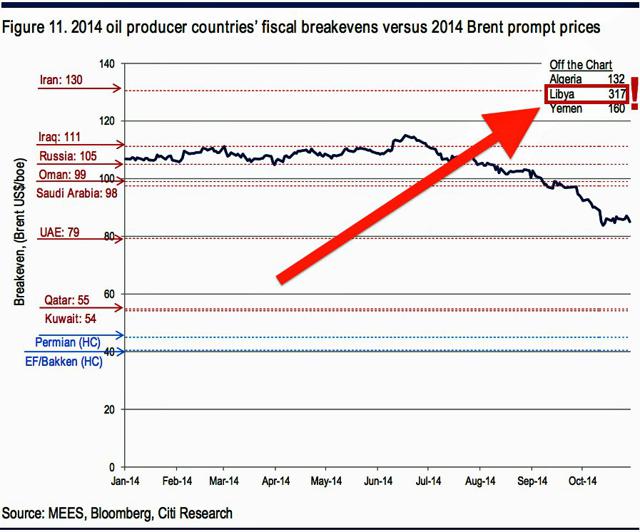 As you can tell, oil prices, even blow $80 a barrel significantly hurts the likes of Saudi Arabia, Iran, Russia, Iraq, Oman, etc. While this chart refers to Brent crude rather than the U.S. benchmark, WTI crude, it is still important to understand that the two blue projects at the bottom of the chart are U.S. shale projects, which have a breakeven at and just above $40 for the Permian Basin and Bakken project. Obviously, Algeria, Yemen and Libya will take some serious supply problems and high demand to have oil production be profitable for these countries, the opposite problem we have now, and I certainly do not think there is a chance of this happening in the near future. While falling oil may be catastrophic to the economic prosperity of the Middle East, Russia, etc, it is a huge break for consumers and various industries that rely on the price of fuel, such as airlines. Airlines often have had the reputation of being poorly run, huge debt load, limited cash, little to no profits, etc. However, with oil at $57, airlines are seeing a serious boom, as they are able to save from costly fuel prices. While there are numerous airlines in the industry that will benefit from falling oil, not all are created equal. I will breakdown valuation ratios of United Continental Holdings, Inc. (NYSE:UAL), Delta Air Lines, Inc. (NYSE:DAL), Southwest Airlines Co. (NYSE:LUV), and Spirit Airlines, Inc. (NASDAQ:SAVE).
United Continental Holdings
Market Cap: $23.67 Billion
P/E: 20.76
Forward P/E: 8.20
PEG: 0.42
P/S: 0.61
P/B: 6.14
P/C: 4.29
P/FCF: 82.19
Debt/Equity: 3.13
Cash per share: 14.94
Current Ratio: 0.70
Earnings Growth Next Year: 54.43%
YTD Gain/Loss: 69.55%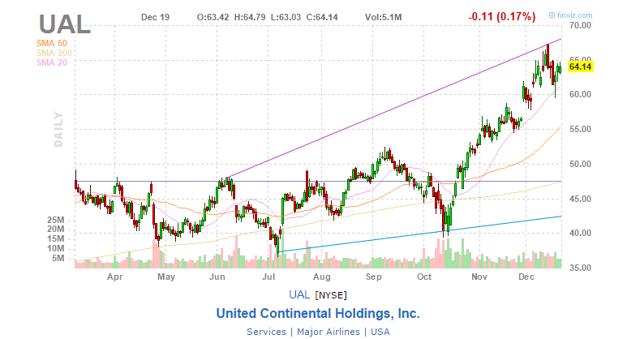 Summary:
United Continental is one of the largest airliners in the U.S. and recently received a price target upgrade from Stifel from $60 to $80. Stifel remains bullish on United Continental, however, the research company does warn investors to keep an eye out for any further disruptions or growing pains associated with the United, Continental merger from couple years ago. Analysts say any further issues could have a negative impact on the stock, but that the company's hubs at major cities such as New York City and San Francisco make it especially attractive for investors. However, Stifel says that company must protect its hubs and presence from other airliners that may be trying to take share away from United Continental. Overall, with the company's reputation, good hub location, and heavy exposure to corporate travel, United Continental could stand to benefit greatly from low oil.
Delta Air Lines
Market Cap: $39.65 Billion
P/E: 4.12
Forward P/E: 10.68
PEG: 0.23
P/S: 1.00
P/B: 3.21
P/C: 9.09
P/FCF: 14.81
Debt/Equity: 0.82
Cash per share: 5.21
Current Ratio: 0.70
Earnings Growth Next Year: 35.21%
YTD Gain/Loss: 73.87%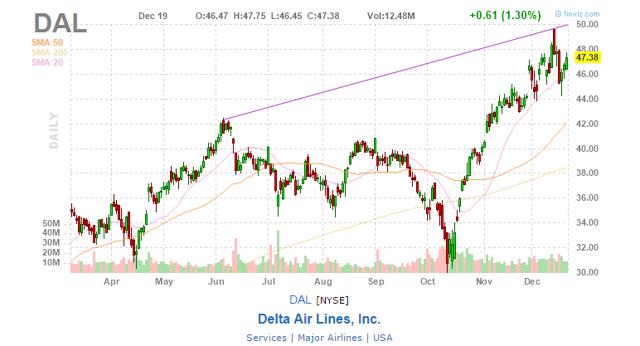 Summary:
Delta also received a price target upgrade from Stifel recently, from $50 to $60. Analysts say that Delta has really been able to capitalize upon weakness from United Continental over the past few years, as the company was struggling with its merger and American Airlines Group Inc. (NASDAQ:AAL), which entered into bankruptcy within the last few years and has been forced to reduce in size slightly to cut costs. However, now that the two have recovered their footing, analysts are worried that United Continental and American could be poised to regain some lost market share. However, there is another aspect to think about, considering Delta maintains a refining operation that could help further reduce costs and exposure to swings that the rest of the industry faces. Delta management has released a savings estimate of $1.7 billion in 2015 from fuel costs.
Southwest Airlines
Market Cap: $27.33 Billion
P/E: 24.11
Forward P/E: 14.54
PEG: 0.57
P/S: 1.48
P/B: 3.70
P/C: 7.68
P/FCF: 25.85
Debt/Equity: 0.39
Cash per share: 5.24
Current Ratio: 0.80
Earnings Growth Next Year: 41%
YTD Gain/Loss: 115.29%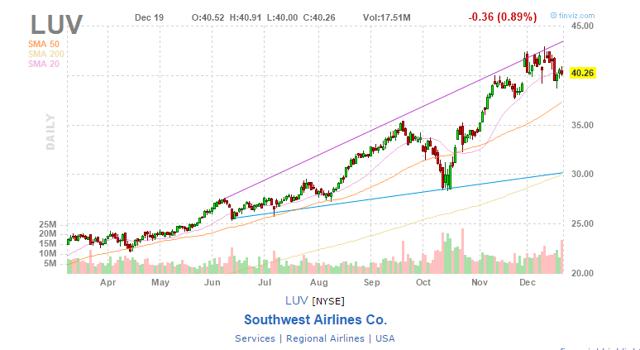 Summary:
Southwest has had a monster year this year, rallying over 100% on the year. Southwest has certainly turned extremely appealing to flyers over the past few years, as the company touts various slogans such as "bags fly free" and offering various amenities to qualifying flights. Additionally, Air Transport World (ATW) Industry has named Southwest the "2015 Airline of the Year." ATW said that Southwest earned this award due to their "extraordinary and consistent standards of service, financial performance, safety, and environmental and corporate responsibility." (Yahoo Finance) I think the company's continued appeal and positioning to favor customers will continue to draw more flyers to their airline over the next year. Management has estimated that Southwest will save $1 billion from the lower oil costs in 2015.
Spirit Airlines
Market Cap: $5.46 Billion
P/E: 25.86
Forward P/E: 16.36
PEG: 0.80
P/S: 2.91
P/B: 5.77
P/C: 9.27
P/FCF: 27.43
Debt/Equity: 0.00
Cash per share: 8.09
Current Ratio: 1.80
Earnings Growth Next Year: 42.52%
YTD Gain/Loss: 65.17%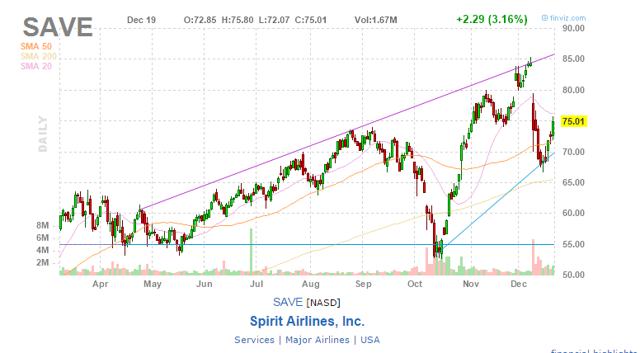 Summary:
Spirit Airlines operates in a specific niche that has made it appealing to flyers and investors alike. Air Transport World awarded Spirit as the "2015 Value Airline of the Year." Spirit is enticing because it is a cheaper option to fly that cuts out various costs and attributes that increase ticket prices, such as in-flight beverages. Flyers still have the option to purchase a beverage, but the focus at Spirit is to provide the most basic form of travel, without all the fees and costs associated with other airliners. Spirit should continue to gain market share, as margins increase and flyers look for deals.
Conclusion:
There are many different airliners that could have been featured in this article, but that does not mean there are not other good airliners out there, but I feel that these four really stand apart and could really be the big beneficiaries of increased traveling and decreased fuel costs. In fact, Bloomberg estimates that airlines could see an additional $12 billion bump in earnings as companies see costs cut and discounts not as prevalent, giving them nice profits and ability to capitalize on the low oil phenomenon. AAA estimates that holiday travel by aircraft will grow only 1% year over year to 5.7 million, despite calls for record amount of travelers this holiday season. Ultimately, I see this as more of a lower end forecast that could be beaten easily, as we will have to wait for final report figures after the New Year.
United Continental, Delta, Southwest and Spirit are my favorite airliners in the space right now and I believe that these airlines stand to have a great 2015 earnings performance as oil is forecast to continue staying lower. With that being said, I would say my number one favorite out of this bunch is Southwest. Southwest has proven to be a well-managed airline that focuses on the needs and desires of its customers. Rather than focus on fees, seating arrangements, etc, Southwest has found a niche way to please customers and make flights much smoother. My next favorite would be Delta, interestingly enough. I like Delta because I still am not confident that United Continental has all the bugs figured out associated with its merger and I think Delta could still continue to benefit from a working-progress United Continental and American Airlines, which is still regaining its footing. I do like Spirit Airlines, but I think Delta has the worldwide appeal, numerous more important hubs, and a great valuation. Ultimately, 2015 is forecast to be a fantastic year for industries that flourish on low price of oil, particularly airlines. Some airliners are run better than others and some have better valuations than others, ultimately, it is important to conduct proper research and to determine which, if any, airliners are right for your portfolio.
Disclosure: The author has no positions in any stocks mentioned, and no plans to initiate any positions within the next 72 hours.
The author wrote this article themselves, and it expresses their own opinions. The author is not receiving compensation for it (other than from Seeking Alpha). The author has no business relationship with any company whose stock is mentioned in this article.