Tucows (NYSEMKT:TCX) is a rapidly growing company thanks to the Ting segment. 2014 will be the first year in which Ting shows up in annual EBITDA. For now, its growth is hidden.
In this article, I quantify the economics and trajectory of Ting's growth and value Tucows based on DCF. The article is succinct and assumes that the reader is familiar with the basic facts of the company.
Ting: Revenue
Ting is a MVNO service in the U.S on top of the Sprint network. It was introduced to the market at the beginning of 2012 and has shown noticeable progress since then. It may sound strange for an internet domain company to go to mobile, but I see clear reasons for this: Tucows was always strong in customer service and back office service management systems, both of which are key factors of a successful MVNO.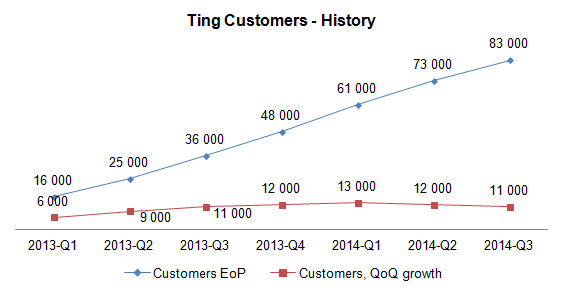 Note: Ting adjusted the way they count customers in Q3 2014; Q3 2014 QoQ growth is calculated before the change
On average, there are 1.57 devices per customer.
Ting represents 0.15% of Sprint's 54.3m customers (end of 2014 Q2) so it has plenty of room to grow unnoticed.
Based on the latest earnings calls it is now possible to explore the economics of Ting's growth:
Customer acquisition cost: less than $100
Churn per month: 2.0-2.5%
ARPU per month: $35
Gross margin: 45-50% (without phones)
These numbers lead to an average after-tax IRR of 165%.
Taking into account that Ting's customers have no contracts, announced churn is in-line with industry rates.
Postpaid churn rates for the four major US operators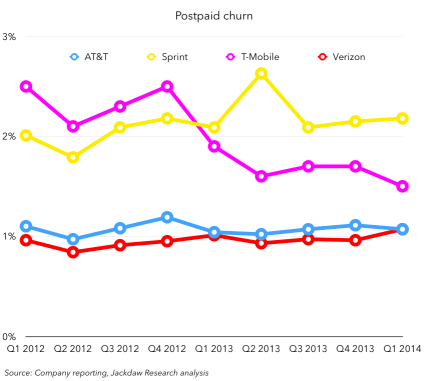 The number one question in valuing Tucows is to forecast Ting's growth trajectory. Will the growth accelerate or slow down? What is the most relevant driver of growth: net customer adds or % growth? There are no indications from management about that, but they have indicated in their Q3 call that they plan to accelerate Ting's growth:
"We've got lots of bullets in the gun to try and continue to increase the growth adds, so we see nothing that looks like that actually going to ever start to turn the other way. We really think we still got lots of ideas to play with here".
This claim is well supported by Ting's enormous return on capital.
At the same time, there was enough data from the recent quarters to give us a hint about the trend. For the last four quarters the growth rate was stable in terms of the number of net adds: 11,000-13,000 per quarter. According to Q3 management call, the slow down in Q3 was caused by the following localized reasons:
The success of the iPhone 6 and 6 Plus launches during the quarter (devices which do not yet support on Ting)
The climbing perception of the Sprint network relative to other major networks
Aggressive new price promotions for major carriers to retain and acquire customers
Elliot Noss (NYSE:CEO) states, "Looking ahead, we believe each of these areas, device, network and price bring more opportunities for Ting growth than threats." So for the base case I assume:
Q4 2014: 12,000 net adds assuming the reasons for the growth slowdown will decrease or disappear
2015: the same speed as in 2014 = 48,000 per year
2016-2019: decline from 30,000 to 10,000 per year (which means 5% growth in 2019)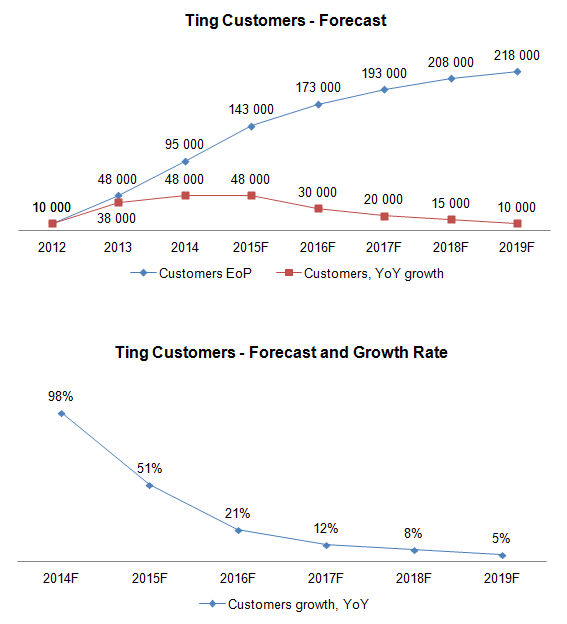 Ting: EBITDA contribution
Ting has two lines of expenses (before overhead expenses such as G&A and Technical operations and development):
COGS: primarily network usage payments
Sales and Marketing (S&M): customer acquisition expenses
Assuming that S&M are proportional to gross adds, I managed to split Ting S&M expenses out of total. In the forecast it's assumed that each customer costs $95 to acquire and churn is 2.25%.
An important point is that 2014 will be the first year when Ting provides noticeable EBITDA contribution to Tucows overall EBITDA:

Domain Business
Tucows' "traditional" business is the domain business. Some definitions are below for clarification.
Domain zones
TLD: top level domain (.com, .org, .au, …)
gTLD: generic TLD (.com, .info, .net, .org, …)
ccTLD: country code TLD (.au, .de, .co, …)
Hierarchy of domain registration industry
ICANN (Internet Corporation for Assigned Names and Numbers) - global "coordinator" of TLDs, etc.
Registry: manages particular TLD, is appointed by ICANN - one per TLD. For example, .com is managed by VeriSign. Registry doesn't sell domain names
Registrar: provides domain name registration services directly (retail) and resells them to resellers (wholesale)
Reseller: provides domain name registration services through a registrar or another reseller
Registrant: an owner of a domain which it registered through a registrar or a reseller
In recent years, the major trend in the domain business has been the appearance of a lot of new gTLDs (like ".investments") which are sold for much higher prices (for example, see the prices here). New gTLDs are allowing higher margins for all the players in the value chain and are expected to drive growth in the overall number of registrations. Owners of different brands and domain names would be motivated to occupy their names in new relevant gTLDs.
Tucows reported that its joint venture with Radix and NameCheap won the auction to operate the online registry. Each partner is expected to contribute $4-5m to cover the cost of the auction. Management expects this zone to become one of the most popular among gTLDs. As it's currently hard to estimate the return, this JV is not factored into the model (I'm assuming it would be positive due to the reasons above).
At the moment, Domain services is the biggest segment of Tucows. Here, Tucows acts as an accredited registrar for resellers offering over 200 TLDs. For example, for TLDs managed by ICANN it is one of 1160 accredited registrars.
Tucows is the 3d biggest registrar worldwide and the biggest publicly traded registrar.

Source: GoDaddy S1 June 9, 2014, dreamhost.com, VerySign Domain Name Industry Brief Q4 2013, Tucows 2013 10-K
Tucows charges resellers for new domain registrations, renewals and transfers - per domain.
Value added services consist of hosted email, SSL, other trust certificates and other services.
Revenue of Wholesale Domain Services (=Domain Services + VAS) stabilized since 2013 with some fluctuations, so I forecast growth for the future based on the trend in Q1-Q3 2014.
Gross margin of wholesale domain services showed an increase in Q2-Q3 2014 due to higher share of ccTLDs and new gTLDs. Management expects this trend to continue which is reflected in my forecast with some gross margin increase.
Retail is retail domain sales provided through hover.com website. Hover is perceived as one the best providers of domain registration services where service quality is concerned (this can be seen in many reviews by searching for "best domain name registrars"). While at first glance domain registration looks like a commoditized business, there are several dimensions which separate good providers from others:
Availability of customer support - Tucows provides direct access with personalized answers, no automated responses
Easy domain transfers in and out
No random charges (Internet is full of negative posts complaining about some players doing this, including big ones)
This service is very cheap (~$14/year/domain) but sticky: to transfer a domain from one registrar to another is a complex process. Many domain owners don't bother doing this to save $1/year/domain.
June 23, 2014 Google announced that it's entering domain registration. Supposedly, this was a catalyst in Tucows stock drop. My view is that the impact of Google as a new competitor will be limited: due to stickiness of the service owners of existing domains will hardly move to Google and will continue to register new domains at their current registrar. So the only easily reachable segment for Google is new registrations by new webmasters. As the business is not very profitable, a large marketing campaign is not justified.
Retail showed 23% growth in 2013 and 26% in 9m 2014 due to the factors described above and growth of registrations in new gTLDs (to 21% in Q3 from 10% in Q2 and 7% in Q1 2014). I forecast some slow down in the growth rate to 20% in 2015 and 15% in 2016-19.
Gross margins decreased 2.6% in 9m Q2 2014. Higher margins from new gTLDs were offset by continuing engagement in promotional campaigns and somewhat more aggressive pricing, so I forecast it to stay at 2014 levels.
Portfolio is a business of owning domain names and displaying adds to random visitors. It has some volatility due to periodic sales of domain portfolios, investments to applications for new gTLDs and volatility of advertising revenues. This segment provides only 6% of total revenue and I forecast it based on existing trends.
Below is a summary of revenue growth and gross margin forecasts for Domain Services businesses.
Revenue growth: Domain services

Gross margin: Domain services

Expenses
The company has three "regular" expense lines between "gross margin except D&A" and EBITDA:
Sales and marketing (S&M)
Technical operations and development
General and administrative (G&A)
Also there are "Network, other costs" in COGS which behave more like fixed costs.
The approach to Ting S&M forecast was described above. Other S&M is forecasted proportionally to revenue.
Technical operations and development and G&A declined as a % of revenue at least in 2011-13.
I forecast a continued decline as a % of revenue for these expenses in 2014 and then this ratio will stay constant. This is quite a conservative approach as history proved that a considerable share of these expenses are fixed. At the same time, as Ting's business is not that big, there are not enough growth statistics to decouple fixed components from variable. It should be possible to do this based on at least 2014 10-K.
"Network, other costs" are forecasted to decline on an absolute basis assuming continued optimization.
Acquisition of BRI
On December 16, 2014 Ting announced the acquisition of a 70% stake in Blue Ridge InternetWorks (BRI) - a fixed line internet provider in Charlottesville, Virginia (44k population). The CEO hadn't disclosed any financial numbers on the conference call, but he did provide the following:
Ting management sees attractive CoC returns in gigabit internet space. Ting "edge" in the industry will be great customer service and fair pricing
BRI has 3000 customers and 35 miles of fiber. Ting will speed up gigabit internet offering to households. At the moment, gigabit internet is almost not offered. The price for symmetrical gigabit internet will be ~$100/month
BRI story would be similar to Ting's story: insignificant impact on overall company numbers in 2015 with noticeable impact in 2016-17. BRI is expected to be EBITDA positive in 2014
While the fixed internet industry is capital intensive and Ting will invest in cable, CoC returns are still attractive
BRI 2015 revenue may be up to 3k*$100*12=$3.6m which is not significant for Ting so BRI was not factored in my model. At the same time, the CEO's bet on the gigabit internet industry looks reasonable and could offer a way for growth and value creation when Ting's growth slows down.
Management
Mr. Noss, 51, started to work for one of the companies which later formed Tucows in a merger in April 1997 - Tucows Interactive Ltd. - and became CEO of Tucows in August 2001. So, he has been in the domain registration business from pre dot-com bubble period and in the company since its formation. He has proven he can grow revenue steadily over many years without a single interruption while at the same time deliver consistently attractive ROE.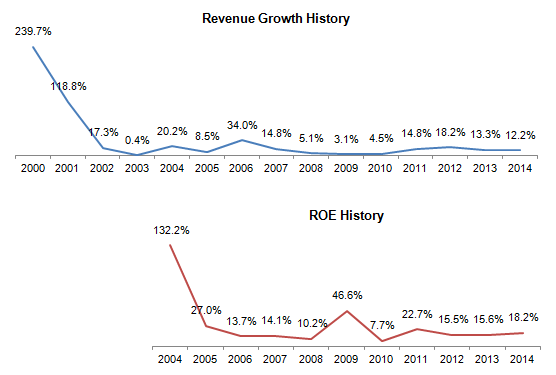 Tucows' management shows long lasting commitment through stock ownership: key managers own a noticeable amount of shares and more importantly, they've increased their positions since 2005.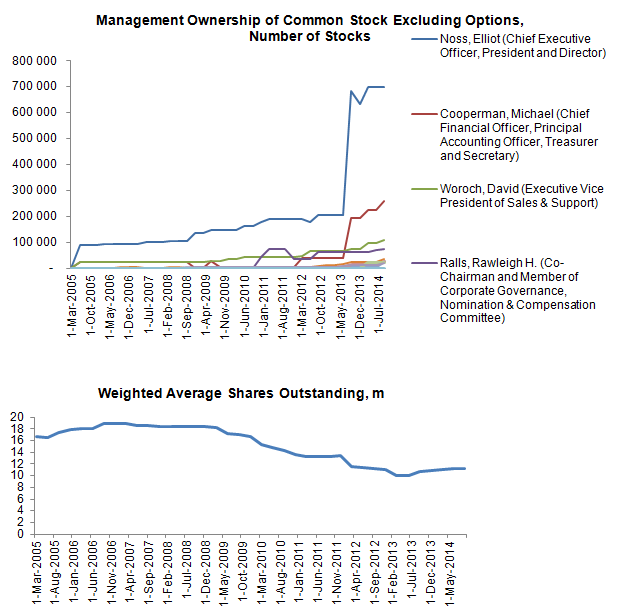 Whatever change takes place in domain industry, Tucows with its niche position and experienced CEO, is well poised to protect itself and grow shareholder value in the process.
Valuation
Below is a print-out of Tucows DCF model for the base case described above based on 2014 Q3 numbers.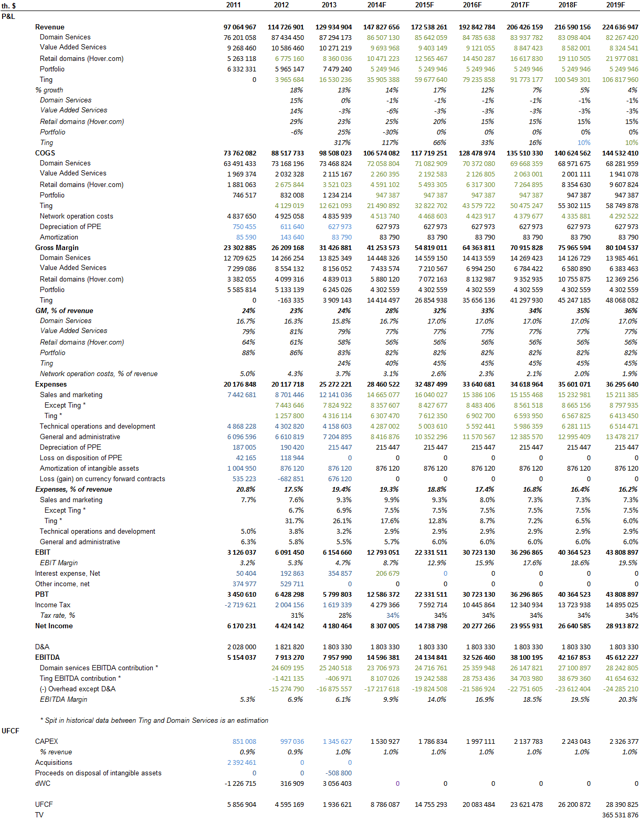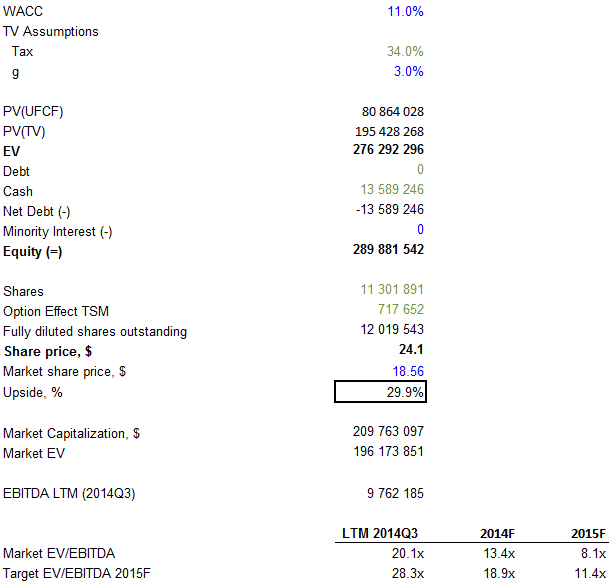 Upside
Faster growth of Ting business
Decline of Ting customer acquisition cost and churn with the growth of brand recognition
Growth of Domain business margins due to growing share of new more profitable gTLDs
Technical operations and development and G&A expenses growing slowly than revenue
Risks
Slow down of Ting net customer growth due to considerable increase in acquisition cost or other factors
Considerable increase in Tucows churn
Drop in domain services revenue and gross margin
Scenarios & Sensitivity
Sensitivity analysis for key risk drivers shows that:
The highest price sensitivity is to Ting net customer growth
Market valuation at $16-16.5 effectively assumes zero Ting growth in the future

Conclusion
On December 12, Ting announced its next share buyback program through a Dutch Auction with $8m limit and expected price range in $16.5-18.5 per share, again indicating the management's position that the stock is underappreciated.
Taking Ting net customer growth as the key driver and assuming 50-150k customers range for 2015-17, we derive a target price of $20-29. It could be achieved in 1-1.5 years time when Ting's growth economics and trajectory are discussed in financial reports.
If Dutch auction is factored in the model, in gives +$0.3-0.4/share depending on the acquisition price.
Disclosure: The author is long TCX.
The author wrote this article themselves, and it expresses their own opinions. The author is not receiving compensation for it. The author has no business relationship with any company whose stock is mentioned in this article.