Commodity stocks are all over the board today, even though oil, gasoline and natural gas are higher. The big movers today are being buoyed by news that is shareholder friendly, such as share buybacks and cuts to capital expenditures. Investors appear somewhat relieved that a number of the larger independent E&Ps have announced moves that should increase balance sheet liquidity and reduce costs moving forward. The thinking is that this restraint will allow the companies to better withstand the current storm and be positioned to take advantage of opportunities arising once the oil market recovers.
Chart of the Day:
For those who have been long platinum because they believe that the gold/platinum ratio will revert back to historic norms, the trade has not worked. Even though today's price action is favorable, the outperformance does one little good if a simple trade was set up. Both metals have traded lower and outperformance in a down market is not something that can feed you.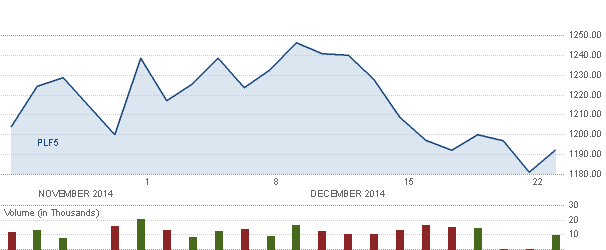 Source: CNBC
Commodity prices are as follows (at time of submission):
Gold: $1,177.80/ounce, down by $2.00/ounce
Silver: $15.775/ounce, up by $0.087/ounce
Oil: $56.22/barrel, up by $0.96/barrel
RBOB Gas: $1.5514/gallon, up by $0.0164/gallon
Natural Gas: $3.169/MMbtu, up by $0.25/MMbtu
Copper: $2.8625/pound, down by $0.01/pound
Platinum: $1,190.80/ounce, up by $8.70/ounce
Chesapeake Announces Buyback
The holidays came early for shareholders of Chesapeake Energy (NYSE:CHK) as the company announced a new $1 billion share buyback. The company decided to go forward with the buyback after finalizing a nearly $5 billion deal with Southwestern Energy (NYSE:SWN) for acreage in the Southern Marcellus and Utica shales. The final price was about $400 million below the previously announced price due to adjustments, but the net proceeds will help Chesapeake shore up its balance sheet while also rewarding shareholders.
Southwestern Adds Exposure
Also announced today is that Southwestern Energy has entered into a deal to purchase an undivided 20% interest in Statoil's (NYSE:STO) ownership in the above referenced acreage which will increase Southwestern's acreage by 30,000 net acres and give the company a working interest of about 73%. Statoil will receive $394 million, although this amount is subject to adjustments as Southwestern does its due diligence. This will boost the company's acreage in the play to 443,000 net acres.
Continental Cuts Spending
While Harold Hamm continues to argue that oil companies are better positioned to come out of this oil price war than the countries which make up the OPEC membership, his company announced that it was slashing capital expenditures for 2015 yesterday. Continental Resources (NYSE:CLR) has decided to cut spending by 41% to $2.7 billion for 2015, but believes that production will grow at 20% at that level.
While the continued production growth is a good thing, one has to wonder whether Mr. Hamm's call to remove his company's hedges caused Continental to have to trim spending further than otherwise would have been necessary. Our guess is that the answer is yes, but like Mr. Hamm we do think that US producers will come out of this painful period as the victors because there are a number of OPEC countries facing serious budget issues.
Disclosure: The author has no positions in any stocks mentioned, and no plans to initiate any positions within the next 72 hours.
The author wrote this article themselves, and it expresses their own opinions. The author is not receiving compensation for it (other than from Seeking Alpha). The author has no business relationship with any company whose stock is mentioned in this article.