It's been almost six months since Vitaros was first launched by Apricus Biosciences (NASDAQ:APRI) in the UK, with follow-up launches in Germany, Sweden and Belgium. And the market has not been kind to the company, with its stock falling from $2.20 down to the current price of $.95.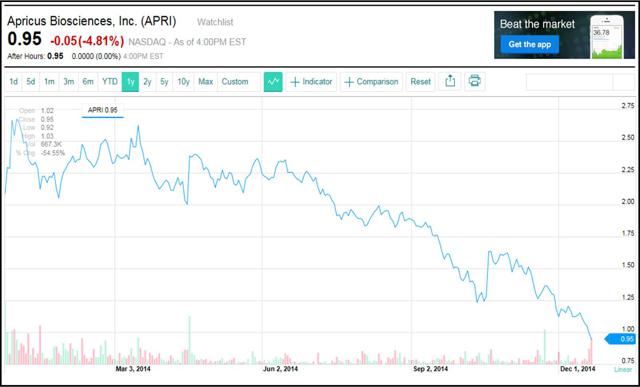 Vitaros is a topical cream for the treatment of erectile dysfunction. The cream is a combination of Alprostadil and the company's proprietary NextAct excipient, which allows the drug to be administered without the use of a needle.
Since I don't live in one of the countries where Vitaros has been launched and do not have access to it, I'm relying upon user feedback to gauge how the rollout has gone. The best source of honest user feedback that I have found came from Peak Testosterone Forum. On the site, a threat started with reviews of the product.
As a caveat, this is not a scientific study, and the results may not be typical. I'm not trying to spin the product one way or another, just inform on results of individuals brave enough (through anonymity) to share their experiences on the internet.
Positives
It works!...at least after multiple treatments. Several users said the first treatments were cumbersome and there was little improvement. Others noticed a stinging and some redness. After perseverance (6-15 treatments), most of those using it said they noticed very positive effects.
Those that persevered noted the effects seemed to be almost curative or cumulative. The more they used it, the less they needed to see results.
My 13th Vitaros test yesterday in around seven weeks. And I'm increasing convinced of a cumulative effect.
Room for improvements
Delivery: The method of delivery was cumbersome. Because Vitaros is "Non-invasive" a user has to suspend the syringe over the urethra and then squeeze the syringe while simultaneously holding open the urethra.
Just like shooting a free throw.
Although users did say they grew more coordinated over time and it became easier. Just like shooting free throws.
An alternate that some discussed was instead of suspending the syringe, placing the tip of it into the urethra. The company obviously can't condone this, since it would then remove the "Non-invasive" status.
The storage of the product did not seem to be an issue many discussed, although APRI has developed a Room Temperature Device:
During the fourth quarter of 2014, Apricus completed the development of the room temperature formulation of Vitaros, which is housed and delivered in a small, custom developed, disposable dispenser or "room temperature device." The initial production of Vitaros RTD to generate the required stability data required for marketing approval has commenced. The Company continues to expect its commercial partners to launch the Vitaros RTD in 2016.
Revenue
The company recognized revenue in 3Q2014 from the initial sales of Vitaros.
In addition we recognized revenue of $398,000 from approximately 179,000 units of Vitaros' product shipments to our commercial partners in the third quarter. As Rich mentioned, we have shipped over 312,000 units of Vitaros to our partners through September 30, 2014. For certain units we have invoiced and collected cash for the product shipment value, however, revenue remains deferred until all revenue recognition criteria are achieved.

We expect revenues generated during the fourth quarter 2013 will be from licensing, milestone and royalty revenues received from commercial partners for Vitaros and from shipments of Vitaros to licensee partners. The timing of these revenues is uncertain and as such our revenue can vary significantly between quarters. As a reminder royalties of Vitaros product sales are reported and paid on a one quarter lag from the time of sales are made by our licensee partners.
So the revenue that is reported at the end of 4Q14 will be from product that was sold between July and September 2014.
Guidance
The company has changed its strategic guidance a few times over the past two years. The company had hoped to have Vitaros completely rolled out this year and have a partner for Femprox with prospects for a launch in Europe. APRI has grown silent on Femprox this year as a path for Female Sexual Disorder treatments has been murky. The company has since moved on to developing Fispemifene and RayVa, both of which are in Phase 2 trials.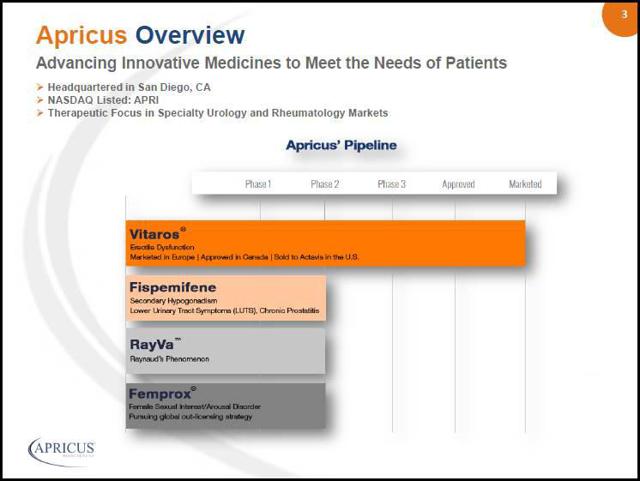 (Source: company presentation)
The new strategic roadmap for the company was laid out in the last quarterly earnings update, with 2015 labeled as a "Build Value" year and 2016 marked as a "Realize Value" year.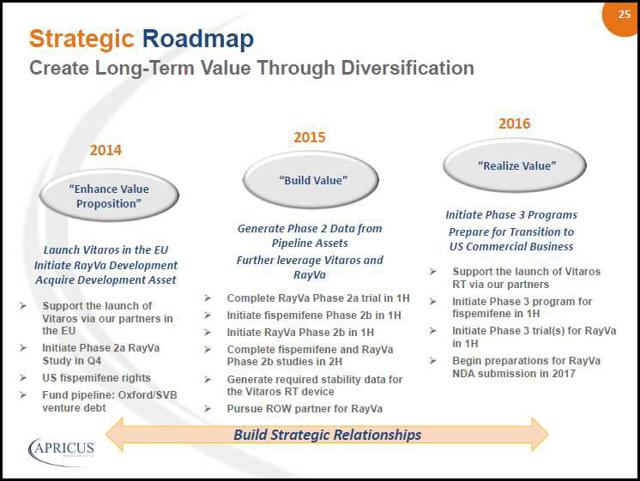 (Source: company presentation)
The company has the potential for strong revenue from Vitaros in the current form, and may see an additional boost as the RTD is released in 2016. The company reported $16M in cash at the end of 3Q14 and is projecting $6.5M in clinical expenses for RayVa and Fispemifene development. I believe that may be optimistic. However based on those numbers the company believes it has enough cash to support current operations through 2015. During 3Q14 the company obtained $10M in venture debt financing and another $20M in equity financing to help facilitate making those milestones.
Conclusion
I've been a fan of the company based on the focus given to Vitaros and the intent to monetize it. Since then, the company has begun to expand in ways that I question. The decision to use NextACT to help treat Raynaud's was a great decision that will incrementally increase the bottom line. I also believe that Fispemifene has the potential to positively benefit investors, but this may be too much to bite off at once. I still believe the company has bright prospects, but investors may have to wait a while for the reward.
Disclosure: The author is long APRI.
The author wrote this article themselves, and it expresses their own opinions. The author is not receiving compensation for it (other than from Seeking Alpha). The author has no business relationship with any company whose stock is mentioned in this article.
Editor's Note: This article covers one or more stocks trading at less than $1 per share and/or with less than a $100 million market cap. Please be aware of the risks associated with these stocks.