In this article, I use the Capital Asset Pricing Model, along with financial ratio analysis to demonstrate why I believe Intel (NASDAQ:INTC) and Texas Instruments (NYSE:TXN) are two companies that have impressive prospects among those in the semiconductor industry. An analysis of these companies shows that they have a good chance of outperforming the market, based on their risk-return patterns and strong showings on a range of financial metrics.
Capital Asset Pricing Model
The Capital Asset Pricing Model is used to compare the risk-return metrics of Intel Corp., Advanced Micro Devices (NASDAQ:AMD), Texas Instruments and Nvidia Corporation (NASDAQ:NVDA) for the period from October 14, 2011 to December 18, 2014 by regressing trading data for this period against the returns of the S&P 500 to determine each company's Average Daily Return, Beta Value, R-Squared Value, Expected Return, and Jensen's Alpha. Company returns minus the risk-free rate are the dependent variable, and market returns minus the risk-free rate are the independent variable. Please visit this link for a full definition of the above terms.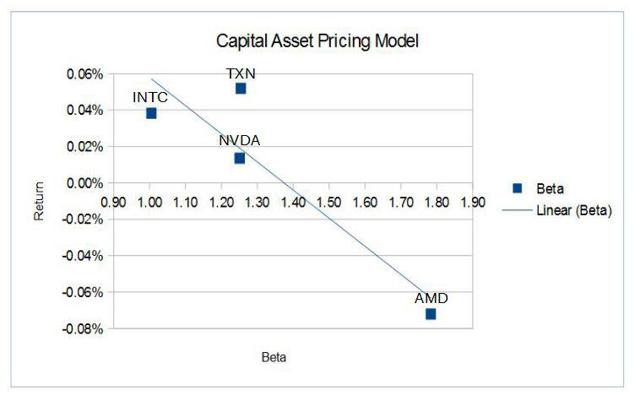 Source: Author's Calculations
For the four companies, we can see that both Intel and Texas Instruments have outperformed the daily market return of 0.03% over this period. While the cost of equity for these two companies is high given the inherent risk, the potential for market outperformance is also strong. Of course, it is all very well to extrapolate based on past performance, and the Capital Asset Pricing Model is not forward looking. Indeed, P/E ratios would suggest that Advanced Micro Devices and Nvidia Corp. are undervalued instead:

Sources: YCharts and Author's Calculations
However, in the context of the semiconductor industry, I do not believe P/E ratios are an accurate measure. This is because much of the P/E ratio trends across the technology industry in general tend to be based on future performance; i.e. it is possible that the main reason AMD and NVDA trade at low P/E ratios is because of low confidence on the part of investors. Instead, INTC and TXN possibly have higher P/E ratios due to investors bidding up price on the basis of future performance. The fact that both INTC and TXN outperform the latter two companies on a range of financial metrics further serves as evidence for this point:

Sources: Yahoo Finance/YCharts
From the above, we can see that profit margins have been vastly higher for Intel and Texas Instruments. Moreover, the two companies have healthy debt-to-equity levels along with Intel having the highest inventory turnover.
In terms of future prospects, Intel is in an ideal position to continue development of silicon technology in platforms such as the Intel Atom processor-based SoC roadmap in expanding processor capabilities to a wide variety of smartphones and tablets. This is just one example of how Intel is continuously reducing its dependence on growth in the personal computer market. The company's manufacturing process technology also appears set to continue improving. Moreover, Intel's capabilities in the mobile space have been consistently improving. The company has very good chances of beating AMD and Qualcomm at their own game in this regard. While these two companies still retain dominant positions in chip manufacturing for smartphones, Intel has made big investments in China, which is one of the world's largest mobile markets, with a recent $1.6 billion investment in its chip fabrication site in Chengdu. Should Intel establish a dominant position in this market, Chinese sales could present a lucrative opportunity. This is especially so given the issues that Qualcomm has been facing regarding licensing. This could have a knock-on effect regarding existing agreements with Chinese smartphone vendors.

Source: Intel - 2013 Annual Report
In the case of Texas Instruments, this company is a pioneer in the areas of Analog and Embedded Processing. There is little doubt that growth in this industry is set to continue, as this technology has a wide variety of applications in areas such as industrial automation and renewable energy, among others. Over time, these technologies allow for more efficient use of data collection while reducing processing times and ultimately offering cost savings for a wide variety of businesses. Indeed, the company has had significant success in this regard, with 79% of revenue originating from this sector in 2013, compared to 44% in 2006.
In addition, the future of the semiconductor industry will increasingly focus on energy efficiency, and doing more with less. In this regard, I am highly excited by TI's ongoing development of harvested power as part of the "Internet of Things" initiative. Essentially, this type of energy would be generated from sources such as light, water, body heat, etc. to power certain electronic devices. This could have big implications in terms of charging battery-operated devices, smartphones being a key example. While this technology is ambitious and will take time to develop, Texas Instruments has shown its capabilities in this field and I believe that this company is in the best position to develop these types of technologies.
Conclusion
In conclusion, the analysis suggests that not only do Intel and Texas Instruments have favorable risk-return profiles along with a strong financial position, the two companies are also pioneers in technologies that are expected to see big demand in the future. In this regard, I expect that these companies will continue to thrive and if past is prologue, the two companies stand to offer better return potential than their peers in the semiconductor industry.
Disclosure: The author has no positions in any stocks mentioned, and no plans to initiate any positions within the next 72 hours.
The author wrote this article themselves, and it expresses their own opinions. The author is not receiving compensation for it (other than from Seeking Alpha). The author has no business relationship with any company whose stock is mentioned in this article.