According to the new "United States Organic Food Market Forecast & Opportunities 2018," the U.S. organic food market growth is slated to grow till 2018 at a healthy CAGR of 14%. The growth in demand for organic and natural products is exemplified by the fact that the domestic organic food production has grown a whopping 240% between 2002 and 2011, versus a 3% growth for the non-organic food market.
In addition, the natural and organic personal care market is also booming. The same is projected to grow at a CAGR of 9.07% over the period 2013-2018.
Moreover, according to an OTA report:
Fifty-one percent of parents surveyed said the cost of organic products was one of the key factors in limiting their organic purchases, a sharp drop from the previous year in which 62 percent said organic items were sometimes too expensive for their household budget.
So, stated briefly, the growth of organic and natural products market is here to stay for the long run, as more and more customers move over to organic and natural foods and personal care products. Hain Celestial (NASDAQ:HAIN) is one of the leading players in this segment, and looks well positioned to tap the organic opportunity.
Over the years, Hain has successfully acquired and integrated businesses into its operations to consistently drive top- and bottom-line growth, as reflected in the chart below: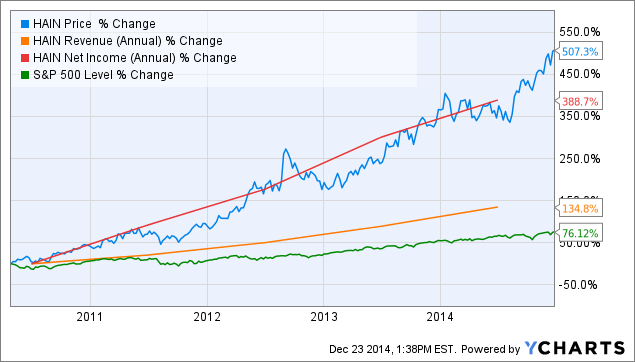 HAIN data by YCharts
Still going strong
The first quarter of fiscal 2015 was no different as Hain turned in a record quarterly performance, with sales soaring 35% year-over-year, after adjusting for the voluntary recall of MaraNatha nut butter in August this year. Both net sales and adjusted earnings per share moved up for the 16th consecutive quarter, marked by yet another quarter of high single-digit organic growth. Organic growth signifies that it's not just acquisitions that are driving its performance.
However, the company has been known in the past to be on a shopping spree for driving inorganic growth too. Carrying this business model of acquiring-and-integrating other companies for growth, Hain recently completed the acquisition of the remaining interests in Hain Pure Protein Corporation, including a 19% interest In Empire Kosher Poultry.
An extensive product portfolio will allow Hain to serve increasing demand
Also, with the acquisition of Rudi's Organic Bakery earlier this year, Hain has expanded its product portfolio into 11 of the top 20 natural categories in the United States. Its acquisitions have generated sales worth $131 million during the first quarter. With health aware Millennials forming 50% of the population and health awareness spread across 90% of consumers, Hain is confident of its growth in the domestic market going forward.
The acquisition of Tilda is also expected to be a good growth driver going forward, besides opening up new geographies for Hain, with a new office in India already operational. According to TechSci Research, the organic food market in India is slated to grow at a brisk CAGR of 25% between 2014 and 2019. The new Prime Minister of India is already committed to organic farming, so the growth rate might be higher than forecasted.
Hain has performed well in all geographies where it is present. For example, in Europe, it is growing in double digits. Looking ahead, by expanding the non-dairy business under the Dream and other brands like Natumi and Danival throughout the European market, Hain can get better.
E-commerce: The next frontier
Hain has been able to achieve its growth despite the fact that it is not present in the e-commerce segment. However, the company is not oblivious to the fact that e-commerce is flourishing globally. So far, the company has acquired brands, invested in brand building, and grown from strength to strength. In order to open up another growth avenue, Hain is investing in digital initiatives to tap yet another area for growth. The company now has full-time dedicated teams working on its digital platform, including e-commerce, with the aim of becoming a major player in the omni-channel segment.
Conclusion
Considering the fast-growing nature of the organic foods market, and Hain's presence across the globe in key markets such as Europe, India, and the U.S., it won't be surprising if the company continues to deliver strong results going forward. As such, despite gaining almost 30% this year and trading at its 52-week high, Hain Celestial is still a good investment for the long run.
Disclosure: The author has no positions in any stocks mentioned, and no plans to initiate any positions within the next 72 hours.
The author wrote this article themselves, and it expresses their own opinions. The author is not receiving compensation for it (other than from Seeking Alpha). The author has no business relationship with any company whose stock is mentioned in this article.