There are day trades, swing trades and trades that are months in the making. Ever since Polaris Industries Inc. (NYSE:PII) printed a knockout Q1 in mid-April, IPI has been delving deeper into the continued growth prospects for this formidable maker of all-terrain vehicles. In our opinion, PII is about to pull the throttle on the gas and rev up to new all-time highs, even amidst this difficult market terrain.
In addition to a couple of recent upgrades and strong dealer surveys from the likes of Wedbush, Sidoti, and Citigroup (C) over the past six weeks, IPI believes new institutional investors will soon take a more aggressive position in Polaris for one very important reason: Since 2005, PII has demonstrated a remarkably consistent trend of revenue and earnings growth from its first quarter through its second and third quarters, a trend which, suggests a high probability for a good beat in Q2, and more importantly, a big raise in estimates for Q3 and guidance for the remainder of the year.
In our efforts to gain high-conviction on this trade, IPI dug into the Polaris' 10-Qs dating all the way back to 2005. In doing so, we emerged even more bullish on our thesis. Let's discuss.
To begin, let's take a look at Polaris' historically weak first quarter. From 2005 to 2010, Polaris' Q1 earnings have on average represented 12.62% of the company's entire earnings for each respective year. Examine the stats:
2005 Q1 Earnings: $0.42 (13.3% of $3.15 FY EPS)
2006 Q1 Earnings: $0.27 (9.9% of $2.72 FY EPS)
2007 Q1 Earnings: $0.34 (11.3% of $3.01 FY EPS)
2008 Q1 Earnings: $0.55 (15.7% of $3.50 FY EPS)
2009 Q1 Earnings: $0.26 (8% of $3.23 FY EPS)
2010 Q1 Earnings: $0.75 (17.5% of $4.28 FY EPS)
Now Polaris' 2011 Q1 numbers were nothing short of stellar, with EPS climbing 127% year-over-year to $1.34 a share. If we consider that 2010 saw PII's Q1 earnings contribute a meaningfully higher percentage of the company's overall earnings, at 17.5%, we estimate Q1 2011 will ultimately improve upon last year's rate, potentially representing 20% of the company's full-year earnings. It is difficult to tell. While this may come across as guesswork, we feel it is better to assume the percentage moves higher than the six-year historical average of 12.62% - especially when we account for management's remarks on the Q1 earnings release:
"Retail demand for Polaris products in North America remained strong throughout the first quarter and we continued to gain market share. Our International business also remained strong with sales increasing 21 percent… As a result of continuous improvement efforts directed at cost reduction and profitability enhancements, we generated significant margin expansion. In the first quarter, gross margin improved by 210 basis points and net income margin increased 330 basis points to 8.8 percent of sales."

Should we be accurate in our analysis and Q1 of 2011 represents 20% of full-year earnings, this would imply PII will earn $6.70 a share this year, 17% above current estimates of $5.73 a share.
This is where things get interesting. While it is difficult to determine exactly what percentage of earnings Q1 will ultimately represent, our research into Polaris' sequential trends between Q1 to Q2 and Q2 to Q3 of each fiscal year suggests an even more bullish scenario than $6.70 for 2011. Let's move to these historical trends now.
If there is an obvious trend for Polaris over the past six years, it is this: business improves dramatically between Q1 and Q3. Observe the substantial jump in sales and earnings from Q1 to Q2 and then to Q3 in each of these years (click charts to enlarge):



Source: SEC Filings, Polaris Industries Inc. 10-Qs, 2005-2010

The following facts are notable:
For six years in a row, PII has increased its revenues sequentially from Q1 to Q2, with an average gain of 17%. Current top-line estimates are calling for a sequential increase of just 1.6% between Q1 and Q2 of this year. These estimates seem too conservative, even after we account for the introduction of Polaris' hot new RANGER RZR XP™ 900 recreational vehicle in Q1.
For six years in a row, PII has increased its earnings sequentially from Q1 to Q2, with an average gain of 65%. On the bottom line, current estimates for Q2 seem too conservative as well. Currently, analysts are calling for a sequential decrease in earnings from Q1's EPS of $1.34 to $1.16 for Q2.There are two factors at play contributing to these low numbers. First off, Polaris upgraded its manufacturing capacity over the past few quarters. Q2 may have absorbed the brunt of this investment cost. Secondly, the company bought Indian Motorcycle a few months ago and additional investments in this new division could create a drag on Q2 numbers.
While these two potential negatives must be taken into consideration, we believe analysts' recent strong channel checks should spur higher-than-expected sales in Q2 and allow PII to book another beat on both the top and bottom line. After all, if Polaris was able to improve sales 49%, year-over-year, in Q1, logic dictates the company should be able to grow sales at least 30% year-over-year in Q2, even in a sluggish economy. Polaris is the undisputed ATV market leader. The company is gaining share. It is difficult to conceive company sales would decelerate to the current consensus estimate of 27% year-over-year.

In the table above, I have highlighted the numbers for Polaris' Q1 and Q3 to illustrate one very important stat: While the sales growth between Q1 and Q3 each year has been remarkable, its earnings increases have been even more dramatic during these periods. Just look how earnings increased from $0.42 in 2005's Q1 to $1.16 by Q3, $0.27 to $1.03 in 2006, $0.34 to $1.09 in 2007, $0.55 to $1.13 in 2008, $0.26 to $.94 in 2009, $0.59 to $1.13 in 2010. On average, earnings grow 189% from the low point in Q1 to the company's seasonally strongest Q3.
We should, however, keep in mind Polaris has become a much larger company in the last 6 years. So let's assume this type of growth cannot be expected to continue going forward. In this instance, we use last year's Q1 to Q3 earnings trend as a guide for 2011. In 2010, earnings jumped by 91% from Q1 to Q3. Should a similar boost happen again in 2011, it would imply that current estimates of $1.59 a share for Q3 are just way too low. Assuming Polaris can register even a 75% jump in its earnings rate from Q1's EPS of $1.34, this would result in a Q3 EPS of $2.35, 48% higher than current analyst estimates.
One final note. PII's chart is a picture of technical strength. After gapping higher above $100 on Q1's huge beat, Polaris has spent the past ten weeks basing between $98-$115:
PII 1-Year Weekly Chart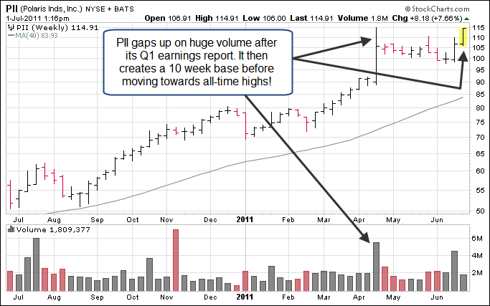 Source: StockCharts.com
Should we be correct on our call for a decent beat in Q2 and a marked increase in guidance for Q3 and the rest of the year, Polaris could very well embark on another substantial up-leg. If the company can earn close to $7 this year, it would seem reasonable that the company could do $8.50-$9 in 2012. Put a 17X multiple on those forward numbers and you get a $148.75 stock by year-end, upside of 34% in six months.
If we are wrong, we will exit the trade after earnings are release on any breach of the stock's 50-day SMA of $104.46. From a risk/reward perspective, there is a 4 to 1 upside vs. downside scenario playing out in this trade. While any earnings trade is ultimately a gamble, here at IPI, we think the probabilities are stacked in our favor.
Disclosure: I am long PII.