In addition to my own scans and watch lists, I use two main sources to follow options-related news: Daily Seeking Alpha columns by Frederic Ruffy and Andrew Wilkinson. While I get great use out of these sources and have even made money thanks to them, you have to be careful not to chase the stocks or options they mention. Occasionally, you can find examples to capitalize on. Below I detail options brought to my attention by these sources and how investors might consider playing them - or the underlying security - if at all, during the trading week.

This week's recap and analysis includes contributions from two other sources of options information: Frequent Seeking Alpha contributor optionMONSTER and Briefing.com's InPlay service. Both provide alerts on notable options activity throughout the day.

My coverage spans most of Friday's trading day, including early in the session, so some information may change. As with all of my articles, use my suggestions and analysis as the impetus for future research.

Note: U.S. stock exchanges close on Monday in observation of Independence Day.

Coinstar (NASDAQ:CSTR): On Thursday, optionMONSTER pointed to more bullish call activity in CSTR:
The bulls were active yesterday in Coinstar (CSTR), which seems to have some interesting things going on. More than 2,400 August 57.50 calls were purchased against open interest of just 338 contracts. Premiums started at $1.55, and then rose as the stock climbed, ending the session at a high of $2.10.
The momentum continued into Friday with the stock closing up $0.80 at $55.34. The August $57.50 calls did not see quite as much action on Friday as they did Thursday, closing out the session with volume of 470 against open interest of 2,391. A few traders likely took some profits today.

The question now becomes to chase or not to chase. Coinstar reports earnings on July 28th. As optionMONSTER noted, the company surprised the street on its last call by beating consensus estimates. If you believe Coinstar has learned from its early-2011 mistake, it might make sense to jump on the bullish bandwagon ahead of earnings. While I would not necessarily make such an aggressive near-term play, I like the long-term story.

As Seeking Alpha contributor Larry Meyers explains, Coinstar has plenty of ways that it can - and likely will - diversify its business. Not only does this potential make it an attractive takeover target, but it can open the door to multiple creative revenue streams.

NASDAQ OMX Group (NASDAQ:NDAQ): Toward the end of Friday's trading today, Briefing.com alerted me to bullish call activity in NDAQ calls. The September $29 calls represented some of the most notable, according to Briefing. The possibility of some type of hook-up between Nasdaq and the London Stock Exchange ignited a rally which saw NDAQ shares break past $26.00 on Friday.

Just as room exists in most portfolios for aggressive speculation (i.e., a penny stock and maybe a long shot turnaround play), it can make sense to stake a claim on the likelihood that M&A activity will occur in a space. For better or worse, more mergers across international lines between exchanges seems to be little more than a forgone conclusion. It's likely enough to occur that it probably warrants a bit of speculative call buying.

To give yourself some breathing room against time decay, the NDAQ September $28 and $29 calls could be a solid bet. As of mid-afternoon Friday, 9,469 and 3,177 of the contracts changed hands, respectively. It's probably advisable to wait a session or two for a pullback before jumping in.

Carter's (NYSE:CRI): Wilkinson's Friday column mentioned a bearish put spread on CRI, which has experienced several recent surges.
The trader appears to have initiated a bear put spread, buying 1,850 puts at the September $30 strike for a premium of $1.85 each, and selling the same number of calls at the lower September $25 strike at a premium of $0.40 apiece. Net premium paid to initiate the spread amounts to $1.45 per contract, thus positioning the put player to profit should CRI's shares drop 8.6% to trade below $28.55 at September expiration. Maximum potential profits of $3.55 per contract are available to the trader should shares plunge 20.0% in the next three months to trade below $25.00 at expiration day. Carter's is scheduled to report second-quarter earnings ahead of the opening bell on July 28.
I am inclined to stay away from CRI, for reasons I expressed in a Friday options' article several weeks ago.
In this type of environment I do not want to be invested in too many companies that require consumers to have and spend disposable income, unless the business is (a) a powerhouse and (b) targets an upper-end consumer (e.g., LULU). Instead, during times like these, I prefer to side with companies in, or closely related to, the consumer staples sector.
Morningstar published an excellent article that sums up my feelings on the space:
Furthermore, we believe premium-priced companies with well-established brands like Hermes and Polo Ralph Lauren (NYSE:RL) will fare better than value players like Children's Place (NASDAQ:PLCE) and Carter's, as they could easily pass these price increases on to their customers who tend to be more affluent and less price-sensitive.
Lululemon (NASDAQ:LULU) fits into the upper-end retail category. In the above-referenced article, I suggested considering an aggressive, at the time, bullish options play on LULU:

Instead of buying an outright call, I would initiate a bull call spread. When you open a bull call spread, you offset the cost of a long call by simultaneously writing a call with the same expiration, but at a higher strike price. I anticipate LULU outperforming a choppy or even bearish market over the next six to 12 months, therefore I would be comfortable with something in the neighborhood of the LULU January 2012 $90/$120 bull call spread.

At the time of that writing, LULU traded for roughly $89.94. It closed Friday's session at $115.62.

Sticking with the theme of companies selling high-end products to high-end consumers, consider looking at Janaury 2012 call opions on Nordstrom (NYSE:JWN), Coach (COH) and Saks (NYSE:SKS). Each company reports earnings in early- to mid-August. Jeanine Poggi makes a sound case for each over at TheStreet.com. For stocks that tend to see relatively thin options activity there's a bit of open interest in several call contracts I will put on my watch list:
SKS January 2012 $10, $14
COH January 2012 $60
JWN January 2012 $50
Bank of America (NYSE:BAC): Ruffy highlighted bullish call activity in BAC early in the day Friday.
Upside call buyers are active in Bank of America today. Shares are up 15 cents to $11.11 and are on pace for a 5.6% gain on the week. BAC is now 6.8% above the 52-week low of $10.4 set on 6/16. Recent options trades in the bank include a 12,881 contract block of Jan13 12.5 calls at $1.34 when the market was $1.32 to $1.34. 21,834 now traded. August 12 calls, which are 7.9% out-of-the-money, are the most actives. 28,734 contracts changed hands. Another 22,393 Jul 12 call options have also traded today. Total options volume in BAC is 175,000 calls and 56,000 puts.
I have been buying BAC stock in a long-term account. Of course, I am down on it, but I am dollar-cost-averaging and intend to for some time. As much as I hate the phrase, I think Bank of America is "too big to fail." While the not-so-short-term headwinds are strong, to say the least, if you have five, 10 to 15 years, loading up on BAC when it's done might pay dividends down the road, literally and figuratively.

I don't buy into notions of financial armageddon in the near- or long-run. The sky has been falling for decades. When all is said and done, you'll be happy to own the bank with a branch on every corner. That said, a strategy of buying some BAC January 2013 LEAPS call options, accompanied by building a long position in the stock, looks attractive to the "value" investor in me.

Apple (NASDAQ:AAPL): Because keeping up with AAPL in relation to maximum pain theory has become sport, I figured it was worth a mention, given the pop the stock saw today. What happens with the stock over the next couple of weeks could prove educational, if nothing else.

Consider AAPL's chart, courtesy of FreeStockCharts.com followed by it's Max Pain graph, courtesy of OptionPain.com.

Click to enlarge images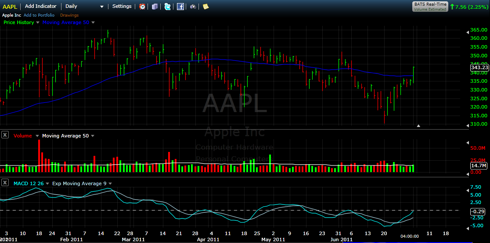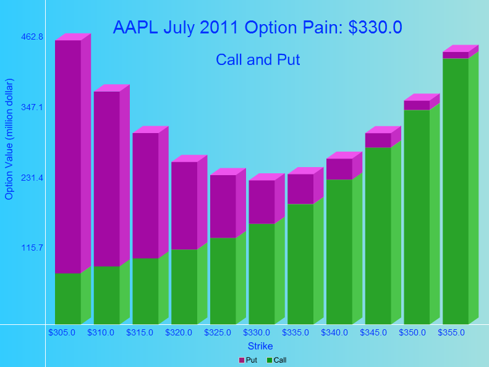 AAPL's chart shows clearly that we've been here before in recent times - a move through the 50-day moving average only to disappoint shortly thereafter. While Seeking Alpha contributor Andy Zaky makes a solid case for a strong AAPL in the second half of the year, I would be more inclined to bet against the stock, at least headed into earnings. On Tuesday, I will take a close look at the AAPL July $340 and $335 put options, which closed Friday's session at $3.15 and $1.79, respectively.

Sirius/XM (NASDAQ:SIRI): And because I have been tracking them in recent articles, I thought it made sense to update action in the SIRI September $2.50 call options. On Friday, that very contract was, by far, the most actively traded among SIRI calls, with 8,193 contracts changing hands, against open interest of 62,546. The option closed Friday's trading at my cost basis of $0.11.

Friday's pullback from SIRI's intraday high of $2.25 to close even at $2.19 does not concern me much. First, it had a lot to do with June's mixed bag vis-a-vis auto sales. I actually took bullish sentiment from the report, at least as far as SIRI goes, as the big three - Ford (NYSE:F), General Motors (NYSE:GM) and Chrysler - all performed well. And, second, the stock saw relatively light volume headed into a holiday weekend. Sentiment going into earnings is still incredibly bullish (put/call ratio is 0.11). I intend to add to my September $2.50 position if the stock does not gap up Tuesday morning or if it pulls back intraday.

Disclosure: I am long BAC, F, SIRI.