Data center related stocks delivered, on average, a relatively weak performance in June, but still remained mostly very positive since the beginning of the year.
Here is a quick look at last month's data: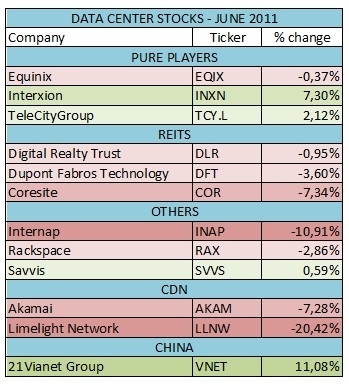 The CDN sub-sector achieved, once more, the worst performance of the month as a group, as both Akamai (NASDAQ:AKAM) and Limelight Networks (NASDAQ:LLNW) were deep in the red.
REITs were also all negative, but their behavior may probably be considered a pull back after achieving very good returns in May.
21Vianet Group (NASDAQ:VNET), the Chinese network neutral data center, finally delivered a positive performance in June, after suffering a decline from its high post IPO levels.
On average, most data center stocks delivered a solid performance in the first half of 2011, as shown in this summary:
As a reminder, our data do not include those companies, like Navisite and Terremark, that were bought out in 2011 (with Savvis due to join, soon, this group). All these companies enjoyed performances of about 50% since the beginning of the year, due to the high premiums paid by their acquirers.
If we exclude 21Vianet Group, which has been quite volatile since its IPO, and the CDN sector, which shows declines of over 20% and 30% for its two listed players, all other data center stocks show a positive performance since the beginning of the year, averaging about 25%.
Among the network neutral players, it is interesting to note that Equinix (NASDAQ:EQIX) is now almost back to the levels (around $105) that the company achieved before its revenue warning of October 2010:
Click to enlarge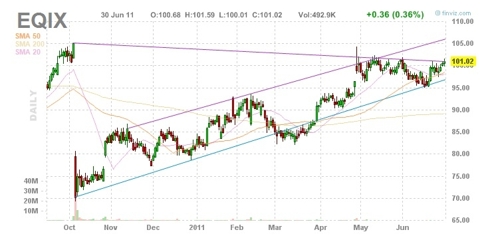 Today, Piper Jaffray came out with a report that analyzes this situation:
While some might argue that the stock is fairly valued given that it has recovered to near pre-miss levels, we believe that additional upside remains.

Business trends have improved since last year, with global outsourcing trends continuing and expanding opportunities in cloud computing and SaaS presenting themselves. To justly value Equinix, we think investors need to look at recurring free cash flow, which suggests meaningful upside from current levels.
While we realize that the performances recently achieved by most data center related stocks are impressive, we agree that, for some of them, the full potential of the business model, given the growth forecast in the next few years, might still deliver more upside in the future.
Disclosure: I am long EQIX.