Gilead Sciences' (NASDAQ:GILD) stock took a major hit on Monday, December 22nd, as shares fell 15.5% to close at $92.90. The stock was sold hard on huge volume after the news that AbbVie (NYSE:ABBV) had reached a deal with Express Scripts (NASDAQ:ESRX) for exclusive distribution of their Hepatitis C drug, Viekira Pak.
At the time of this writing, on Tuesday, December 23rd, GILD was trading at $87.00, down an additional 6%.
Chart for GILD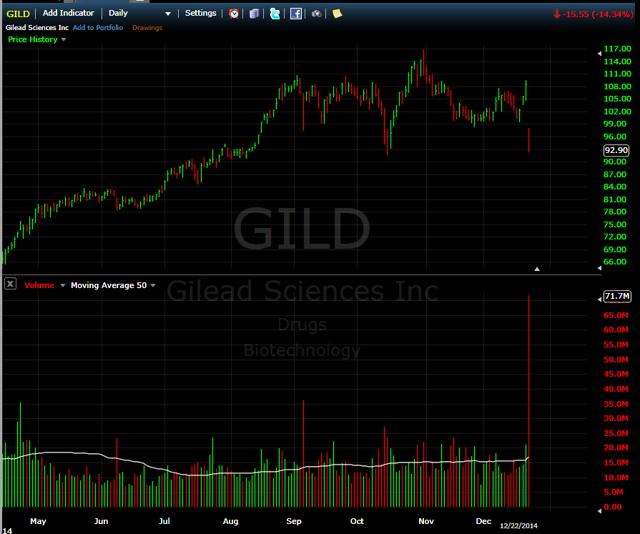 Image Compliments of Author
This action was a surprise for investors who expected that ABBV's Hepatitis C treatment would have to compete with GILD's Solvadi and Harvoni combination drugs for treating Hepatitis C. But the exclusive deal with Express Scripts cuts out competitors' drugs: GILD's Solvadi and Harvoni, and Johnson & Johnson's (NYSE:JNJ) Olysio.
Viekira Pak, ABBV's treatment, is expected to be marketed by Express Scripts at a suggested distribution price of $83,319, per treatment, a discount below GILD's price of $94,500.
Viekira Pak requires several pills a day at different times, while GILD's Harvoni treatment requires taking only one pill each day.
Analyst Reactions
Capital Markets' Michael Yee sees the possibility of a 15%-25% impact to Gilead's market value from the Express Scripts' deal. This is equal to a $1 billion to $2 billion loss in share value.
UBS analyst Michael Roden views the Express Scripts move as a negative for GILD and JNJ, but considers GILD's Monday selloff as excessive.
Yaron Werber has cut his target price for GILD to $125 from $139. He still views GILD as highly attractive, but anticipates a 2015 reduction in market share from 80% to 70%.
Implications
It is too early to see how Gilead will respond to the action taken by Express Scripts and AbbVie. With a huge market capitalization and a yearly profit of 75%, the company has the resources to deal with this action. GILD can aggressively compete in the marketplace by reducing their prices. Does this spell a price war?
There is also a possibility the GILD management may step in and buy back shares to stabilize the price.
Until investors can determine the full impact of the action by Express Scripts, the huge yearly profit GILD has earned through 2014 is an over-hang for investors who may take more profits because of the uncertainty in the short term about price stability.
Express Scripts has a 70% public exposure for the distribution of pharmaceuticals. The fact that they have an agreement for exclusive distribution of one company's specific drug for Hepatitis C to the exclusion of two other producers that compete with alternative drugs for Hepatitis C may be viewed as a commercial mandate. This is new territory for investors to ponder.
Disclosure: The author has no positions in any stocks mentioned, and no plans to initiate any positions within the next 72 hours.
The author wrote this article themselves, and it expresses their own opinions. The author is not receiving compensation for it (other than from Seeking Alpha). The author has no business relationship with any company whose stock is mentioned in this article.