One popular investment strategy is to purchase stocks that have gotten "cheap" on a dividend basis: stocks that pay a higher dividend than their peers. For the Dow Jones Industrial Average, this is known as buying the "Dogs of the Dow," or the ten stocks in the Dow that have the highest dividend yield as of year end, equally weighted. The strategy is simple and easy to execute; it requires at most twenty trades per year, and operates on the theory that stocks that pay a high dividend will see higher total returns over the long run than stocks that don't.
Below is a summary of the "Dogs of the Dow" strategy's total returns since 2001. About half the time, the strategy outperforms both the Dow and the S&P 500, while it beat the Dow itself 12 of 14 times. Average and median returns are higher for the "Dogs of the Dow" strategy than the Dow, and its average return beats the S&P 500 while trailing slightly on a median basis.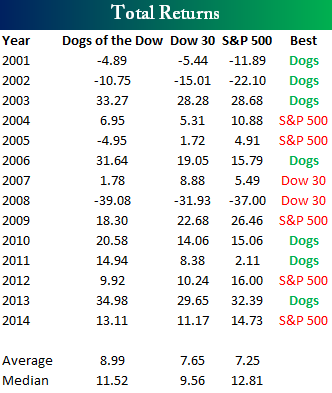 This year has been an interesting one for the strategy. While total return has been about in-line with the Dow as a whole on average, the individual names within the list of Dogs have been all over the place. Intel (NASDAQ:INTC), Microsoft (NASDAQ:MSFT) and Cisco (NASDAQ:CSCO) have all exploded higher, with total returns of over 30%. But GE (NYSE:GE) and Chevron (NYSE:CVX) have both lagged the index badly, and McDonald's (NYSE:MCD) has also had a challenging year amidst a broader equity market rally.
Looking ahead to next year, three names will be removed from the current Dogs list; unsurprisingly, they're also the best performers. Intel, Microsoft and Cisco will all step aside to make room for Exxon Mobil (NYSE:XOM), Caterpillar (NYSE:CAT) and Coca-Cola (NYSE:KO) should current prices hold roughly steady for the last few trading days of the year. After seeing their dividend yields expand for years heading into 2014, strong stock performance for the three Tech dogs (INTC, MSFT, CSCO) has pushed their dividend yields lower this year.