With wind and solar estimated to account for 30% share of energy by 2030, SunEdison (SUNE) has a large addressable market after its power-holding company, TerraForm Power (NASDAQ:TERP), announced the acquisition of First Wind Holdings for $2.4 billion. This will make SunEdison a major player in the broader renewable energy sector, ahead of its solar power peers that are primarily plying their trade in the solar energy market.
Globally, renewable energy adoption is on the upswing. According to Bloomberg New Energy Finance's (BNEF) 2030 Market Outlook, solar energy share alone is projected to account for 18% of total electricity generation globally. Wind energy is poised to grow to 12% and fossil fuel-based generation will shrink from 64% to 44% by 2030.

Source: Global installed capacity mix and additions by technology chart via BNEF
To tap the end-market growth, SunEdison has built up a strong pipeline of projects that will aid its long-term growth.
How SunEdison plans to make the most of the end-market opportunity
SunEdison recently secured a $146 million loan for building 81.7 MW of solar power projects in Honduras. The three power projects will supply energy to the grid under 20-year power purchase agreements with ENEE, the state-owned electricity company. These projects are slated to go live by the middle of 2015.
The services segment of the company has over 3 GW of assets under its belt. This has robust long-term value with targeted gross margins of around 30%. SunEdison has significant exposure in solar technology and intellectual property. FBR polysilicon and CCZ are examples of the technological strength of the company. In addition, the company has a 50% stake in the 13,500 metric ton SMP joint venture in Korea.
In addition, the YieldCo vehicle, Terra Power, remains another growth driver for creating value for shareholders going forward, as the newly listed company increases its dividend. SunEdison targets gross margins of over 20% on all projects that it executes or drops down to Terra Power. SunEdison had 267 MW of non-Terra Power projects on its balance sheet.
SunEdison has a tightly integrated and well diversified business right from manufacturing of polycrystalline silicon wafers and to development, installation, financing, and services. The company is one of the largest solar power installers in the U.S. On the back of its diversified business model, it has successfully navigated through the troubled phase of the solar industry.
Looking ahead, the company has projected strong growth in the solar business. For 2015, SunEdison expects to install between 1.6 GW to 1.8 GW. This is an increase of 200 MW at the mid-point of 1.5 GW, compared to what the company had announced earlier.
A strong and diversified project pipeline
SunEdison exited the third quarter of fiscal 2014 with more than 600 megawatts (MW) worth of projects under construction in over two dozen countries. The company's strong presence in key solar markets globally will now enable it to tap the potential of the wind power sector. For example, according to the GWEC, by the end of 2018, installed wind power capacity will be double of what it is today, with Asia, North America, and Europe being the major growth drivers
SunEdison already has its presence in these major growth regions through its solar power projects, and hence, the First Wind acquisition will be a growth diver going forward. The company predicts that solar power growth in China, India, Africa, and South East Asia will outpace the overall market.
Prospects in India and China are strong
India's push for solar power is ambitious, with a projection for 100 GW by 2022. During the third quarter, SunEdison signed up an MOU for 5 GW solar power facilities with the government of the state of Rajasthan, besides 150 MW in Karnataka. In addition, India's wind energy generation capacity is poised to grow to 165 GW by 2030, as shown in the chart below: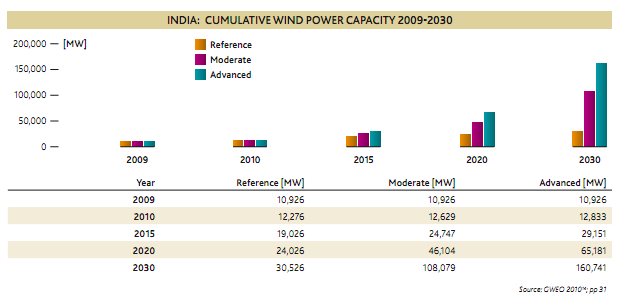 Source: India's wind power growth projections.
In China, the company announced a joint-venture agreement with JIC Capital for 1 GW of solar projects to be executed over the next three years. China has pledged to increase solar power generation to 100GW by 2020. China is also targeting 90 GW and 200 GW of wind power by 2015 and 2020, respectively.
With presence in China and India, the First Wind acquisition will provide an additional growth driver to SunEdison going forward.
Conclusion
SunEdison already has a solid footing in the fast-growing solar energy segment in major markets, and its recent acquisition of First Wind Holdings will consolidate its position further. The company is already present as a solar energy installer and developer in areas where the growth opportunity is tremendous. The company's tightly integrated business and its launch of the YieldCo platform as an independent company will be long-term growth drivers, creating value for shareholders going forward.
Moreover, a look at SunEdison's bottom-line growth forecast also suggests that the company's performance is expected to improve going forward. In the last five years, SunEdison's bottom line has dropped at a rate of 50% a year. But, over the next five years, it is expected that its bottom line will improve at a rate of 1.6% a year. Now, as SunEdison starts tapping the wind and solar markets, its bottom line growth can accelerate.
Disclosure: The author has no positions in any stocks mentioned, and no plans to initiate any positions within the next 72 hours.
The author wrote this article themselves, and it expresses their own opinions. The author is not receiving compensation for it (other than from Seeking Alpha). The author has no business relationship with any company whose stock is mentioned in this article.