In this article, we assess how Twitter (NYSE:TWTR), a social media major in keeping the world updated regarding current events, trended against its business performance during the soon to be outgoing year. We also summarize our findings on a crisp infographic to make this information easily digestible for our readers.
While Twitter posted excellent financial results during 2014, we think "huge expectations" caused its stock price to decline by over 40% during the year. The company posted top line growth of nearly 120% during each of the first three quarters, and in the final quarter of the year, its management expects around 85% growth. Adjusted EBITDA margin (which is a non-GAAP profitability measure that adds back non-cash stock-based compensation and D&A expenses) rose to 17.3% during the nine months ended September 2014, compared to 7.3% in the similar period a year ago.
However, these results failed to spur excitement amid investors. On the contrary, factors such as a slowdown in sequential growth of monthly active users (MAUs) and a decrease in engagement levels pulled down market sentiment. We believe some of these high expectations also stem from frequent comparisons between Twitter and Facebook (NASDAQ:FB). Alas, investors want Twitter to replicate Facebook's growth, and any indications toward its failure to do so causes them to exit the stock in droves.
We think the recent correction also brought Twitter's valuation closer to its intrinsic value. Earlier, it was trading at more unrealistic levels (according to our estimates). Having said that, we think Twitter has solid monetization potential, which could reach even $10 billion in the long run. We consider various factors for this observation, including: 1) a significant rise in ad-load (percentage of tweets that are ads), which are currently very low at around 1.3%; 2) an increase in the user base to over 500 million by 2020; and, 3) monetization of logged out visitors and hundreds of billions of tweet impressions that are accessed through syndication across the web.
We'd advise investors to view Twitter's business more independently from its rival Facebook. While both of these companies are social media giants, they are different in terms of usage among netizens. Plus, Twitter's business is less mature, considering the low level of ad inventory presently being sold on its platform. Hence, we think it could take some time before we are able to stack these companies for an apples-to-apples comparison.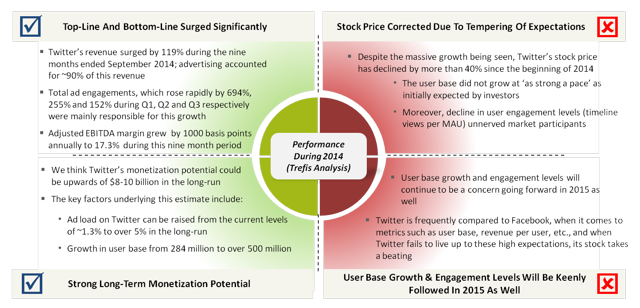 Rapid Rise In Ad Impressions Is Fueling Twitter's Growth
Taking into account the key factors that influence advertising dollars - such as ad engagements per timeline, cost per ad impression, and growth in timeline views - we note that the increase in ad engagements per timeline view is the main factor driving the company's top line growth. This metric rose by 591%, 210% and 121% respectively during the first three quarters, as Twitter is increasingly trying to raise its low ad levels on the platform (which was reported at around 1.3% in Q3 2014). To a smaller extent, an average 15% increase in timeline views during the nine months ended September 2014 also contributed to the uptrend in growth.
However, cost per ad engagement has come down significantly during 2014 - during the first three quarters, it declined by 72%, 35% and 17% annually, respectively. The logical reason behind this could be that owing to an oversupply of ad inventory, Twitter is trying to sell as many ad slots as possible. In addition, a focus on factors such as user experience and advertiser ROI also could be among the reasons for this fall in ad pricing. In our view, the pricing should start moving north in the future, with the introduction of newer ad formats, better targeting and improved ROI for marketers. The sequential rise in cost per ad engagement by 18% and 3%, respectively, in Q2 and Q3 2014 also lends to our optimism.
Huge Monetization Potential Ahead: In a recent article, we had highlighted that Twitter's monetization could be upwards of $10 billion in the long run. The key factors that back this estimate include:
We think the ad-load on Twitter can rise from around 1.3% currently to more than 5% in the long run. Considering Twitter's platform is less clogged due to fewer features on the right and left parts of user timelines, as compared to other social media sites, we think the placements of ads can be easily increased to much higher levels without sacrificing user experience. Increased demand from advertisers will be the main factor driving this ad-load going forward, as supply seems to be a lesser constraint.
We forecast Twitter's MAU to rise to over 540 million by 2022, at a CAGR of around 9% over our forecast period. As the social media audience evolves over the coming years, we expect more of these users to start recognizing the value offered by Twitter.
More than 500 million visitors come to Twitter-owned properties but don't log in. In addition, there are over 185 billion tweet impressions that are syndicated across the web quarterly. Both factors represent an opportunity that has not even begun to be monetized. We expect a significant portion of the overall monetization to be derived from this passive user base in the long run.
If we couple the above drivers with increase in cost per ad engagement, click through rates and engagement rates, then the monetization opportunity easily crosses $10 billion.
We'd like to note that we have estimated Twitter's top line to rise more conservatively at a CAGR of 23%, from around $1.4 billion in 2014 to over $7.0 billion by 2022. In case the revenue grows much faster to $9.8 billion by 2022, then it would represent over 20% change in our price estimate to around $50.
Watch Out For User Base And Engagement Growth In 2015, As They Could Spoil Twitter's Party
Keeping all the optimism aside for a moment, we would like to remind investors that given the "unrealistic expectations as regards Twitter," it is important to watch out for certain factors, including user base and engagement growth, very closely in the coming year. The sequential growth in average MAUs recently slowed down to 4.8% in Q3, as compared to 5.8% and 6.3% in Q1 and Q2, respectively. While the difference was not significantly large, it was enough to cause panic among investors, resulting in almost 20% erosion in the share price post the third-quarter earnings release. In addition, a 7% annual decline in user engagement (as measured by timeline views per MAU) during Q3 also unnerved market participants. We think this is an area to watch out for closely in the coming quarters as well.
Our $39 price estimate for Twitter's stock represents a near-5% premium to the current market price.
Disclosure: No positions.