Note: The Baton stock-picking system is a quantitative model that determines when a stock is undervalued and worthy of investment. The following analysis is based upon that methodology and should only be used in conjunction with a similar system for identifying when to sell.
Summary
FutureFuel Corp. (NYSE:FF) manufactures a variety of chemical products including biofuels and bio-based specialty products. The recent plunge in oil prices has resulted in an equally strong decline in share price for FF, and virtually all other energy companies with a revenue model directly or indirectly dependent on the cost of petroleum. While a decline in revenues for 2015 is inevitable for FF, the halving of its market capitalization over the past nine months is excessive in our opinion and represents an excellent entry point from a long term perspective. Furthermore, today's announcement by the company that it will maintain its normal quarterly dividend payments of $0.06/share through 2015 reflects management's confidence that the biofuel blenders' credit will be retained.
Analysis
Our approach to evaluating stocks is based on formulas that follow specific investment strategies that have a proven track record of long term success. Perhaps no track record is more respected than that of Benjamin Graham, often referred to as "The Father of Value Investing" and mentor to some of today's most successful investors including Warren Buffett. Our proprietary valuation model, designed by John Reese of Validea, confirms FF as a strong buy according to the investment methodology of Graham. It earns a near-perfect score of 86% according to the Graham model, which looks at seven metrics:
Sector: FF is neither a technology nor financial company, and therefore this methodology is applicable.
Sales: The investor must select companies of "adequate size." This includes companies with annual sales greater than $340 million. FF's sales of $378.9 million, based on trailing 12 month sales, pass this test.
Current Ratio: The current ratio must be greater than or equal to 2. Companies that meet this criterion are typically financially secure and defensive. FF's current ratio of 6.01 passes the test.
Long-Term Debt in Relation to Net Current Assets: For industrial companies, long-term debt must not exceed net current assets (current assets minus current liabilities). Companies that meet this criterion display one of the attributes of a financially secure organization. The long-term debt for FF is $0.0 million, while the net current assets are $254.2 million. FF passes this test.
Long-Term EPS Growth: Companies must increase their EPS by at least 30% over a 10-year period and EPS must not have been negative for any year within the last five years. EPS for FF was negative within the last five years and therefore the company fails this criterion.
P/E Ratio: The price/earnings (P/E) ratio, based on the greater of the current P/E or the P/E using average earnings over the last three fiscal years, must be "moderate," which this methodology states is not greater than 15. Stocks with moderate P/Es are more defensive by nature. FF's P/E of 11.70 (using the three-year P/E) passes this test.
Price/Book Ratio: The price/book ratio must also be reasonable. That is, the price/book multiplied by P/E cannot be greater than 22. FF's price/book ratio is 1.70, while the P/E is 11.70. FF passes the price/book test.
Conclusion
FutureFuel passes all the key metrics of the Graham valuation model, and the only one it fails (long-term EPS growth) in large part is a function of the cyclicality of the energy sector. To be sure, demand for FF's biofuel products hinge in large part on how soon global oil prices being heading back up toward $100/barrel. We believe it is unlikely that Saudi Arabia will continue to suppress oil prices any longer than necessary to cripple the Russian economy, which appears to be reaching an apogee with the recent collapse of the ruble.
Recommendation
We recommend buying FutureFuel up to $14.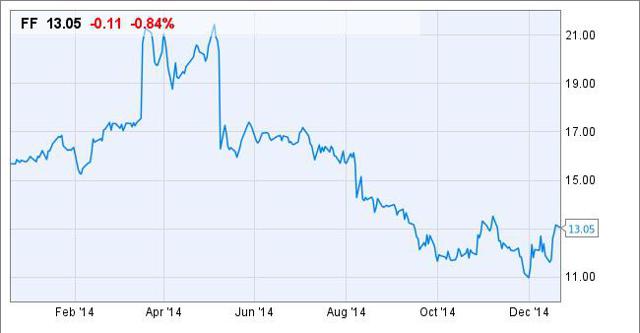 Source: YCharts.
Disclosure: The author is long FF.
The author wrote this article themselves, and it expresses their own opinions. The author is not receiving compensation for it (other than from Seeking Alpha). The author has no business relationship with any company whose stock is mentioned in this article.
Additional disclosure: FF is a component stock of the Baton Marathon Portfolio, which the author owns.