By way of background, we are long-term bulls on some of the Class I Railroads in North America. There are a host of reasons for our longer-term bullishness, including demographic shifts that are underway and expected to continue for decades. Demographic forecasts are singular among forecasts in that their accuracy is generally not terrible. For instance, it's reasonable to assert that due to the combination of increased births, longer life expectancy and increased immigration, the United States will have a larger population in 2050 than it does now. Demographics is one of the structural factors in place that will likely benefit Class I railroads in the coming decades.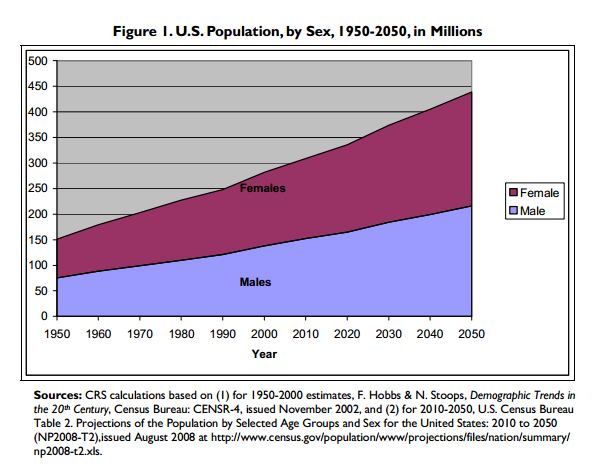 Source: "The Changing Demographic Profile In The United States" Congressional Research Service, 2011
The Hunt For The Best Class I Railroad
Nevertheless, our work last week (where we compared Canadian National Railway (NYSE:CNI) to Canadian Pacific Railway (NYSE:CP)) indicated that not all Class I's are traded equally, so we are hunting for the "best of breed" in this space. To us, "best of breed" means the lowest-priced, highest returns with greater future opportunities or fewer operational risks.
The Numbers
When we compare "the numbers" at Union Pacific Corp. (NYSE:UNP) and Canadian Pacific Railway, the evidence seems quite clear. We believe UNP is the superior railroad compared to CNI at the moment. Please see a portion of our quantitative screen below: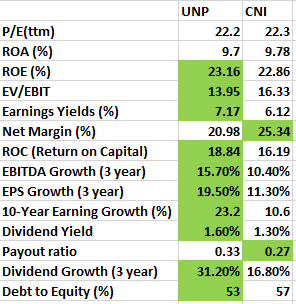 Source: GuruFocus and author's compilation
It seems that on a peer-to-peer comparison, UNP wins by either a "length" or a "nose," depending on what measures one values more heavily. Each company is basically even in terms of its respective PE and ROA numbers, though UNP has a higher ROE in spite of a lower debt-to-equity ratio. UNP is the clear winner in regard to its earnings yield (the ratio of EBIT to enterprise value). EBITDA growth is much higher on a percentage basis at UNP than at CNI (quite an impressive feat, given the larger base that UNP is judged against). Although the payout ratio at UNP is higher, it's not morbidly so. UNP's dividend has grown at a much faster pace over the past three years. Finally, we like the fact that UNP is less highly levered.
Looking Beyond the Numbers
In addition to its relatively poor showing on quantitative grounds, we believe CNI is a more risky investment than UNP. A review of each railroad's map gives some sense of where the growth opportunities and operational risks lie. What is immediately apparent to us is that:
UNP serves a geographic area of the United States that is expected to grow its population in the coming decades.
CNI has a large percentage of cold weather track (which exposes a greater percentage of its network to winter slowdowns).
UNP Railmap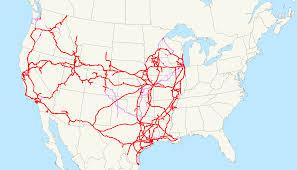 Source: Wikimedia
CNI Railmap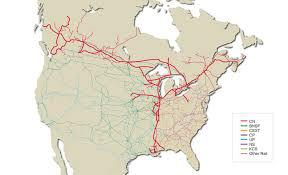 Source: Wikimedia
In addition to the great percentage of cold weather track on the CNI network (with all of the problems that entails), there is the exposure to heavy Albertan tar sands. A trader will transport heavy tar sands from Northern Alberta to the Gulf Coast if the price differential is large enough to cover the cost of transportation. When that differential is insufficient, the transportation won't happen. In much of 2014 (and especially now), that differential hasn't been present, with obvious implications for CNI. Going forward, we see that Mexican (maya) product can displace Albertan tar sands. This will be a theme we take up when we explore Kansas City Southern (NYSE:KSU) in the next few weeks. In the meantime, the fact that transporting heavy tar from Northern Alberta may be uneconomic is a risk CNI faces, but UNP does not.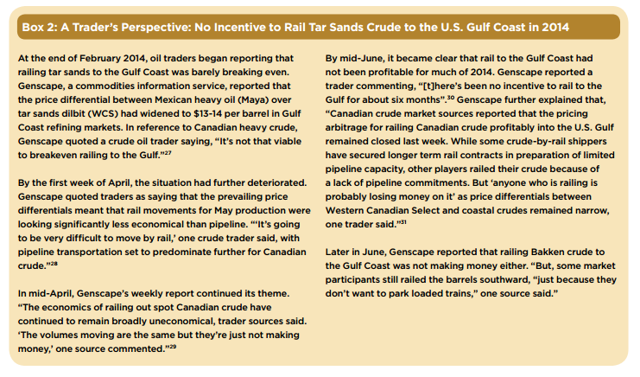 Source: "Wrong Side of the Tracks: Why Rail is Not The Answer to The Tar Sands Market Access Problem" (September 2014)
Conclusion
Taking all this together suggests to us that it would be prudent for investors to sell (or avoid) CNI and buy UNP in 2015 and beyond. Our preference for Class I Rails is so far: UNP, CNI and (a distant third) CP. Next week, we'll compare Union Pacific to Kansas City Southern.
Disclosure: The author has no positions in any stocks mentioned, and no plans to initiate any positions within the next 72 hours.
The author wrote this article themselves, and it expresses their own opinions. The author is not receiving compensation for it (other than from Seeking Alpha). The author has no business relationship with any company whose stock is mentioned in this article.