Many new income investors have been craving higher yielding investments in 2011, and for various reasons. The rates banks now offer for cash and CDs is nearly zero, as are the short-term U.S. Treasury rates. Further, many investors are avoiding the bond markets until we finally enter a higher rate environment, avoiding potential depreciation.
Many income investors believe that buying some, several, or all of the Dogs of the Dow, or those Dow components with the highest yields, are a sensible way to identify good income producing equities that may also produce a capital gain. Additionally, they are all large, highly liquid investments. You may also find that theses equities make a reasonably diverse (though not completely), yet conservative portfolio, with a strong domestic, international and emerging market profile.
Below are the 10 Dogs of the Dow that I have tracked for 2011, along with their present yields and their share price gain/loss through the first half of the year.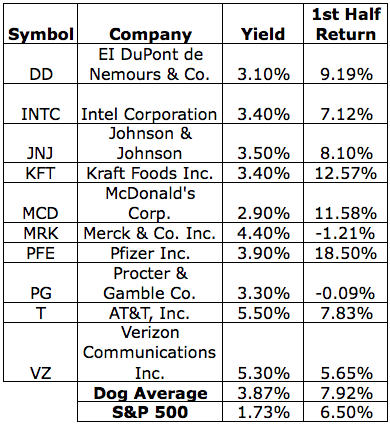 These dogs are absent any financial, energy or materials names, all of which could be good core holdings (and many may offer yields as compelling).

Some of these companies underperformed the S&P 500, or even produced a loss (though no loss was greater than the 6-month yield). Nonetheless, an equally weighted portfolio of these 10 dogs outperformed the S&P by 1.42% (2.84% annualized) and provided over double the dividend yield.
Disclosure:
I am long
INTC
,
KFT
.
Disclaimer: This article should not be construed as personalized investment advice as it does not take into account your specific situation or objectives.