By Scott Tzu
It's been just a matter of weeks since we've commented on Twitter (NYSE:TWTR). In our last article, we basically said that we were losing confidence (along with everyone else) in having Dick Costolo as the head of the company. We could run down the laundry list of reasons again, but why don't we just sum it up with this one thought. When Wall Street is telling you your CEO sucks, it's time to pay attention. Reason? Because even if your CEO doesn't suck, the street isn't going to be happy until they're dislodged from their seat.
This seems to be the case with Twitter, and we certainly believe the next step for the company falling back into favor with the market would be Costolo out, whether it's amicable or not.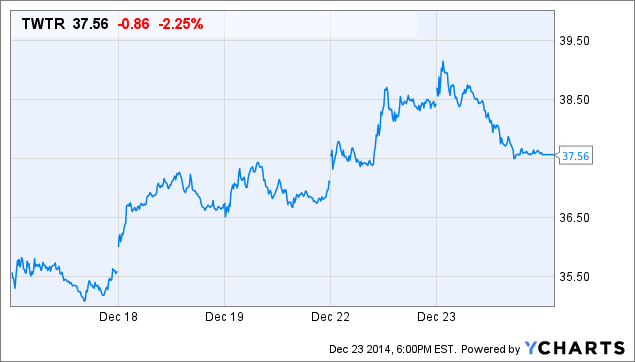 Which is why it wasn't much of a surprise to us on Monday, when rumors of Costolo's parting began to surface and the stock broke upward. As you can see from the intraday chart, the stock spiked as soon as the rumour made its rounds midday. On Tuesday, as the rumour mill cooled off, so did TWTR. With a half day on Wednesday, Twitter should open around $37.57 on Christmas Eve.
Costolo was under fire in our last piece for selling his family's stock and sending an apathetic signal to the market. At the same time, Twitter's fundamentals haven't been anything for the street to get excited about:
With little equity on the balance sheet (about $5.70/share), it's easy to see why the market isn't giving Twitter too wide of a berth. At current prices, the company is already pushing it, trading at about 23x revenue as it continues down what is looking to be a long road toward turning a profit. Twitter has reported a net income loss of $175M in its most recent quarter. Until the company begins to inch toward profitability, it's going to be tough to sit along for the ride with current management. We have a very small, speculative long position in Twitter, despite the company's valuation. Trading at 117x forward earnings isn't usually something we look for as fundamentals investors.
While on CNBC Monday morning, SunTrust analyst Robert Peck predicted that Costolo wouldn't be around much longer. He also said that it was the "number one" question he's been getting from institutional shareholders. This means it's clearly a huge deal to the street. An article in Business Insider, probing the company's major shareholders about Costolo's stock sale, got one comment: "He shouldn't be running the company anymore."
We agree. Dick Costolo has worn out his welcome, and we continue to be long Twitter on the hope that he finds the door in 2015.
Disclosure: The author is long TWTR.
The author wrote this article themselves, and it expresses their own opinions. The author is not receiving compensation for it (other than from Seeking Alpha). The author has no business relationship with any company whose stock is mentioned in this article.